Enjoy our WTP Spotlights, notable selections featuring artists
and writers from our Woven Tale Press magazine. To read the
issue in full subscribe and you can also register on our site
to enjoy our archive.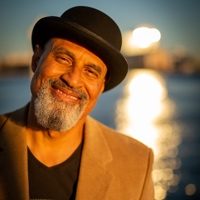 Tim Seibles' seventh poetry collection, Voodoo Libretto: New and Selected Poems, will be published in Janaury 2022 by Etruscan Press. His other books include One Turn Around the Sun (2017) and Fast Animal (2012), which won the Theodore Roethke Memorial Poetry Prize, the PEN Oakland Josephine Miles Award, and was a finalist for the National Book Award. Other titles are Buffalo Head Solos, Hammerlock, Hurdy-Gurdy and Body Moves. Formerly the Poet Laureate of Virginia, he taught for many years at Old Dominion University.
Night Ships Blues Villanelle
From WTP Vol. IX #6
Cold winds come with an itch and a shiver
The night ships pass in their shadowy way
I watch the streetlights steam on the river
The steel cut moon sends a ghostly sliver
How come what happened    happened today?
I saw the streetlights bleed on the river
My blood's so thick    my veins almost slither
We're here for a while: Enjoy your stay!
Cold winds come with an itch and a shiver
I can't really do much more than dither
Been trying to find the right time to pray
I know the streetlights burn on the river
Remember that movie: Stand and Deliver?—
One a'them stories that affirms and betrays
Cold winds hum with an itch and a shiver
When the sun goes down, the night's a conniver
The mind runs to itself—what else can I say?
Bad dreams come with an itch and a shiver
Talk to the dark till your lip starts to quiver
Or follow some dog till you limp like a stray
Then walk the streetlights into the river
Like an old leaf, one hand starts to wither
You open the obits—your name's on display
Cold winds thrum with an itch and a shiver
Come see the night ships burn on the river
Click here for more featured work by WTP poets.