Enjoy our WTP Spotlights, notable selections featuring artists
and writers from our Woven Tale Press magazine. To read the
issue in full subscribe and you can also register on our site
to enjoy our archive.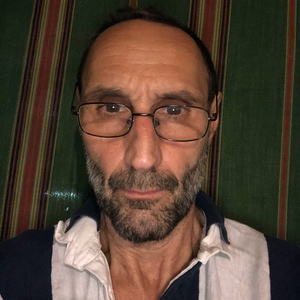 Stephen Campiglio's work has appeared or is forthcoming in Aji, Chiron Review, Circumference (Pi Poetry), Glimpse, Journal of Italian Translation, Pensive, Stand, The Wayfarer, and Wild Roof Journal. Twice nominated for a Pushcart Prize, he was a quarterfinalist in the 2018 Codhill Press poetry contest. He is the author of the chapbook Verbal Clouds through Various Magritte Skies (2014). "Threshold" was included in his chapbook Cross-Fluence (2012).
Threshold
From WTP Vol. IX #7
The evocative arises from the rub
of a double negative:
out-of-business in the off-season,
the motel between hands,
the plentiful vacancy of it all.
Overrunning empty umbrella stands,
a community of dandelions—
brilliant heads bobbing off the rocky neck.
High tide claims the narrow beach in the quick dark.
Back home, the moon in one quadrant
of the mullioned window.
The rising moon. The dead square.
The circle is where clouds travel.
Across my kitchen floor:
a surf of garlic skins.