Eye on the Indies:


A Look at Indie Authors and Their Publishers
By Lanie Tankard, Indie Book Review Editor
The Island of Missing Trees by Elif Shafak (New York: Bloomsbury Publishing, November 2, 2021; 368 pp.; $27.00 hardcover, $18.90 ebook; ISBN 9781635578591).
First published in Great Britain by Penguin Random House UK, 2021.
"Love is like a tree; it sprouts forth of itself,
sends its roots out deeply through our whole being,
and often continues to flourish greenly over a heart in ruins."
—Victor Hugo, The Hunchback of Notre Dame
(Book Ninth, Chapter 4: Isabel F. Hapgood translation, 1831)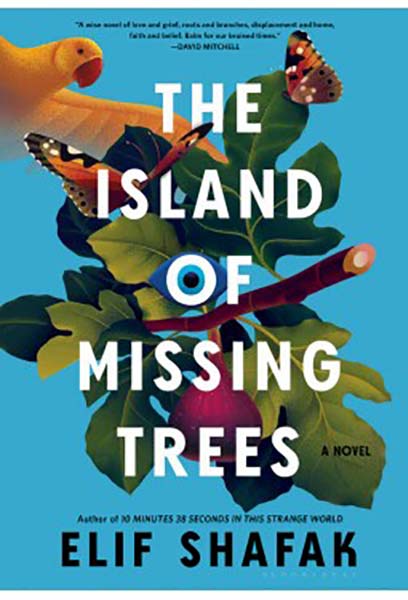 In this powerfully elegant novel, British-Turkish writer Elif Shafak wades into the Mediterranean Sea to tell a story of coexistence run amok, botched by those who inhabit the Earth together. The Island of Missing Trees is a masterpiece of allegory illustrating how fanatic hatred and collective beliefs worldwide maintain a hold on present-day lives through ancestral memory—and result in othering.
The island of the book's title is Cyprus, where animosities in multiple generations of Greek Cypriots and Turkish Cypriots finally rent the landmass asunder in 1974. That year, a Greek military coup tried to unify the island with mainland Greece (enosis), triggering a Turkish invasion framed by the Turks as a "peace operation." Thus, people became refugees in their own country.
Ever since, Cyprus has been divided, with a United Nations peacekeeping force maintaining a buffer zone between the Republic of Cyprus and the Turkish Republic of Northern Cyprus. Adding to the multicultural mix are British military bases still on the island, which used to be part of the British Empire until 1960.
Shafak shifts the story's location chapter by chapter from the Mediterranean to London, while ceding narration in many sections to an emotional Fig Tree wringing its branches in despair. Allowing a sapling to bear witness proves to be a stroke of genius. The Fig Tree offers astute psychological observations of humans, in addition to supplying historical, environmental, and archaeological facts in a musing manner. By anthropomorphizing Nature, Shafak creates an erudite voice exhibiting wit and warmth to enhance the other roles in her drama.
Occasionally she weaves in ancient myths and legends. The fabled birthplace of Aphrodite, Greek goddess of love, Cyprus is the logical setting for a tale of star-crossed teen lovers: Kostas, a Christian Greek Cypriot, and Defne, a Muslim Turkish Cypriot. Their sixteen-year-old daughter, Ada Kazantzakis, heralds this chronicle into present-day London, where Defne's older sister, Meryem, comes to visit, bringing recipes and enlightening stories. She takes Ada on a quest to banish a djinn's evil eye. Panagiota, mother of Kostas, fleshes out the backstory even more with her role in separating the two young lovers.
Kostas became a botanist and Defne an archaeologist. Their paths cross again a quarter century after they parted, when Kostas returns to Cyprus studying fig trees. Defne is working with a United Nations project searching for "the disappeared" to develop a war count. The group tracks down bodies from past battles, uncovers the bones, identifies them, and returns the remains to families for proper burial and mourning.
A second thread of star-crossed love appears, this time between two men who own a tavern where Kostas and Defne meet. There in Nicosia, capital and largest city of Cyprus, Yiorgos and Yusuf built their bistro in 1955, naming the popular gathering spot The Fig Tree after the tall plant growing in the center. Hatred—of both the gay lifestyle and the fact that one man was a Greek Cypriot and the other a Turkish Cypriot—eventually explodes the place with a bomb. The ancient Fig Tree, around for close to a century, reports these events.
Later the Fig Tree becomes a literal êmigrê itself when Kostas takes a cutting from its remains and puts it in his suitcase as he leaves Cyprus for London, planting it in his garden there. He helps the tree set down roots on a different island as the refugees draw strength from each other—two expatriates unable to forget their shared native homeland. Parts of the narrative here become pure poetry, as the Fig explains why it is "a melancholic tree."
"I can't help but compare myself with the other trees in our garden—the hawthorn, the English oak, the whitebeam, the blackthorn—all properly native to Britain. I wonder if the reason why I am more inclined to melancholia than any of them is because I am an immigrant plant and, like all immigrants, I carry with me the shadow of another land?"
Shafak combines mimicry and metaphor in her Fig Tree character as the tree's annual rings communicate history and symbolize human immigration. The Fig Tree takes its role as a storyteller very seriously, explaining how it tries "to grasp every story through diverse angles, shifting perspectives, conflicting narratives," drawing a biological parallel: "Truth is a rhizome—an underground plant stem with lateral shoots. You need to dig deep to reach it and, once unearthed, you have to treat it with respect." Inhabiting a voice from a different species in an authentic manner is difficult, but the Fig Tree pulls it off with endearing dignity by highlighting collaborative experiences. "Untold stories bring us together," Shafak writes. "Numbness is destroying our world."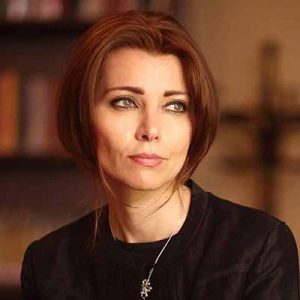 Shafak continues to meld the plant, animal, and human realms together in a lyrical and profound manner that characterizes their interdependence, enlisting the aid of wasps, ants, mice, and other creatures to drive the narrative. She devotes an entire page to ants and their epigenetic memory: "Everything they learn, they transfer to the next generation. Knowledge is nobody's property. You receive it, you give it back. In this way, a colony remembers what its individual members have long forgotten."
Throughout, she keeps returning to that larger question: Can trauma mark our genes, and can that DNA change be inherited? Analogies of epigenetic heredity appear in other works, such as Frank Herbert's Dune, Jean M. Auel's The Clan of the Cave Bear, David Mitchell's Cloud Atlas, or Haruki Murakami's Kafka on the Shore.
 Here in The Island of Missing Trees, Elif Shafak creates her own magnificent theory, dedicating the book "To immigrants and exiles everywhere, the uprooted, the re-rooted, the rootless, And to the trees we left behind, rooted in our memories…".
Is it any coincidence that figs are shaped like teardrops?
---
Elif Shafak, born in France, is the author of nineteen books (twelve novels) translated into fifty-five languages. She has been shortlisted for the Booker Prize as well as the RSL Ondaatje Prize for 10 Minutes 38 Seconds in This Strange World. The BBC included The Forty Rules of Love on "100 Novels that Shaped Our World." I reviewed her novel Three Daughters of Eve for World Literature Today.
Shafak holds a PhD in Political Science from Middle East Technical University in Ankara, and has taught at universities in Turkey, the United States, and the United Kingdom. She is a Fellow and a Vice President of the Royal Society of Literature, and was awarded the medal of Chevalier de l'Ordre des Arts et des Lettres by France in 2012. 
One of her TED Talks discusses The Island of Missing Trees, the book under review here.
Publisher: Bloomsbury Publishing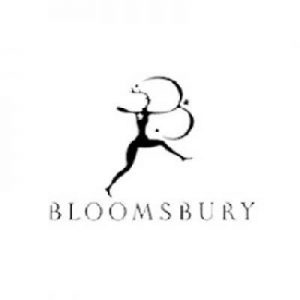 Bloomsbury Publishing is a thirty-four-year-old independent press with offices in London, New York, New Delhi, Oxford, and Sydney. Founding CEO Nigel Newton received the London Book Fair Lifetime Achievement Award in 2020. To start the house in 1986, Newton teamed up with David Reynolds, Liz Calder, and Alan Wherry.
Bloomsbury authors have won Booker, Pulitzer, and Nobel Prizes. The publisher's mission and values, laid out on the website, "champion a life-long love of reading and learning" and seek "to help people from all backgrounds and identities," declaring "Our editorial decisions are informed by a belief in the freedom of speech." The Bloomsbury colophon symbolizes Diana the huntress from Roman mythology.
Potential authors need a literary agent. Submission guidelines are on the website.
Click here to read more Eye on the Indies features.
Copyright 2021 Woven Tale Press LLC. All Rights Reserved