Inside the Studio with Gale Rothstein
Inside the Studio offers a behind-the-scenes peek into the work environments of WTP artists, as well as insight into their creative process within these resonate spaces. See Gale Rothstein's work in WTP Vol. IX #8.
By Jennifer Nelson, WTP Feature Writer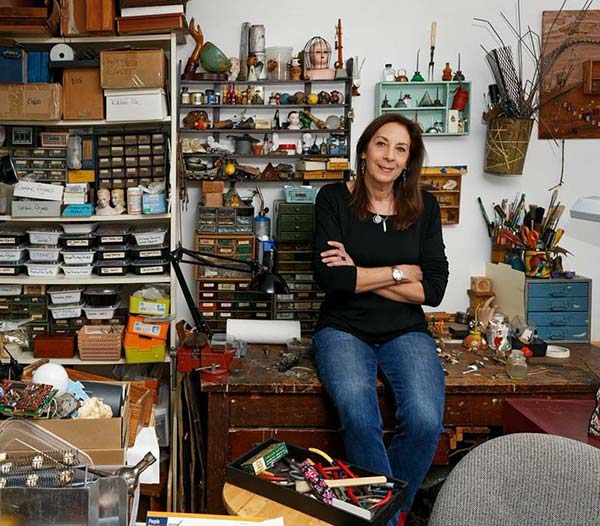 At first, Gale Rothstein thought her studio in the smaller, second bedroom of her Greenwich Village apartment was adequate—at best. Yet, over the past eight years, Rothstein has created so much artwork and acquired lots of objects that the space has almost become non-negotiable.
"It is my twofold life that necessitates my remaining in this space," says Rothstein, who spends most of her week working at the New York City Economic Development Corporation (NYCEDC).
Her job, which she describes as engaging and compelling, complements her art life. As liaison to the city's Public Design Commission, she manages the design review process for projects built on city-owned property. She also helps oversee the selection of artists in her role with the NYC Department of Cultural Affairs. In her first career that lasted over twenty years, Rothstein produced collections of high-end fashion jewelry. She employed several artisans, who worked in a large, beautiful space in a converted printing building with enough room for an office, storage, and supplies. Her clients included craft galleries, jewelry and clothing stores, and private collectors. Her work appeared in such fashion publications as Vogue, Harper's Bazaar, Glamour, and Women's Wear Daily.
As an assemblage artist, she uses a variety of objects, antiques, collectibles, collage, and original objects of her own making. Friends gift her unwanted objects—their garbage becomes her treasure. She also explores junk shops, flea markets, and eBay. Rothstein cannot justify renting a studio space given that she's working full-time outside her home, so she stores these objects in her home studio, stacking them up in boxes, on shelves, in drawers, and under worktables. Given that they are out of sight, she often forgets what she has. "However, there is an interesting upside," she says. "When I take the time to empty a box and explore, I will often find a forgotten object that is exactly what I need for a work in progress. It ends up being a rediscovery."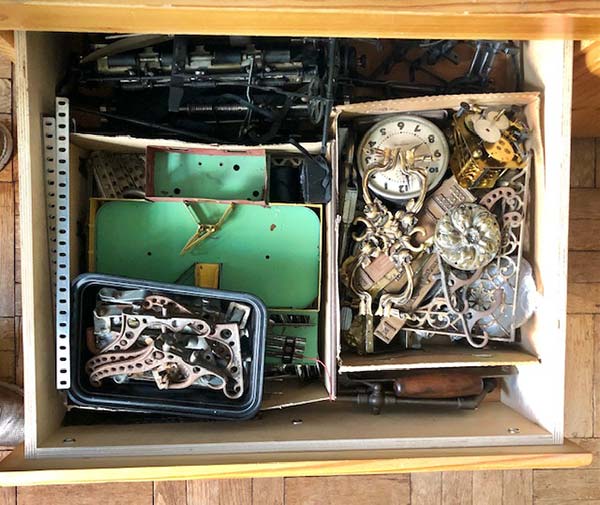 Rothstein has no set work schedule. With a new piece, she takes every opportunity to work on it, which means she could be in her studio after work, after dinner, on the weekends, or at 2 in the morning on a sleepless night.
Her sculptures start in many ways. "I may have a vintage box, shelf or drawer that sets the parameters for where I will populate my story, as my work is highly narrative," she says. "Other times, I take out a few objects and just sit with them, contemplating both the object identity and compositional opportunities."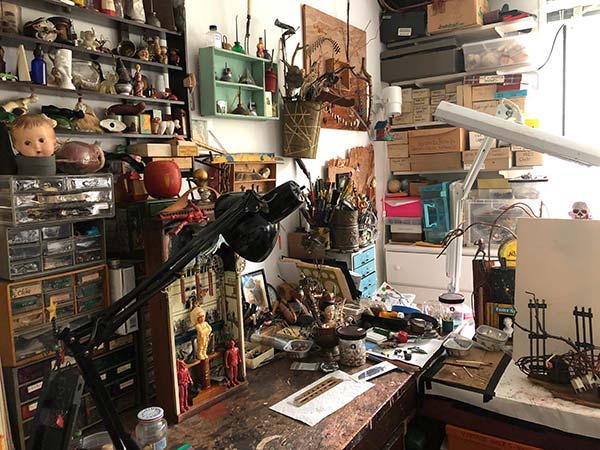 Her work is influenced by her former career as a jewelry designer, her passion for foraging and collecting antiques, and harvesting broken appliances and other damaged items. "My many fascinations, including archaeology, time travel, and love of the American Southwest and Native American art inform elements and themes found within my imagery," she says.
Rothstein aims to go beyond obvious assumptions, as she prompts viewers to challenge and reevaluate their sense of time, place, and orientation. She wants them to ponder such questions as where they are, who is here with us, how big or small are we, and are we awake or dreaming?
Click here to read more Inside the Studio features.
Copyright 2021 Woven Tale Press LLC. All Rights Reserved