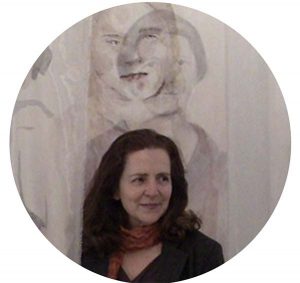 Michal Gavish is a multi-media artist and art writer based in New York City and Washington, DC.She received her MFA in Painting from the San Francisco Art Institute and her PhD in Physical Chemistry from the City University of New York. She creates painting installations and videos inspired by her ongoing collaborations with biologists and chemists from Stanford University, UC San Francisco, and CUNY. She has presented solo exhibitions at the Budapest Museum, the Spinnerei in Leipzig, the Delaware Contemporary, Humanities Gallery at Long Island University in Brooklyn, and Garrison Art Center in New York. Her work has been exhibited in group shows at Biobat in Brooklyn, the Yerba Buena Center for the Arts in San Francisco, Stanford University, ZeroOne Silicon Valley Biennale, and Bogota Art Fair in Colombia. Gavish writes reviews for SciArt Magazine and lectures extensively on art and science. She has curated group shows in the New York area and was awarded several artist residencies in the US and Europe.
Interview with Michal Gavish
By Jennifer Nelson, WTP Feature Writer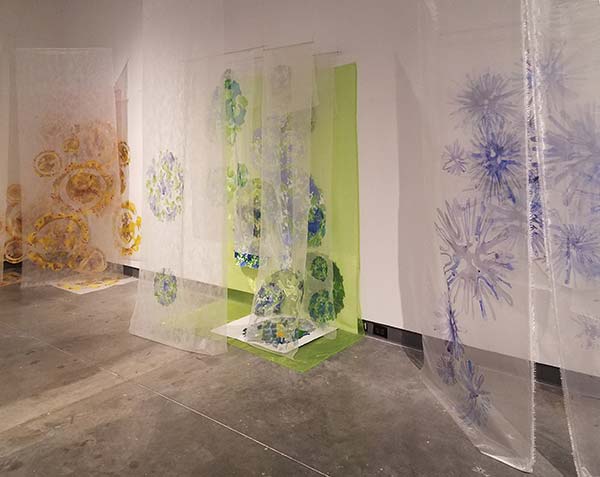 Nelson: How has the pandemic impacted your artwork, particularly in such series as Ballad of Spread, and what techniques and materials do you use in these mixed-media paintings?
Gavish: As the pandemic began, I found myself locked up in my home. I tried to continue my practice in my basement studio but started to feel that I needed to take a new direction. I could no longer just go on with my work as if nothing had happened. I was scared of the spreading virus and at the same time became fascinated by its biological mechanism. I began reading and studying viral biology and was struck by the speedy evolutionary path of these tiny viruses that grew and affected so many people, all over the world.
I became curious, both as an artist and a scientist, in that out-of-control growth. The images that popped up in my searches were overwhelming. They showed the overwhelming beauty and symmetry that I used to concentrate on as a chemist. Just before the start of the pandemic, I was invited to join Lamina Project, a New York-based online platform for art and science. This connection was great for me as it fostered this dialogue between disciplines, helping me delve deeper in the science and develop new interpretations of the viral imagery scientists were producing.
The resultant paintings were the source for Ballad of Spread, in which I built the symmetrical viral images into imaginary colonies of enlarged viral bodies. The installation, now at the Delaware Contemporary, is a painted diorama of virus species. The installation was laid using a technique that I have developed over the last few years: using my own chemical mixtures, I apply acrylic paint to cloth and paper and then layered these fabrics, constructing a large, three-dimensional display. The process of painting in three dimensions extended my practice into sculptural installations.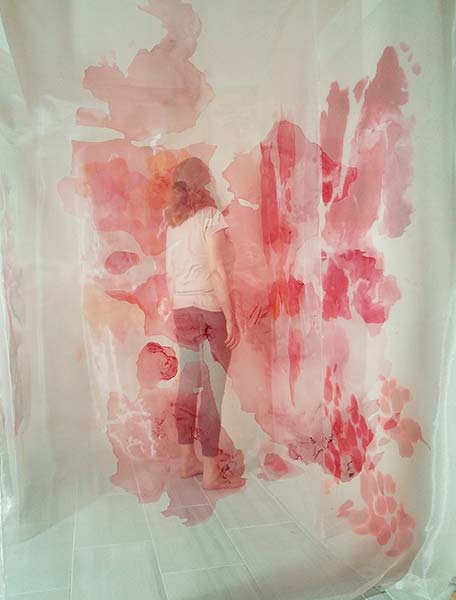 Nelson: Please talk about the importance of the microscope and collaboration with other scientists in such artwork as "Hidden Features (Protein Microscopy)" and "Protein Scrolls."
Gavish: For me, the microscope is a stage. Much like in the theater, the researcher follows the plot that is revealed in the motion of the tiny bodies that are smaller than the eye can see. In "Hidden Features," I collaborated with Professor Brandman from the biology department at Stanford. Following his protein samples through the microscope was fascinating. The resulting paintings are my own interpretations of the microscope images. In my installation, the small biological bodies floating in liquid are revealed in layers, exposing the multitude of floating bodies. In "Protein Scrolls," another installation in this series, I used X-ray-based models of transfer proteins. These colorful images open page after page, each enhancing a different element. Some show the molecular strands, other show its energy clouds. These pages appear like screens in a play, allowing the colorful model to display a dazzling theater appearance.
Nelson: How did your work as a chemist inform Crystal Architecture (featured in WTP Vol. IX #10), and what techniques did you use to create these handmade prints of high-rise buildings?
Gavish: The Crystal Architecture series is based on the ongoing process of looking at large urban buildings and finding parallels between their facades and the chemical structures of natural crystals that I have been studying in the laboratory. I used to be fascinated by the geometries of growth of these crystals with their strict mathematical rules. Walking through New York and Washington and seeing magnificent edifices with their continuous rows of identical windows, balconies and doors, reminded me the repeated structures of natural crystals. I photographed them from many angles and created my own emulsions and hand-printed the photos on large organza fabrics, inventing new vertical perspectives of my own urban landscapes.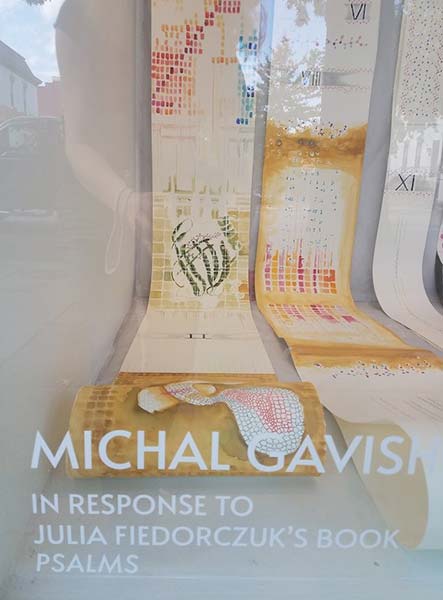 Nelson: Can you talk about your installation in response to poems from the Polish poet, Julia Fiedorczuk? What techniques proved useful in creating your own micro psalms and how were you connected to this poet?
Gavish: My Psalms installation was part of a EUNIC project, EU National Institutes of Culture in Washington, DC project in collaboration with Plain Sight Gallery, connecting European writers and American visual artists. For this project, I was invited to react visually to Psalms, a series of poems written by Julia Fiedorczuk. Responding visually to these poems was a long process. It took me time to fully understand her work, which follows loosely the biblical source. I hung long sections of parallel scrolls from the ceiling to the floor. I painted and scripted the elongated scrolls, creating a color flow that echoes the poetic rhythm and syncopates in the space. Using the language of ancient manuscripts, I interpreted images that I collected from biological and genetic research. This context resonated with environmental and bodily issues from the poems while creating a distinct narrative path.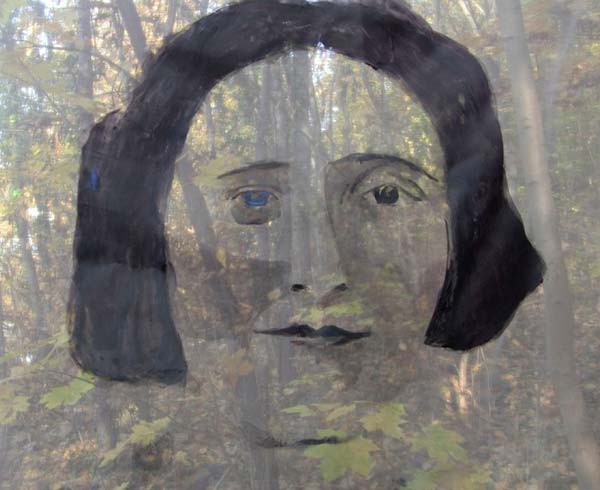 Nelson: Your solo exhibition at the Hungarian Jewish Museum in Budapest featured life-size images of relatives who perished in the Holocaust. What techniques and materials did you use for this artwork, and how did you emotionally handle returning to your parents' birthplace?
Gavish: The city of Budapest and my family that lived there were always intertwined in my family's stories and histories. Working on this exhibition was a journey into a past that I did not fully understand, yet it affected me and was an important part of my life. Growing up with these recounted memories, I developed an image of what they looked like based on the few old photos.
The process of taking small black-and-white photos and magnifying them into larger-than-life color paintings was a process of resurrection. Through it, I found myself weaving narratives making connections from details that I heard and had been interested in for years. Encountering these there, in the Jewish quarter in Budapest where the Holocaust had actually happened, brought me to a place which I had never imagined. The past became increasingly present as I began constructing an army of translucent images of long-gone relatives on hanging fabrics in the large exhibition halls.
This was the first project in which I fully developed my method of acrylic painting on translucent fabrics. It took a lot of experimenting, turning my studio into a temporary laboratory. That medium became important to me because of the nature of the memory that it was based on. At the same time, the idea of a genealogical portraiture made me interested in DNA research in general and began for me the momentum for my art and science investigation.
Nelson: How do you see your artwork evolving in the future?
Gavish: In the near future, I see my work continuing in this path between art and science. I plan to apply some new techniques that I am learning for fabric painting and to connect the biological to the social aspects of genetics. This coming year I have a couple of new shows planned. I like the process of planning work for new exhibitions. It brings me to new territories generating new energies and ideas.
Click here to read more interviews with WTP artists
Copyright 2022 Woven Tale Press LLC. All Rights Reserved