Eye on the Indies:


A Look at Indie Authors and Their Publishers
By Lanie Tankard, Indie Book Review Editor
The Almond in the Apricot by Sara Goudarzi (Dallas: Deep Vellum Books, February 15, 2022; 252 pp.; $22.00 hardcover; also available as ebook; ISBN 9781646051090).
"Time present and time past
Are both perhaps present in the future
And time future contained in time past."
—T. S. Eliot,
"Burnt Norton," No. 1 of Four Quartets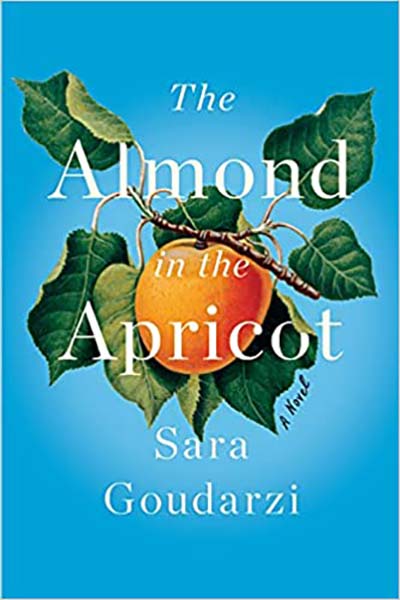 In her debut novel, Sara Goudarzi dives deep into the sewers of grief and emerges with a basket of apricots from a parallel world. The Almond in the Apricot illustrates how anguish over loss can open a heart to sensations normally overlooked—and possibly lead to wormholes bending space-time.
Chapters alternate between Touran and New Jersey or New York. Nightmares disrupt the sleep of a twenty-nine-year-old senior engineer named Emma, who designs sewers in New Jersey. Several months ago, she lost her very close friend, charming and creative Spencer, a writer. He called her "my not wife" because he was gay. Peter, Emma's somewhat boring straight-arrow boyfriend, teaches English at Rutgers. Goudarzi presents the trio as a "three-person couple." Spencer, however, had proposed to Emma—before he was killed by "a blue Ford Explorer on Second Avenue in the East Village of Manhattan."
Emma's contrition about not going with him to the city that night because she was tired has caused her to replay his last message on her answering machine over a hundred times already. She's haunted by the "Ifonlies" (which Jungian analyst Harry Wilmer suggests in his book Understandable Jung is an inner voice that "can possess you with the Ifonlies, Whatifs, Oughts, Shoulds, etc.").
Is Emma lucid dreaming? Goudarzi here echoes elements of Ursula K. Le Guin's Hainish novels and stories—or her novel The Lathe of Heaven, whose protagonist George Orr consults a psychiatrist when he discovers his dreams have the ability to alter reality. Maybe guilt-driven grief allows Emma to communicate with her past life. Or is she perhaps attuned to another world through a heightened sense? Her dreams seem pretty real to her, occurring as continuous episodes in a series. They all involve a preteen girl named Lily living in Touran, a fictional place beset by war in the 1980s representing any bomb-damaged country whose citizens are battle weary.
Whenever air raid sirens go off, Lily and her parents hurry out to their shelter after taping the windows for protection from incoming bombs. Thinking the mountains might be safer than the city, they go to her grandmother's house for respite—until a missile explodes out there, sending them back home.
While there's an actual United Nations Biosphere Reserve by the name of Touran in the Islamic Republic of Iran, the word touran itself means gateway or arch. According to Merriam-Webster, it's "often minutely carved with symbolic sculpture and serves as a monumental approach to a Buddhist temple in India." Thus, Goudarzi's selection of the word to stand for Lily's home signals the possibility of a wormhole.
Occasionally the novel wobbles under too many adjectives, such as: "small rectangular glossy white table," but becomes smoother as it approaches Chapter 10. Here the story takes off, with minor characters established. Some are Emma's coworkers, such as Tina, another engineer whose friendship is called into question. Or Charlie, Emma's boss, who tries to cut her slack when her behavior becomes erratic but finally draws the line when Tina is more reliable.
As Lily's life continues to populate her nightmares, Emma looks for help, locating a psychologist covered by her insurance. Emma's been studying time travel in the Rutgers library. She asks Dr. Linda Thompson about the observer effect, how the act of observation alters the outcome of an event, because she wants to return to the night Spencer died and accompany him to New York, thinking she can save him. Dr. Thompson, however, doesn't go along with Emma's theory of her dreams being wormholes.
Emma happens to see a PBS show on time travel and parallel universes presented by a well-respected NYU physics professor, Dr. Kerr Jacobs. She emails him saying she's thinking about going to grad school to research parallel universes…but when they finally meet, wow, he sure reminds her of Spencer. She becomes attracted to him as she picks his brain for wormhole theories so she can travel to an alternate universe. Kerr, however, won't budge from scientific research on the weakness and instability of such time travel.
Over in Touran, Goudarzi has brought in Mimi, Lily's friend who wears the coolest jeans. They walk to seventh-grade classes together, wondering when the next missiles will strike. Lily's family vows to go to a quieter place during school break. They rent a house near an apricot orchard with another family, whose son, Nima, is a couple years older than Lily. The two strike up a romantic friendship over the summer, walking down to the river each day. Nima, interested in photography, creates a pinhole camera and takes photos of Lily up in an apricot tree…on the other side of the fence.
They pick the sweet fruit. Nima teaches Lily how to smash the pits to eat the tasty almond inside. As the two continue to steal apricots, an older man who owns the orchard chases them off in anger. Here Goudarzi cleverly plays on William Saroyan's chapter "The Apricot Tree" from his novel The Human Comedy—as well as on the Garden of Eden in "Genesis," first chapter of the Bible.
The author brings literary allusions into play for Emma as well, such as the book Spencer is reading at the beach: Continental Drift by Russell Banks, who employed the title's geological term as a metaphor denoting social alienation. Goudarzi makes use of the Wallace Stevens poem "Thirteen Ways of Looking at a Blackbird" when a bird keeps flying into Emma's apartment window. Foreshadowing, perhaps? Representation of incoming missiles? Goudarzi wisely leaves such references as suggestions, open to interpretation.
By the river, Lily has secretly been collecting a few apricot almonds in a jar each day, planning to surprise Nima with a bag to take home a taste of summer:
"I run back to the house, leaving the pits for the sun to dry off, climb back under the covers, stare at the ceiling, and imagine one day living in a big white house surrounded by apricot trees. My husband and I will pick them every summer and crack the shells together. We'll have bowls of almonds all around the house for all our guests."
Back in the rubble of Touran with her family, Lily aces a math test and decides to become an engineer "to build all those destroyed buildings up again." She declares: "I can make our city look like it used to."
Over in New Jersey, Engineer Emma is sending smoke into manholes to ferret out leaks in the lines. The book is a mini course in human waste infrastructure, describing what engineers do to keep the sewer systems running: "the manhole, the pipes, the steps, the smell…." Such overlooked professions have not typically been explored in literature. Goudarzi puts a well-deserved spotlight on some of the invisible marginalized people who keep the civilized world from collapsing.
Emma talks to Dr. Thompson about the girl in her dreams:
"It's all me, isn't it? Whatever happiness, whatever loss she experiences, I experience. So whoever she is, she is a part of me. Both worlds make up my memories. Isn't that what a person is, anyway? A collection of experiences and recollections? Isn't that who you are? So what if it's in two worlds?"
What does the apricot represent in Emma's dreams? In military folklore, it's bad luck to bring apricots on a tank. Others view the fruit as a good omen. Jeff Spurrier in the Los Angeles Times called the apricot "a symbol of resilience in the face of adversity, thanks to its early flowers, delicate promises of spring that can begin blossoming before New Year's Day." In the ancient Chinese calendar, months are named after plants, with the apricot representing the second month. Some legends link apricots to Venus, the Goddess of Love.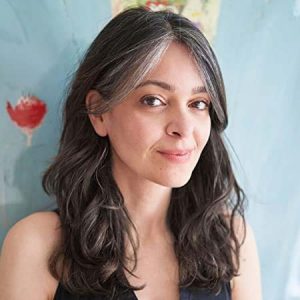 Ah, but the almond in the apricot—now what might it symbolize? Let's take a moment to consider that. While it resembles a regular almond, apricot almonds can be poisonous if too many are consumed. They contain amygdalin, which converts to cyanide after eating. Prussic acid is a cyanide compound. Swedish chemist Carl Wilhelm Scheele discovered hydrogen cyanide in 1782 when he made it from Prussian blue, a paint pigment. Where does the cover of Goudarzi's novel fall on the blue spectrum? It seems somewhere between a clear blue sky and Prussian blue.
The Nazis used Zyklon B (hydrogen cyanide, with the aroma of bitter almonds) in gas chambers during World War II. Was hydrogen cyanide used as a chemical weapon during the 1980s Iran-Iraq War? That question may still be under debate, but thousands of residents of Halabja (a Kurdish city in northern Iraq) died and thousands more were injured when planes dropped chemical missiles. Perhaps The Almond in the Apricot title pays homage to such happenings.
Lily and her parents run to their shelter one night as an airstrike begins. There's a "Thud" so loud they jump. Later they find out the bomb landed in Nima's neighborhood, and they can't make contact with his family. Could their house have been destroyed?
Emma, of course, is aware of the Touran events from her dreams and wants to help. She finally realizes that allowing Spencer to be dead would let her continue living. She visits his grave, "hoping the nightmare of his absence would magically evaporate." She erases Spencer's voicemail, "allowing him to exist in another realm, to be dead." At one point, she had believed: "The world is a level place until something rocks it, until something or someone that existed, that was part of this world, suddenly isn't and that world is no longer the same and it's then that we need a new vocabulary to define it," which reminded me of Chilean writer Benjamín Labatut's novel When We Cease to Understand the World (translated from Spanish by Adrian Nathan West) in the sense of combining science with fiction.
Yet Emma refuses to believe in "this predeterminism." She still wants to travel through a wormhole to rescue Lily from the same type of loss she herself experienced with Spencer. Peter and Kerr fall by the plot's wayside as Emma at long last comes to terms with Spencer's absence, gaining her own strength through Lily in her dreams.
The book is studded with sweeping symbolism and literary metaphors, bearing witness not only to the stranglehold grief can take on a person's life but also to injustices inflicted on marginalized groups in this world. Goudarzi's first fiction is far from a simplistic storyline. While weak in a couple spots, the novel introduces a thought-provoking and intelligent new voice.
Alan Lightman in his novel Einstein's Dreams posited: "Suppose time is a circle, bending back on itself. The world repeats itself, precisely, endlessly." Sara Goudarzi portrayed that idea well in The Almond in the Apricot.
---
Sara Goudarzi, a Brooklyn writer and poet, has taught writing at New York University (where she earned her MA in Journalism) and Mediabistro. She attended the 2017 Writers in Paradise conference as a Les Standiford Fellow, and is a Tin House alumna. Her work has appeared in publications such as The New York Times, Scientific American, National Geographic News, The Adirondack Review, and Drunken Boat.
Goudarzi is the author of several books in the Amazing Animals series from Scholastic, and Leila's Day at the Pool. Born in Tehran, she grew up in Iran, Kenya, and the United States.
Publisher: Deep Vellum Books

Deep Vellum is an independent publisher in Dallas with a mission of "bringing the world into conversation through literature." Founded in 2013 by Executive Director and Publisher Will Evans, Deep Vellum began with literature translated into English. Since that time, operations have expanded to encompass five distinct publishing imprints: La Reunion Publishing, Phoneme Media, A Strange Object, Dalkey Archive Press, and Deep Vellum. It's also a literary arts organization and bookstore.
"Instead of selecting a book for publication exclusively because of its sales potential, our nonprofit status allows us to choose books for their artistic and social value. We are dedicated to publishing socially engaged literature that fosters cross-cultural dialogue, breaks down barriers between communities, and promotes empathy."
Evans received the 2019 Golden Colophon Award for Paradigm Independent Literary Publishing from CLMP (Community of Literary Magazines and Presses), recognizing that "Will Evans, through his work at Deep Vellum, has championed underrepresented, marginalized, and vital literary voices."
A translator, Evans earned two bachelor's degrees in History and Russian Language from Emory University, as well as an MA in Russian Culture from Duke University. He spent five years working in the music industry. In an interview with CLMP last year, Evans explained what's ahead for Deep Vellum since the acquisition of Dalkey Archive Press, which will be run by Chad Post.
Have a book or translation project you'd like to submit to Deep Vellum? Here's the submission form. Information for their other imprints is on the website.
Click here to read more Eye on the Indies features.
Copyright 2022 Woven Tale Press LLC. All Rights Reserved