Enjoy our WTP Spotlights, notable selections featuring artists
and writers from our Woven Tale Press magazine. To read the
issue in full subscribe and you can also register on our site
to enjoy our archive.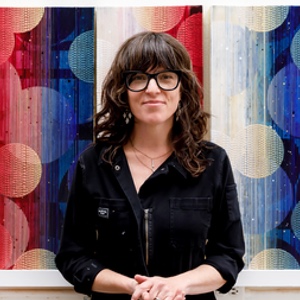 Nina Tichava, raised in both rural northern New Mexico and the Bay Area in California, was influenced by her father, a construction worker and mathematician, and by her mother, an artist and designer. Tichava received her BFA from California College of Arts and Crafts in San Francisco and Oakland. She lives and works in Santa Fe, NM. She is the recipient of the Pollock-Krasner Foundation Award Grant, and has exhibited extensively. Museum exhibitions include the New Mexico Museum of Fine Arts, Santa Fe, NM; Marin Museum Of Contemporary Art, Novato, CA; University of Science and Arts Museum, Chickasha, OK; Museum of the Red River, Idabel, OK; and Charles B. Goddard Center, Ardmore, OK. She is represented by K Contemporary, Denver, CO; Gallery Mar, Park City, UT; Laura Rathe Fine Art, Dallas/Houston, TX; Gallery Wild, Jackson Hole, WY; and George Billis Gallery, Los Angeles, CA. 
---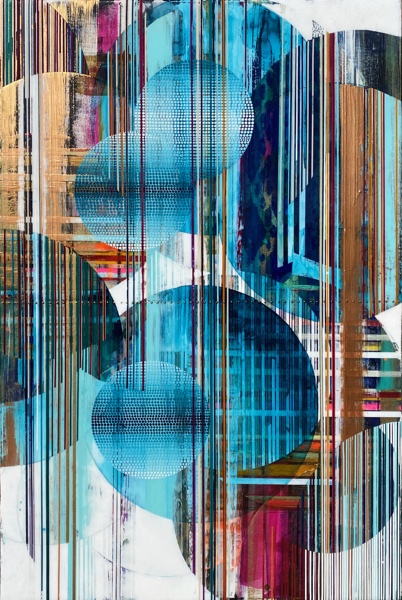 When the Day Comes We Step Out of the Shade
mixed media
48" x 32"
See her work in WTP Vol. X #2
"Pulling imagery and motif from organic form, architecture, media, and design, I create densely layered, mixed-media paintings that are invested in experimentation and grounded in traditional painting and craft. I'm interested in the overlap of nature and culture and the patterns present in both, as well as the color and spatial relationships that develop through process. 
"Using painting and printmaking techniques, I interweave drawing and collage with a variety of media. Simultaneously painterly and constrained, my paintings are composed of complex layers, many of which are over-painted and concealed. A prominent element of my work is the application of thousands of beads of paint, painstakingly and individually applied with a brush and used to create screens and patterns. My work is best described as abstract painting with botanical and architectural references, as the pieces suggest natural forms (birds, leaves, branches), man made structures (buildings, windows, lights), and patterning both natural and designed (woven fabrics, strata of earth, pixels).
"My paintings are visual collections of moments from daily life: combined glimpses, thoughts, memories, and objects. I am trying to describe not only what things look like through the filter of my personal perspective, but also to create a sense of how they might feel. My works are emotional and imperfect, and as objects they embody my direct response to things mass produced and idealized. As handmade things, they are individual, imprecise, and therefore unique. Perfection is unattainable, which is the inherent quality that continues to engage me in painting."
Click here to see more featured work by WTP artists.