Eye on the Indies:


A Look at Indie Authors and Their Publishers
By Lanie Tankard, Indie Book Review Editor
Milk Teeth by Helene Bukowski, translated from German by Jen Calleja (Los Angeles: Unnamed Press, September 21, 2021; 223 pp.; $26.00 hardback; ISBN 9781951213350).
Originally published 2019 in German as Milchzähne by Blumenbar (an imprint of Aufbau Verlag) in Berlin.
"…and in the eyes of the hungry there is a growing wrath.
In the souls of the people the grapes of wrath
are filling and growing heavy,
growing heavy for the vintage."
—John Steinbeck,
The Grapes of Wrath, Chapter 25 (1939)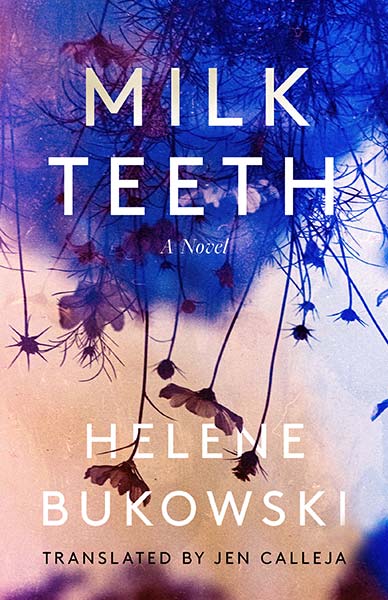 In her eco-dystopian tale of climate refugees, German author Helene Bukowski fast forwards the Dust Bowl migrants of John Steinbeck's era into a bleak future. With Earth Day approaching on April 22, let's consider the metaphorical portrait this debut novelist paints.
Bukowski situates her characters in an environmentally abraded world overlaid with current societal issues. Protagonist Skalde narrates her autobiography as a young woman, remembering with the aid of daily notes she's taken since she learned to read and write. Her mother, Edith, taught her, giving Skalde the caveat: "You can't expect the world to be exactly the same as it is in books." And books are strewn everywhere. They belong to Kurt, who brought them to Edith's after his home burned down. Now he lives in the forest, but stops by to read. Kurt was a friend of Skalde's father, Nuuel.
Two blue Great Danes reside with Skalde and Edith in the dirty old house where Skalde was born. It sits amid forested farm territory cut off from the rest of the world, or what's left of it. Skalde exists in a literal and symbolic fog blanketing both the terrain and her brain. She's never even seen a blue sky because the vapor has been there her whole life. Animals die. Trees stop bearing fruit.
As Skalde grows up, an uneasy malaise falls over Edith. She had taught her daughter to swim in their backyard pool, but now she spends much time in her own room, soaking the day away in her bathtub to stay cool. Clutter abides. The décor turns to disarray.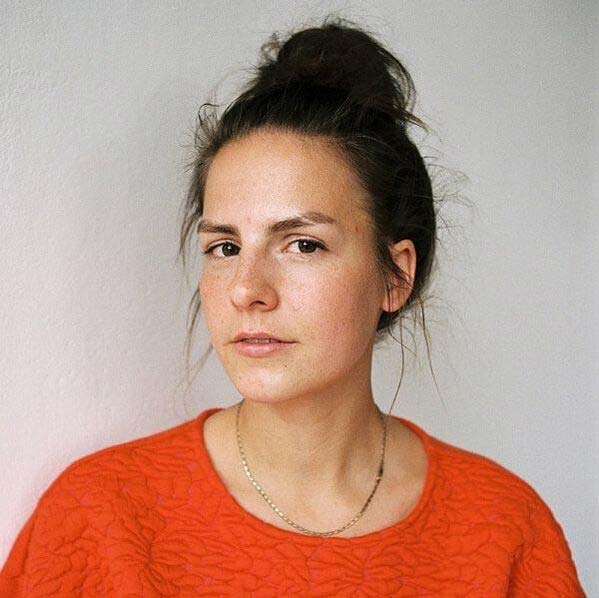 Skalde loses her first tooth, and she doesn't understand what happened.  When she runs to show her mother, Edith just shoos her away. The ever-resourceful Skalde looks up teeth in the medical encyclopedia and reads about milk teeth. Most children begin losing these baby teeth around age six, which Edith had never told her daughter. Skalde begins to ignore her mother's boundaries, such as not going beyond the brambles. She builds tunnels through them and ventures into the forest a bit more each day.
Edith interacts less and less with her daughter, who must make sense of their surroundings on her own. This area is all Skalde has ever experienced. Edith, on the other hand, arrived from elsewhere, before residents destroyed the bridge to prevent people from crossing and depleting their supplies. Those in the territory gave Edith three days to leave after she told them: "How can I go back when the place I came from no longer exists?" Then Nuuel took her in on the third day, but he died while Edith was pregnant. Thus, Edith and Skalde are viewed as outsiders, but tolerated because of Nuuel—until, that is, the day Skalde discovers a young girl named Meisis in the woods and brings her home.
Edith isn't happy about the sudden appearance of this red-haired girl, so Skalde hides the child in the attic. Once word spreads though, well, neighbors start dropping by. No one else there has red hair, you see, so their reaction is: "She's not like us. She must be dangerous."
Consider Bukowski's choice of the child's name as an ironically derisive play on the word meiosis, drawn from Greek meaning diminish or make smaller. In rhetoric, it implies intentional understatement to lessen significance—a putdown. In science, cells divide during meiosis, resulting in half the previous chromosomes. Without the process, there would be no gametes, and hence no human sexual reproduction. The child's red hair could also be construed as a "scarlet letter" Meisis bears in the eyes of the public shaming her for being different. Meisis brings out a motherly side in Skalde, and gradually in Edith as well. Ironic, given the way she's ignored her own daughter.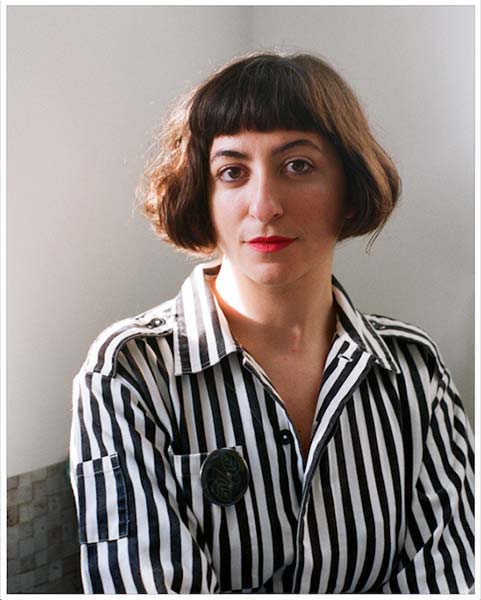 Although the area has few residents, neighbors grow militant, threatening Edith and Skalde to get rid of Meisis. They organize a search party with dogs to determine how the child breached territory security. Bukowski sketches individual personalities well. Two women, Len and Gösta, are close to Skalde and protect her. Eggert has four daughters, with Lenaii being the youngest and Levke the oldest. Wolf is Levke's boyfriend. And then there's Pesolt, a self-appointed strongman.
Bukowski's outcome in the ecosphere she's constructed offers realistic closure. The allegory fuses fictionally many of the points made by Canadian author Naomi Klein in her essay "Let Them Drown: The Violence of Othering in a Warming World" (London Review of Books, June 2, 2016). Bukowski leaves specifics fuzzy about how the current situation developed, focusing more on survival after a global crisis. Other postapocalyptic novels take a similar approach, such as The Road by Cormac McCarthy, California by Edan Lepucki, The End We Start From by Megan Hunter, Appleseed by Matt Bell, The Children of Men by P.D. James, or The Dispossessed by Ursula K. Le Guin.
In essence, Helene Bukowski's characters struggle to subsist in ever more uninhabitable and unjust circumstances. As the author imagines a dystopian world, her symbolic tale brings to light individualism, collectivism, mothering, and othering. Milk Teeth is a well-honed parable. The book offers food for thought about not only the rising tide of climate change but also the steady erosion of our shared humanity—thus planting a probing question: Have we completely lost our boundaries?
---
Helene Bukowski, born in Berlin, studies creative writing and cultural journalism at the University of Hildesheim in Lower Saxony.
Bukowski was a coeditor of the German literary journal BELLA triste from 2015–2017, and helped plan their PROSANOVA | 17 young literature festival in 2017. She received a scholarship to the Prose Authors' Workshop of the Berlin Literary Colloquium. Her writing has appeared in various journals and anthologies.
 She was one of four reality-TV characters who filmed their lives for three years with small cameras, shown in Episode 43 of the 2014 experimental documentary Zehn Wochen Sommer (Ten Weeks of Summer) directed by Peter Göltenboth: "No film crew was present at any time. The images are an unfiltered and raw account of youth life in Berlin in the present. During the project the girls send anonymous excerpts from their diaries that became the basis for the voice over narration." At the 51st Grimme Prize, named after Adolf Grimme, the film won a 2015 special prize for culture from the state of North Rhine-Westphalia.
Translator Jen Calleja is an associate tutor in the Department of Literature, Drama, and Creative Writing at the University of East Anglia. She has translated more than a dozen works of German-language literature, including The Pine Islands by Marion Poschmann, which was shortlisted for the 2019 Man Booker International Prize. Her translation of Dance by the Canal by Kerstin Hensel was shortlisted for the 2018 Schlegel-Tieck Prize. Calleja is author of I'm Afraid That's All We've Got Time For, Goblins, and Serious Justice. She's a founding editor of Praspar Press, a micropublisher of Maltese literature in English translation, and has taught courses in creative writing and literary translation at various foundations and universities in both the United Kingdom and the United States.
Publisher: Unnamed Press

Eight-year-old Unnamed Press, based in Los Angeles, is named for all the undiscovered literary voices—those authors who get passed over by the larger publishers: "Our books represent a diverse list of voices—ones that challenge conventional perspectives while appealing to a broad general audience: exciting, radical, urgent. We nurture emerging talent and partner with more established authors to help their platform grow."
Founded in 2014 by C.P. Heiser and Olivia Taylor Smith, this indie press publishes contemporary literature from around the world, and has expanded to nonfiction and YA fiction. Heiser, current publisher and editor at Unnamed Press, is also executive director of Phoneme Media, Unnamed's sister nonprofit promoting cross-cultural understanding through translated books and films. He has worked in New York City at Wiley and at The New Press. Smith, Unnamed's executive editor, translated the French graphic novel Panthers in the Hole into English for Phoneme. Both Heiser and Smith helped start the Los Angeles Review of Books (LARB), where he was an editor and she was publishing director.
Jaya Nicely designed the cover of Milk Teeth and Annie Spratt took the cover photo. Publishers Group West distributes books from Unnamed Press. Submission guidelines are on the website.
Click here to read more Eye on the Indies features.
Copyright 2022 Woven Tale Press LLC. All Rights Reserved