Enjoy our WTP Spotlights, notable selections featuring artists
and writers from our Woven Tale Press magazine. To read the
issue in full subscribe and you can also register on our site
to enjoy our archive.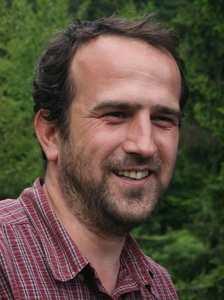 Ivan Kanchev, born in Ruse, Bulgaria, graduated in 2000 from Ceramics at the National Academy of Arts in Sofia, and in 2006, earned a degree in Psychology from the University of Ruse "Angel Kanche." He was a part-time lecturer in Sculpture in the Department of Ceramics at the National Academy of Arts in Sofia, Bulgaria. His work has been shown in numerous solo and group exhibitions exhibitions in Bulgaria, and in prestigious ceramics forums in Italy, Spain, Japan, Poland, Denmark, France, Belgium, Switzerland, China, Austria, Germany, Portugal, and Croatia, among others. He has won national and international awards, and his works are in museum and gallery collections around the world. He is the author of curatorial projects and several books in the field of sculpture and ceramics.
---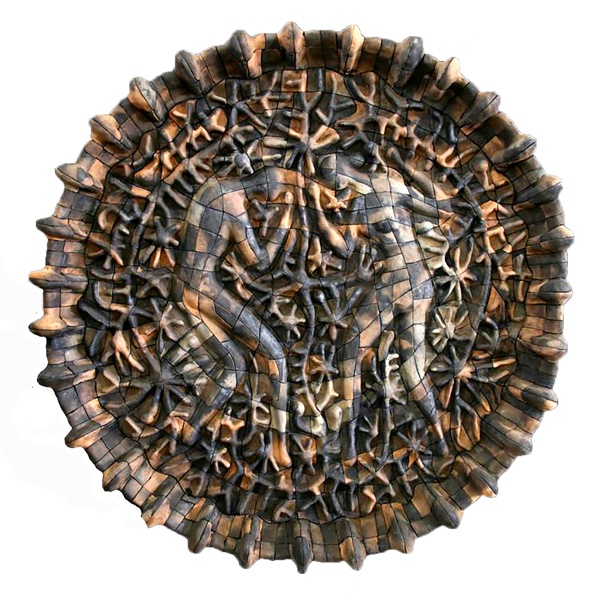 Struggle in Eden
red clay, reduction, smoking
31 2/5" x 31 2/5"
See his work in WTP Vol. IX #3
"In this series, everything is fragmented in ecological, social, and political terms. The earth is 'notched.' The man is small and naked, confused and defenseless, represented by outstretched arms and legs in a poetic and artistic crucifix. He runs, looking for his foundations. His human nature is shaken. Embroiled in the mosaic of continuing problems, he is frantically seeking happiness in the maze of life. But is he able to come to his senses and find himself? Will he find happiness in this search?
"The depicted scenes with clay and fire are nocturnal, as in a dream. Thematically they are derived from our universal history and culture. The monumental vessel shape is symbolic. The circle is an echo of the ideal, like an image of Mother Earth, of the Sun. The rectangle is reminiscent of the human existence, the boundaries of time, space and corporeality."  
Click here to see more featured work by WTP artists.