Enjoy our WTP Spotlights, notable selections featuring artists
and writers from our Woven Tale Press magazine. To read the
issue in full subscribe and you can also register on our site
to enjoy our archive.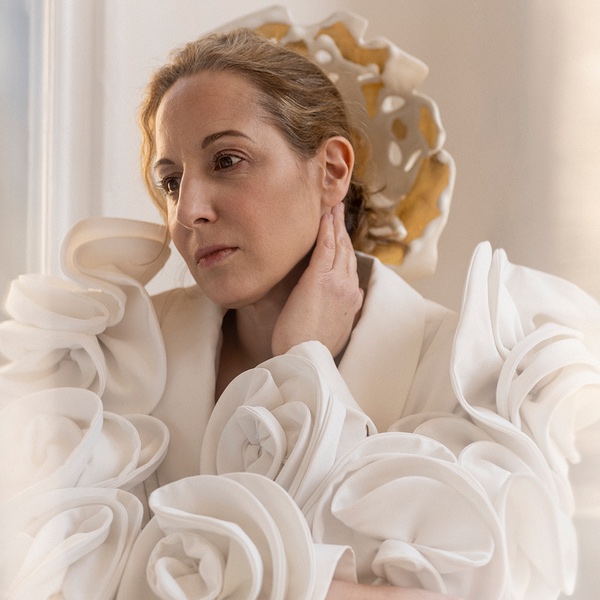 Born in Switzerland, Laurence Elle Groux moved to the United States in 1996 where she became immersed in the New York art scene. Influenced by artistic practices and design motifs found in Pre-Colombian, Mesopotamian, Renaissance, Art Nouveau, Modernism, and Outsider's arts, Groux's ceramic works are tactile, curvilinear abstract sculptures accentuated by organic shapes and patterns. Groux's work has been featured in group and solo exhibitions in New York, Switzerland, and Philadelphia, and are part of collections in Pennsylvania, New York, California, Switzerland, Canada, and Mexico. She was awarded Best in Show for Sculpture 2021 at the Ellarslie Museum in Trenton, NJ, juried by Dr. William R. Valerio, Director of the Woodmere Museum of Philadelphia, PA. 
---
Innocence
glazed stoneware
18" x 10 1/2" x 10 1/2"
See her work in WTP Vol. X #3
"Abstract ceramic stoneware objects and oil paint etchings are my primary studies. Each work is created with an expression of introspection, and I hope my audience spends time exploring and questioning their reactions to my pieces. My recent body of work was created after a physical injury left me unable to produce work for over a year, and it made me realize that one cannot take for granted the ability to create. I view every new work as a sort of miraculous creation where my fears, sorrows, joy, and love can pour forth and capture the essence of the human experience."
Click here to see more featured work by WTP artists.