Eye on the Indies:


A Look at Indie Authors and Their Publishers
By Lanie Tankard, Indie Book Review Editor
When I Sing, Mountains Dance by Irene Solà, translated from the original Catalan version by Mara Faye Lethem (Minneapolis: Graywolf Press, March 15, 2022; 216 pp.; $16.00 paperback; ISBN 9781644450802).
Published as Canto jo i la muntanya balla by Editorial Anagrama (2019).
"Jafnan er hálfsögð saga ef einn segir."
("A tale is but half told when only one person tells it.")
—The Saga of Grettir, Chapter 46 (an Icelandic saga)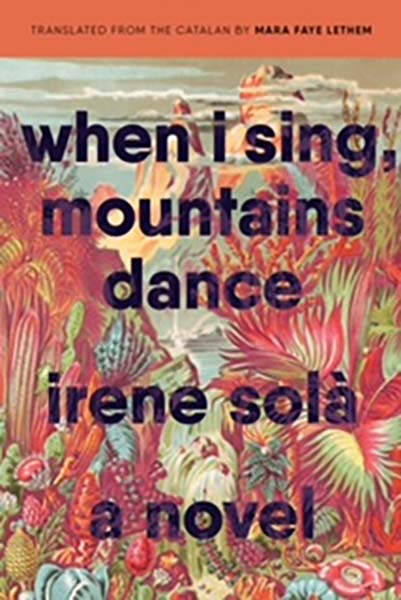 In the Pyrenees, small events loom large, remaining in village memory for generations. Catalan author Irene Solà crafts a creative saga with many voices telling the tale. Independent points of view emerge with every chapter. Each is a self-contained version, with all working together to portray a panoramic legend.
Solà groups her eighteen accounts into four parts, leading off with a report titled "The Lightning." Rain narrates this chapter—yes, a big booming rainstorm so loud "the coiled snails shuddered in their secluded homes." Domènec, a village poet out composing verses while collecting mushrooms, stops to check on their cows. When he finds the calf tangled in some wires, he pulls out his knife to free the animal. Chock full of thunder and itching to strike, lightning zeroes in on the glint of that knife through the deluge. SHAZAM—and that's the end of poor Domènec. He leaves behind his wife Sío and two children (Hilari, a two-month-old boy, and Mia, Hilari's older sister), plus Domènec's elderly father, Ton.
Four women witness the lightning strike. Solà introduces them in the next chapter, "The Names of the Women." The village brands Magarida, Eiklália, Joana, and Dolceta as witches and hangs them, saying Joana caused the storm. Later, Solà even tosses in an exorcism.
As the narratives proceed, Solà wraps them in ancient lore and future hopes as she enlarges present character traits. We find out, for example, Domènec had courted Sío for three years, wooing her with poems.
Solà's minimalistic approach speaks volumes as she allows various natural elements to recount their experiences, as did the rain. Mushrooms later articulate an entire chapter, with the black chanterelles doing their C. cornucopioides species proud:
"The cap of one is the cap of us all. The flesh of one is the flesh of us all. The memories of one are the memories of us all. The darkness. Yes, the darkness. Like an embrace. Delicious. Protective. Welcoming. Like a falling. Nascent. The earth. Like a blanket, like a mother. Black. Damp. We are all mothers here. We are all sisters. Aunties. Cousins. Then the rain comes. We remember the rain. We remember it on our skin, on the dark caps of those who greeted it. Mmmmm, they said to the rain. Mmmmmm, and they drank it in. Before. Mmmmmmm, we said, mmmmm, rain. And we drank it in."
Poetry by mushrooms. Who would have thought?
Time marches on in Part II. Baby Hilari is now a man going hunting with his best friend, Jaume, who is sweet on Hilari's sister, Mia. Sadly, Jaume returns carrying Hilari's body after a hunting accident in the mountains. The whole town goes into mourning for Hilari of Matavaques.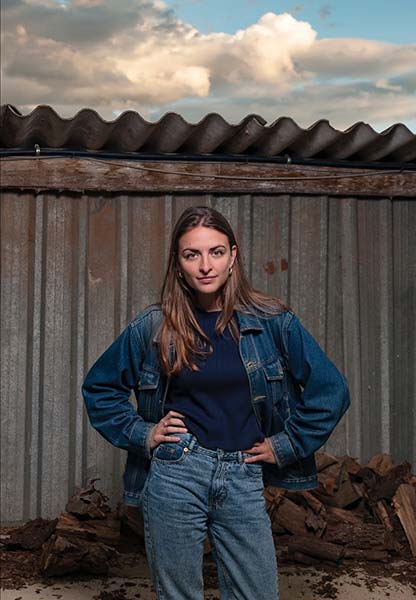 A poet like his father Domènec, Hilari continues writing after he dies—each poem addressed to a different person from his former life. In this chapter, Hilari makes the distinction between a sad poem and a melancholy one. The book, in fact, takes its title from a line in one verse Domènec wrote about himself: "when I sing, mountains dance."
Indeed, the Pyrenees themselves narrate one of the most eloquent stories, complete with line drawings depicting the mountains' slow birth. We meet someone from Barcelona who makes a monthly pilgrimage there as a respite from the city. Time, you see, doesn't have the same feel in the Pyrenees, these rugged mountains of southwest Europe between Spain and France.
They draw their name from the Greek myth of Pyrene, a nymph whose father (Bebryx) was king of Spain. She became pregnant by Hercules and gave birth to a serpent. Terrified, she ran to the woods, where she died. Hercules entombed Pyrene, so the legend goes, by piling rocks over her into mountains and naming them after her. Solà pays homage to this saga by weaving it into her stories. As the number of characters increases though, it does become a bit difficult to keep people straight.
Some tales address relations between Spain and Catalonia: "If you think about the war, it makes you sad. Our men wrecked all the bridges so the Nationals couldn't come in with their war cars, and so we could escape like little ants…." The status of Catalonia within Spain remains up in the air to this day, as Separatists continue to seek independence.
Animals, too, become authors. When Mia and Oriol strike up a romance, Mia's dog Lluna recounts an entire chapter about them. The Bear's voice in a subsequent section, however, is even stronger: "We were here first. Long before men and women. We came here first, and these mountains, this cold, this sky, this forest, this river and everything in it, fish and leaves, was ours. We were in charge. And then you came."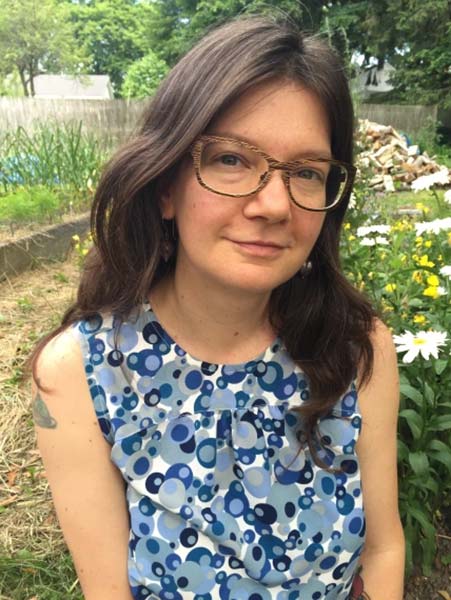 The legends come full circle at the end, as characters age and attempt to reconnect. Jaume has an accident and turns to Mia, his childhood sweetheart until her brother died—when she turned against him and he went to prison (but is now released). Psychologist James Hillman, in his book The Force of Character and the Lasting Life, muses: "Why do the dark days of the past lighten up in late recollection? Is it a subtle hint that the soul is letting go of the weights it has been carrying, preparing to lift off more easily?"
Solà creates a sense of place by imbuing story with cultural heritage and history, and then observes their interactions. What emerges is a poetic social ecology, forming the boundary between humans and their environments into an expressive drama. The literary narrative in when I sing, mountains dance echoes psychologist Urie Bronfenbrenner's ecological systems theory of human development, which examines how childhood environments create personality traits that shape individuals into the adults they become.
By presenting diverse perspectives, Solà weaves her story panels into a larger landscape. Her polyphonic approach succeeds as a case study of a microcosmic society, imbuing the reader with deeper perception of the larger social order. What does that mean? Well, if a monophonic version of truth doesn't actually exist, then participants in any discussion might come closer to the truth by listening to all viewpoints presented. As the ancient Icelandic saga quoted at the beginning of the review points out, "A tale is but half told when only one person tells it."
Irene Solà makes the mountains dance here, and they definitely sing.
---
Irene Solà, a Catalan writer and artist, was a winner of the 2020 European Union Prize for Literature. When I Sing, Mountains Dance received the 2019 Anagrama Novel Prize in Catalan. Solà's first novel, The Dikes, won the Documenta Prize in 2017. Her first book of poems, Beast, earned the 2012 Amadeu Oller Poetry Prize.
Solà holds a degree in Fine Arts from the University of Barcelona and a Master's in Literature, Film, and Visual Culture from the University of Sussex. She received a Literary Creation Grant from the Catalan Ministry of Culture, the "Art Jove" Grant for young artists, and the City of Vic Grant. She was a 2018 writer-in-residence at the Alan Cheuse International Writers Center at George Mason University in Virginia, as well as at Art Omi in Upstate New York in 2019.
Translator Mara Faye Lethem's translation of The Whispering City by Sara Moliner earned an English PEN Award. Two of her other translations were nominated for the 2016 International IMPAC Dublin Literary Award. Lethem is the author of a novel titled A Person's a Person, No Matter How Small.
Publisher: Graywolf Press

Graywolf Press in Minneapolis is a nonprofit literary publisher of poetry, fiction, nonfiction, and work in translation. The press has been publishing books for over forty-five years (distributed by Farrar, Straus & Giroux since 2002).
Scott Walker founded Graywolf in 1974 in Port Townsend, WA. Fiona McCrae has served as director and publisher since 1994, and will retire from Graywolf this month. She is also vice chair of the Board of Directors of the National Book Foundation. During the 2015 opening of an exhibit on the Graywolf Archives housed at the University of Minnesota, McCrae said: "Sometimes people have asked me what defines…a Graywolf writer…. And one of our answers is that they don't sound like anybody else."
Graywolf seeks works "that combine a distinct voice with a distinct vision," and collaborates to publish award winners from various organizations offering literary prizes: Walt Whitman Award, Cave Canem Poetry Prize, Emily Dickinson First Book Award, and the Summer Literary Seminars Unified Literary Contests. The press also publishes several books per year from A Public Space, an independent magazine of literature and culture based in Brooklyn. The Lannan Translation Series, which supports the English translation and publication of new works, has awarded a literary grant to Graywolf since 2002. Along with other grants, Lannan enables the nonprofit press to publish two translated books per year.
Graywolf's mission statement emphasizes: "We champion outstanding writers at all stages of their careers to ensure that adventurous readers can find underrepresented and diverse voices in a crowded marketplace." In addition, it notes a commitment "to making our books, programming, publishing process, and workplace accessible to communities and individuals of all backgrounds and abilities."
Submission policies for poetry, fiction, and nonfiction are posted on the website. Unsolicited submissions outside of open periods and contests are not accepted.
Click here to read more Eye on the Indies features.
Copyright 2022 Woven Tale Press LLC. All Rights Reserved