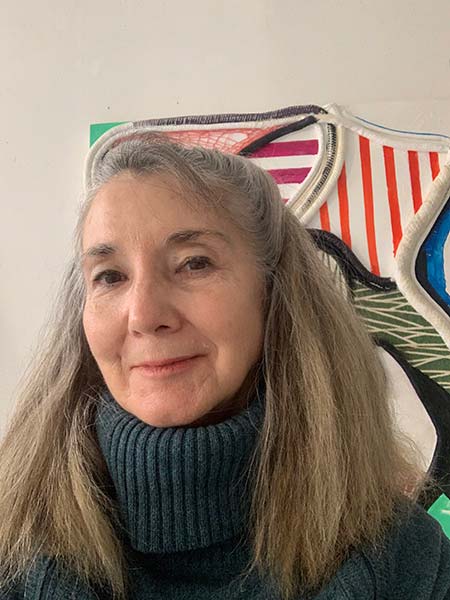 Susan Mastrangelo is a mixed-media artist based in New York City. Mastrangelo has shown nationally and internationally and is a recipient of a Rockwell Grant and two grants from the Pollock Krasner Foundation. She has been a visiting artist at the American Academy in Rome, a guest at Civitella Raneri, and a resident at Yaddo, The Virginia Center for the Creative Arts, The Ragdale Foundation, The Triangle Workshop (as a student of Anthony Caro), and the Tyrone Guthrie Center.
For twenty-seven years she taught and chaired the Art Department at The Buckley School, a private school in Manhattan. She now works as a full-time multidisciplinary artist at the Can Factory in Gowanus, Brooklyn. She studied at the Kansas City Art Institute and the New York Studio School and received her MFA from Boston University under the tutelage of Philip Guston. Her work appears in WTP Vol. X #4. 
Interview with Susan Mastrangelo
By Jennifer Nelson, WTP Feature Writer
Nelson: Can you talk about your mixed media works versus your monoprints—two entirely different mediums but in your work, they very much seem to complement each other?
Mastrangelo: My paintings are composed of connecting and overlapping shapes created from upholstery cord. Paint and fabric fill in the shapes, and my knitting binds them together.
My monoprints consist of shapes cut from mylar. Each mylar template is rolled up with a color of oil-based ink, and placed down on a plexiglass plate, which I then print from. An immediacy in the process is essential, and consequently I work very quickly. The idea is to tap into my intuition and trust it and go with any ideas which come up at the moment.
The objective while creating both monoprints and my paintings is to stay in the present. Both are created by using intersecting and overlapping shapes. The shapes are personal to me, and consequently are similar in both.
The monoprints inform the paintings, by forcing me to work in the moment and trust my intuition.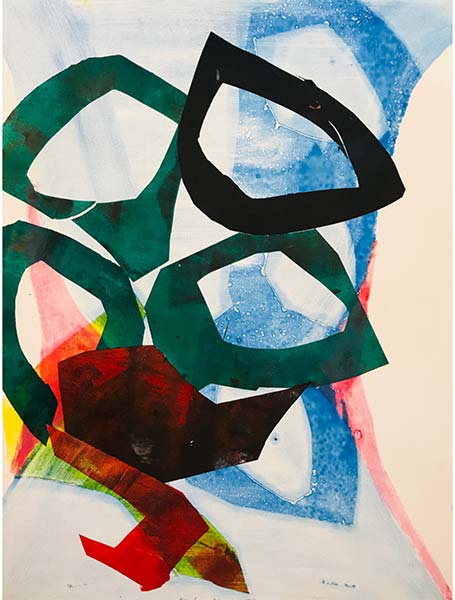 Nelson: How did fiber, particularly yarn and knitting, as a medium make its way into your work?
Mastrangelo: I have always loved working with a variety of materials. Materials are endless. I gravitated to yarn and knitting because it brought me great comfort and a feeling of safety during Covid. I learned to knit from my grandmother when I was five, and the act of knitting continues to put me in a place of profound solace.
Nelson: During the pandemic, you moved from New York City to the Catskills. How did this relocation impact your artwork? How is knitting important to you personally and artistically?  Or are they one and the same?
Mastrangelo: We had moved up to our house in the Catskills during Covid. Anytime I have been in a situation which has caused me great anxiety, I knit. Consequently, after moving up to our house in the Catskills from Brooklyn, I began to knit. I thought it was very daring to put knitting into my work, but I also felt, why not? We had no idea as to what lay ahead in the world, and one should do whatever they wanted to. The knitting not only found a place in my work but became one of the most essential ingredients.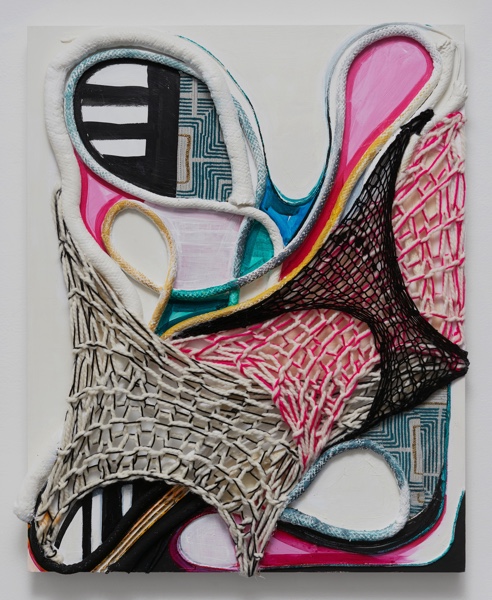 Nelson: Tell us about your Pulse installations, which depict larger-than-life-size people— how did this series come about?
Mastrangelo: For years, my work focused on the human body, faces, heads out of plaster, and figures out of resin and fiberglass. I had done a few installations in the past each based on a specific subject. I was asked to do an installation for the waiting area of one of the satellites of Sloan Kettering in Brooklyn. My objective was to create a group of colorful shapes resembling people focusing on an uplifting spirit which one could identify and feel good. It consisted of colorful patterned figures dancing, walking, standing, hanging from the ceiling, and fastened to the wall. Because of its vibrancy and energy, I called it Pulse. To create a site specific piece in a public space, and have the general public respond positively, is incredibly gratifying.
Nelson: What are the advantages of working at a studio at the Can Factory, an arts complex with performances, exhibitions, and events throughout the year, and are there any drawbacks?
Mastrangelo: The Can Factory is the best studio environment I have experienced during all my years in New York. This is my seventh studio situation, and the others are not comparable. The Can Factory is a phenomenal place to work, as it is a community of all the arts. The director Nathan Elbogen encourages mutual respect and a commonality amongst the artists. It is the ambience, the seriousness, and the professionalism of the artists in total which contribute to a vitality and an energy we thrive on, and thus create.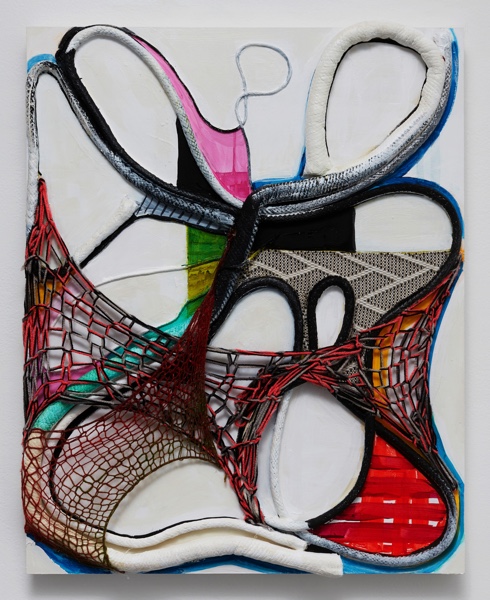 Nelson: What was it like having as a teacher Philip Guston, a famous Canadian American painter, and what lessons did you learn from him during graduate school?
Mastrangelo: To have Philip Guston as a teacher was intimidating and deeply inspiring.  He came once a month to our graduate department at Boston University and would make the rounds to our studios, but not without having a morning get-together with coffee and doughnuts. We would sit and listen to his early experiences in the art world, and he would talk about his recent paintings. He was powerful, profoundly intuitive, and had the presence of an iconic figure. Guston was the force which drove us in the graduate department. His critiques, focused on the emotional aspects of the work, as well as its level of honesty. Guston was a phenomenal teacher, with an overshadowing presence.
Guston's emphasis on honesty in one's work and trusting one's own vision was invaluable, but difficult for me to grasp at twenty-five years old. I had very formal training in painting, and I had been taught to paint from still lifes, figure compositions, and landscapes. It was difficult to make the change from formal to personal, but it was invaluable to be confronted with that task, and it has remained with me throughout my life. It took me a long time to extricate myself from his powerful psychological presence. But I feel it is finally gone, and I no longer hear his voice in the back of my thoughts.
It was Guston who taught me the connection of myself to my art. In my earlier years, I had thought it was separate, but it is not. The more connected one is to one's art, the more profound, powerful, and genuine it is.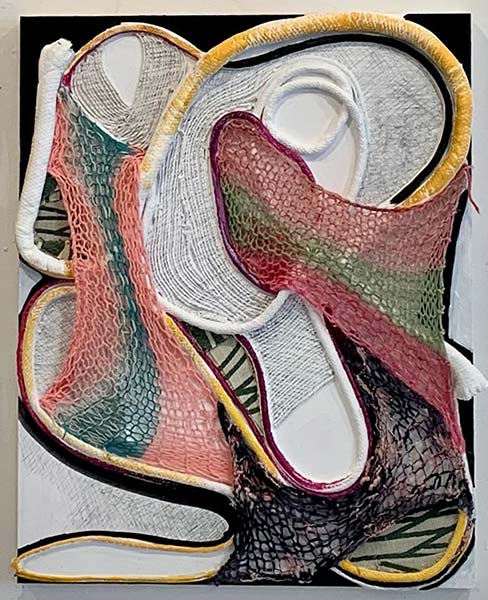 Nelson: You've attended many residencies at artist communities such as Yaddo and Ragdale. How have these experiences impacted your artwork and growth as an artist?
Mastrangelo: Each residency offered its own identity. My experiences in each were vastly different, and consequently the work I did in each residency was different. Yaddo was the first residency I went to, and for me, the entire experience was something I will never forget: the people, the energy, the newness, the professionalism, and the notoriety of some artists. Ragdale was smaller, and the studios were magnificent; it was close to Chicago and close to a beach. I found stimulation mostly through the physical environment. Another residency which stands out is the Tyrone Guthrie Center in Monaghan Ireland on the border of Northern Ireland. The people and the energy, and vibrancy of the colonists was fascinating. I was there during the fighting going on in Northern Ireland. The arguments over religion between the colonists would go late into the night. It was fascinating. Talking to the other colonists and hearing their experiences as artists in Ireland opened up another broader art world.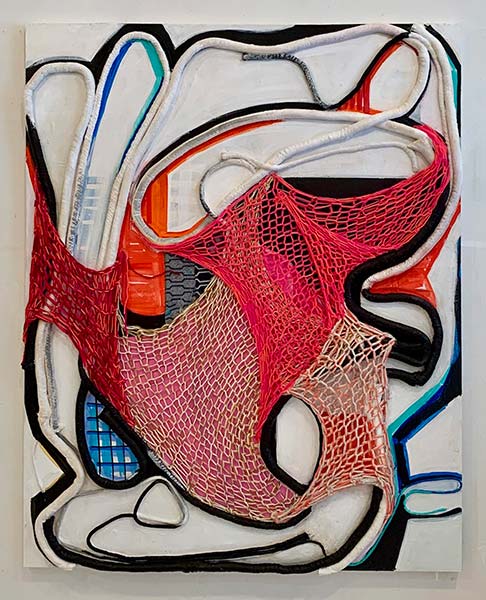 Nelson: How do you see your work evolving in the future?
Mastrangelo: I will continue to work with a variety of materials. I remain fascinated by the challenge of working three dimensionally on a flat surface and confined to the edge. I have also begun to work with the same forms, and materials in space—in other words, three-dimensional sculptures. But in all honesty, I do not plan what will be next, and just follow where the work leads me.
Click here to read more interviews with WTP artists
Copyright 2022 Woven Tale Press LLC. All Rights Reserved