Inside the Studio with Janet Jaffke
Inside the Studio offers a behind-the-scenes peek into the work environments of WTP artists, as well as insight into their creative process within these resonate spaces. See Janet Jaffke's work in WTP Vol. X #4.
By Jennifer Nelson, WTP Feature Writer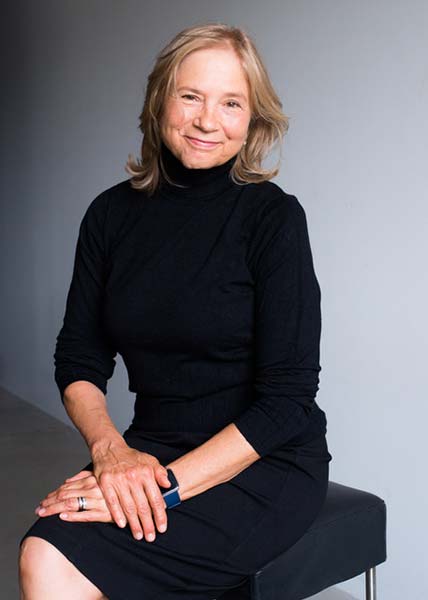 Janet Jaffke is thrilled to now actually own a converted thread factory. After all, she's a fiber artist, who uses burlap and gauze. "It feels a bit like destiny," said Jaffke. "I like to think about who might have worked there and what their lives were like."
To get to her studio, she drives across the border into Lorrach, Germany, which sits on both the Swiss and French borders. In May, she moved into the 1,100-square-foot workspace. "So here I am living in France, speaking some French, now I have a studio in Germany and speak no German," said Jaffke, whose husband is French. "It's crazy."
Her former studio, in an apartment next to where she and her husband live, got cramped, so she was pleased when a German artist friend found her a more spacious studio. Now she calls home a third-floor studio in the renovated 1940s building. The complex, in a square format, features a courtyard in the middle. Interior spaces have been converted into offices and workspaces for businesses including a martial arts gym, holistic doctor, welder, and artists. An entire floor is devoted to musicians. To reach her apartment, Jaffke climbs seventy-seven steps from the ground floor. From there, she has a view of the Black Forest mountains behind a variety of building peaks.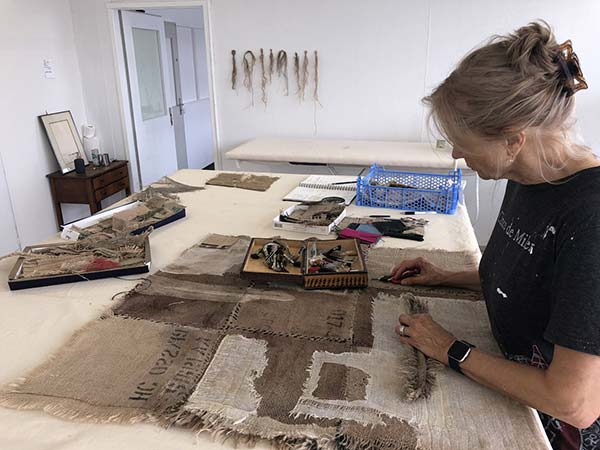 "In the morning, I am serenaded by the sounds of birds, by 4 p.m. it's the sounds of rock and roll," said Jaffke, who's originally from Chicago.
She loves the studio's incredible light, three distinct sections, and historical significance. One area is designated for working with messy fiber, which limits where fuzz and floating fibers travel. Even on cloudy days, she walks into a place with lots of natural light and huge windows—and much higher ceilings than her previous studio. "I want to experiment with suspending my work in air, so the height and space will now allow me to do that," she said.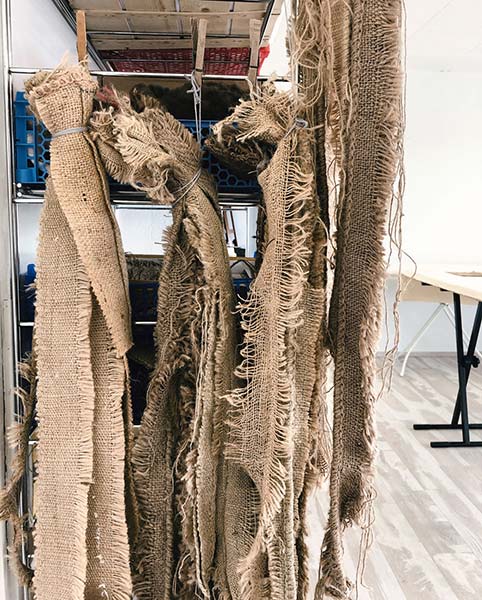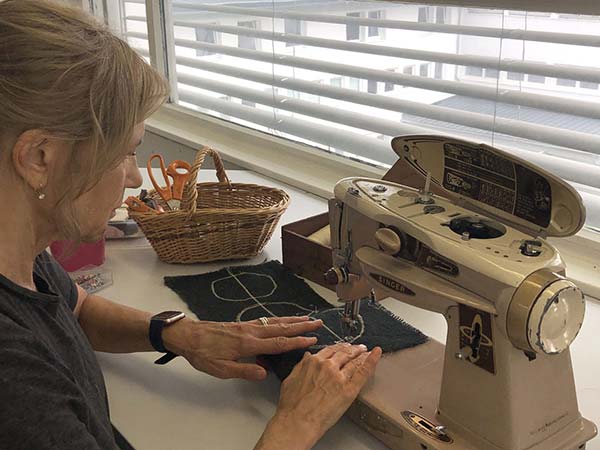 She's designated the areas into a sewing/design/living room, an exploration room, and a room-in-progress. For the sewing room, she recently constructed a pin wall from thick carpet felt underlay, cotton felt, and cotton twill fabric. On the 13' x 6 1/2' wall, she pins fabric, stepping back to view her creation and allowing her to work on several large pieces simultaneously. She keeps a sewing machine and ironing board there. "When we finally finished the installation of the pin wall, I hung up one of my larger pieces and I almost cried," she said. "I felt like I could finally breathe."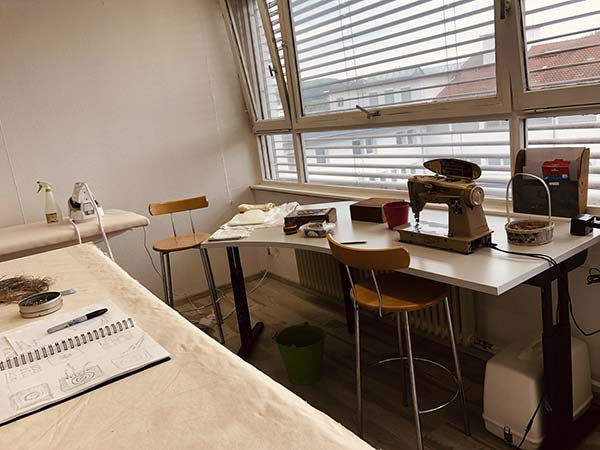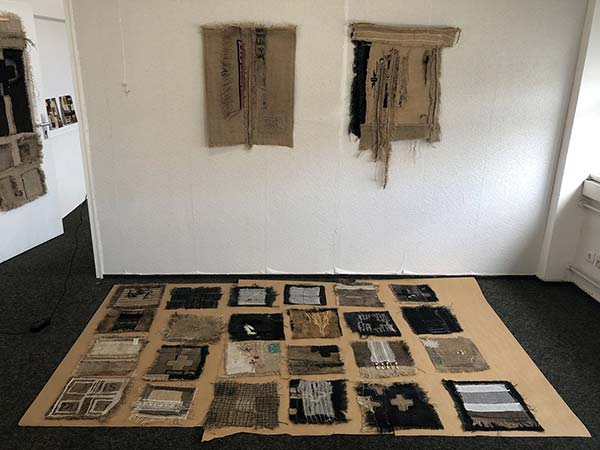 In the evolution room, Jaffke stores burlap on industrial shelving. Her burlap, from all over the world, is in varying stages of deterioration. She obtains much of the material from Kaffe Fredo, an independent coffee roaster in Germany, whose owner is happy to put the coffee bags aside for her instead of being thrown away. People know she loves burlap, so they've given her older bags from their attics and old barns. She's even gotten a few marked potato bags that could have been used to send potatoes from the United States to Germany after World War II. In her studio, she has organized the burlap so she can see its color, weave, and age, allowing her to easily search for a particular effect in her artwork. She uses tables to paint and dry large installation work.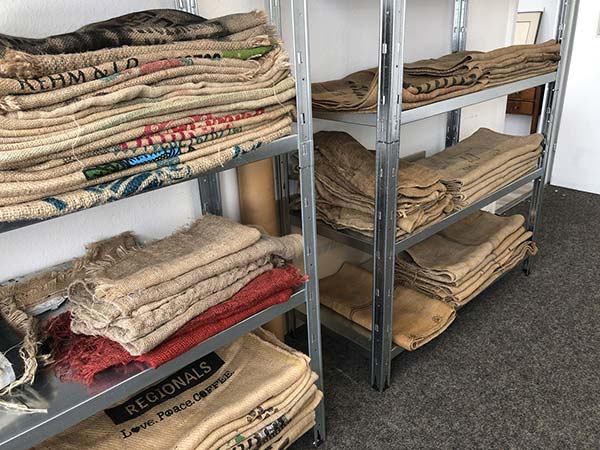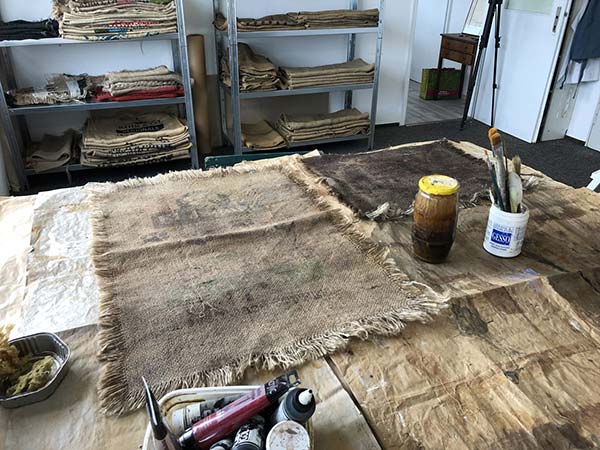 Jaffke envisions the third, smallest room as a place to showcase her work and get a feeling for what the artwork will look like in a home environment. The room has a red couch—left by the previous tenant—a small refrigerator, microwave, coffee machine, and side bar. A corner will be allocated to drawing with an easel already set up. There will be a desk and books, a comfortable place to study and read.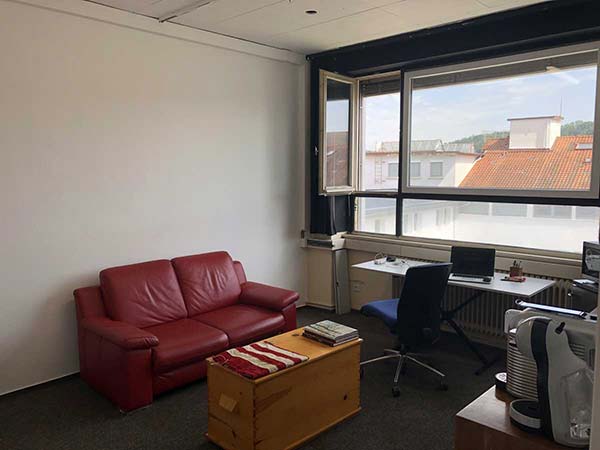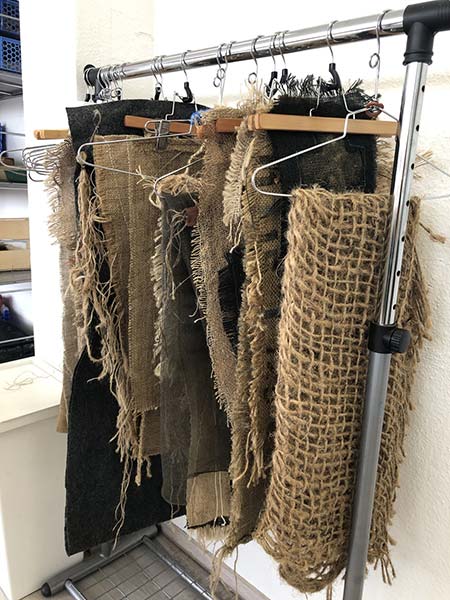 To create her artwork, Jaffke deeply explores the characteristics and manipulative properties of burlap and gauze. She works on a few pieces at a time, which limits the parameters to explore, such as size, shape, colors, or format. To stay focused, she keeps an overarching format or idea. She notes her ideas in a creative journal. "Sometimes when I feel I'm going into many directions, I'll pull myself in, write down the ideas, so I don't lose them, and then re-align myself with my original intention," she said.
In the new studio, she has become more organized and focused. She sees what she's doing in a different perspective and envisions expanding her work in many ways. "With this space, I can continue to challenge both my art and my life," said Jaffke. "It's a bit scary to take on such a big obligation with no guarantees but the adventure will be so worth it."
Click here to read more Inside the Studio features.
Copyright 2022 Woven Tale Press LLC. All Rights Reserved