Enjoy our WTP Spotlights, notable selections featuring artists
and writers from our Woven Tale Press magazine. To read the
issue in full subscribe and you can also register on our site
to enjoy our archive.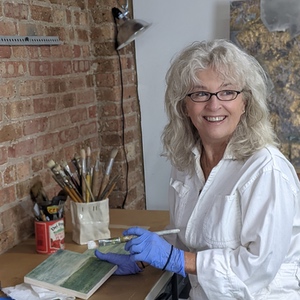 Over the years, in pursuit of a visual arts education, Jeanne LaCasse has traveled to China, France, Italy, Argentina, and attended workshops across the United States, as well as classes at the Evanston Art Center, Lill Street Art Center, University of Chicago Midway Studios, North Shore Art League, and the Chicago Botanic Gardens. She has studied with many accomplished artists and photographers, including Nicki Heenan, Mark Eanes, Louise LeBourgeois, Judith Kruger, Mark Russell, Nina Weiss, Cynthia Winika, Ingrid Albrecht, Eddie Soloway, Douglas Beasley, Dan Anderson, Jack Graham, Mike Moats, Dianne Kittle, and Regina Mamou.
---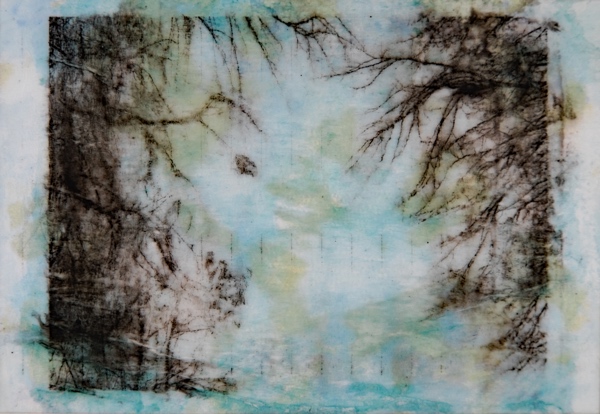 PA20 – DSCF1313
photo montage/mixed media
11" x 9"
See her work in WTP Vol. X #6
"At the cusp of the pandemic, I was inspired to do a deep dive into the study of trees, including the Japanese practice of Shinrin-yoku (Forest Bathing). I took inspiration from the works of other visual artists, fine-art photographers, poets, and writers such as John Muir, Hokushi, Peter Wohlleben, Michael Kenna, Bae Bien-u, Ian McKeever, and Mary Oliver. Excerpts from Thoreau's diaries were a real treat. Come spring I sought out the company of my favorite weeping willow and canopy of cottonwood trees in whose shade I painted en plein air. During one of my Shinrin-yoku walks, I thought of the TED talk about how trees talk to one another. I was trying my very best to eavesdrop. The mining of my vast photo files, distilling the information gleaned from my studies, and a great deal of experimenting spawned this series. Metaphorically speaking, I suppose I was seeking light much in the way trees branch out seek the same."
Click here to see more featured work by WTP artists.