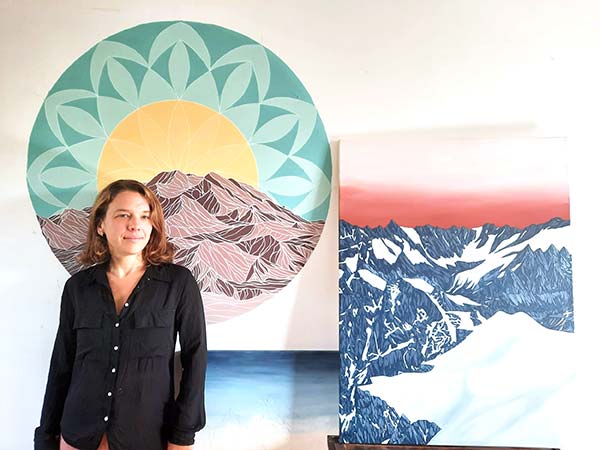 Coralie Huon is a multidisciplinary artist and illustrator who takes inspiration from nature and landscapes. Huon, who lives and works in Grenoble, France, uses landscapes as metaphors to express emotional and spiritual journeys. She highlights the beauty of the outdoor world and the interaction of people with these places and themselves. She spent a decade studying and working as an architect in France and in the United Kingdom. She earned a master's in architecture from Ecole Nationale Supérieure d'Architecture de Paris—La Villette and a master's in interior design from Arts Décoratifs de Paris and a bachelor's in the same subject from Ecole Boulle, Paris. Her works have been exhibited at Brick Lane Gallery and Roy's Art Fair, both in London.  Her work appears in WTP Vol. X #6. 
Interview with Coralie Huon
By Jennifer Nelson, WTP Feature Writer
Nelson: In your early twenties, you had a climbing accident, and wrote a graphic novel about the experience. Please explain more about this dramatic event, and its impact on your artistic pursuits.
Huon: In many regards, this accident was a pivotal point in my life. Although I had worked on various projects on the side, there was little direction in my creative endeavors. The climbing accident happened after a few intense months at my job as an architect. Being immobilized for an extended period gave me time to reflect and do things I hadn't done as much before like drawing. I started by drawing a few pages about the accident. This helped me process the event, so I drew more pages and created a storyboard of a graphic novel about the rehabilitation of my broken foot.
It took me two years to complete the book. The accident was the seed that gave birth to a new breath to my drawing practice, making me realize how important artwork was for me, as well as providing a subject to draw. It merged my passion for the outdoors and my need for creative expression.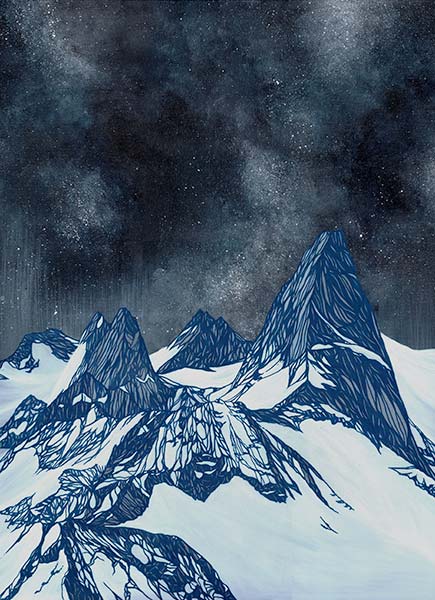 Nelson: How does living in Grenoble near the Alps and your love of exploration and climbing inspire your artwork?
Huon: Being close to the mountains was something I aspired to for years since it allowed me to often go hiking and climbing. I noticed that what happens in my life or environment emerges in my art within a few months or a year. It is as if the place's influence and event is maturing within me before emerging onto my artwork. It's been a year since I moved to the Alps. I can feel the pull to draw places I have discovered this year and express the relationship I began to develop with specific mountains and places where I climbed.
Starting anew in France after a decade in the United Kingdom has involved a steep learning curve and big transition, even though I was born and grew up in France! The past few years have been a period of change and transition and my artwork is the tale of this journey.
Nelson: Please describe the techniques and materials you use in your paintings from the Eternal Change series, which feature stark color contrasts, geometric shapes, and precise boundaries.
Huon: Before creating paintings on canvas, I mostly worked with paint markers—Posca and Molotow ones—on paper. These markers were an essential tool in developing my line and style of expression in my drawings. The paintings mix acrylic painting and linework using the markers, which leads to contrasting and precise lines.
As a process, I usually start with a feeling I want to express. I hold this feeling in my body; ideas of colors and composition start to emerge. It is then I look for the picture that supports this vision. I have a large folder with many photographs I collect—either mine or others. The photograph provides guidance and brings inspiration to the piece.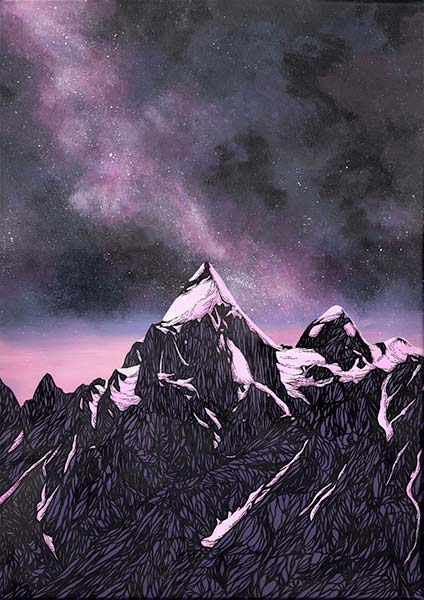 Nelson: How did your training and work as an architect influence your depiction of nature in your artwork, particularly in such series as Into the Night, and what messages do you intend to convey through your creations?
Huon: My work as an architect shows up in the graphic style of my linework: precise and structured, with solid and dotted lines, which is the basis of architectural drawing. Architecture has shaped my eye for seeing composition, as well as order and chaos in man-made construction and nature. I also see the underlying structure of what I observe.
There are several messages layered throughout my creations. One is about the beauty of our planet and its natural wonder, as well as our place within it. I view it as an holistic place where we are a small part of nature, rather than having an anthropocentric relation to it. Through the recognition of this relationship, this is how we get to care, protect, and create a more harmonious and durable world. Mountains have this way of making you feel both small—in front of the natural forces—and very connected, both to the earth and to yourself.
The other aspect of my painting is using symbols of nature as a way towards inner exploration, metaphors of our own journey as a human, and a higher consciousness.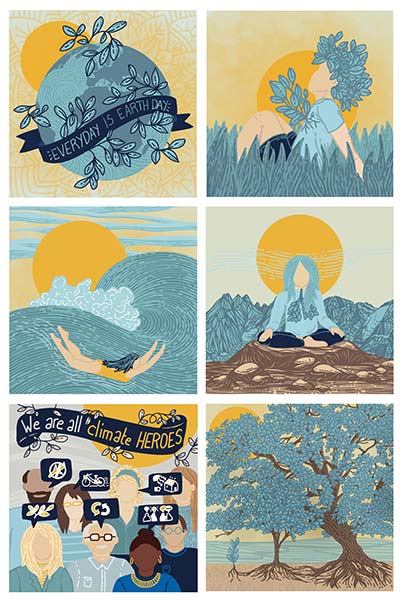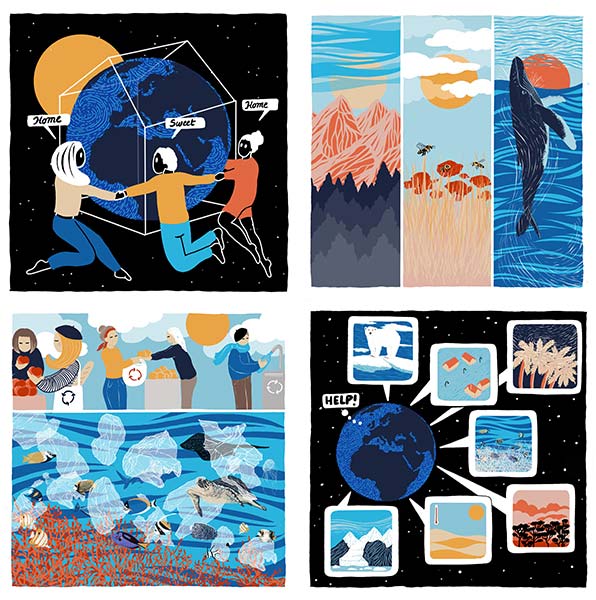 Nelson: Please talk about the processes you use to create your illustrations for your series Refuge de Gramusset, Our Planet Week, and Kanga Climbing, and your feelings about working on these projects focused on the environment.
Huon: As someone who spends a lot of time in the natural environment, protecting and preserving natural space is a cause that is very important to me. Naturally, I am seeking clients and people who share these values to work with so I can extent the value and the message of my work even further.
Our Planet Week was an online drawing challenge I did in 2021 and 2022, in which many artists and illustrators drew about word prompts related to nature, the environment, and climate. I loved it as it encouraged me to express myself in a different way and to feel part of a wider community that really cares. For each drawing posted a tree was planted, which was really amazing!
Creating illustrations for the Refuge de Gramusset or Kanga Climbing was more a more straightforward commission-based process in which I was given a brief or pictures to create from. It was, however, priceless to be working on such a project that aligned perfectly with my creative universe and human values.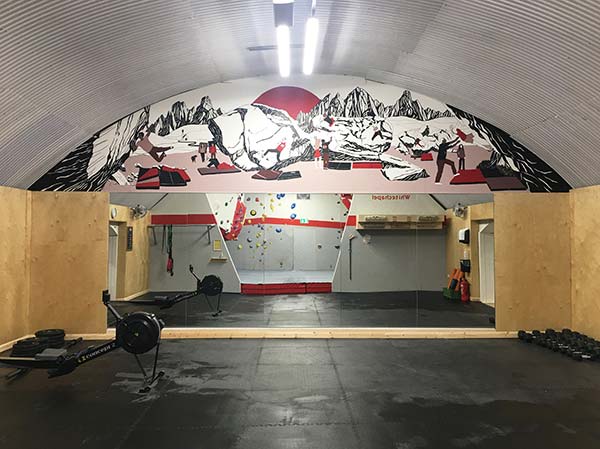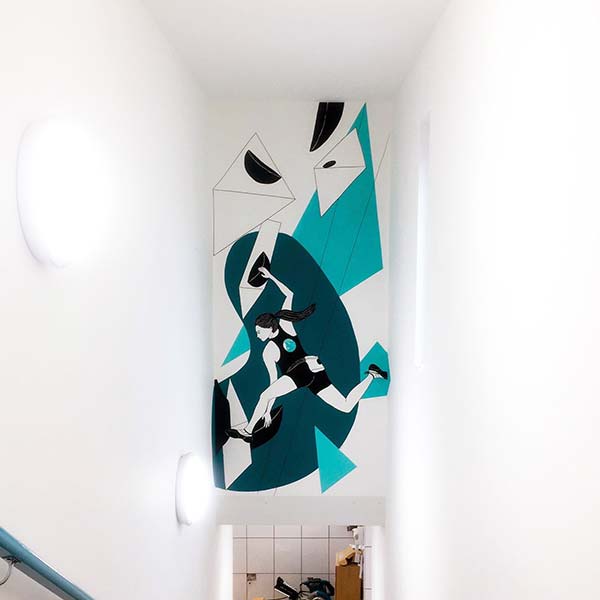 Nelson: What are the joys and challenges of working on large scale murals such as "Tre Cimes Meadow" and "The Jump"?
Huon: I absolutely love to work on murals! I love moving and movement, painting in a big scale allows one to engage one's entire body in the painting process and be immersed in the process. Murals also really change the space they are in; it's very satisfying to create a piece that does just that for an extended amount of time.
Painting a mural is a lot more tiring than being in the studio. It does require very intense focus—ideally one doesn't want any slip ups so one can avoid painting over. It's also a full body work out!
There is a whole lot of improvisation that needs to happen as every one is a bit different and techniques that you are using on a smaller scale often do not apply. It's a great exercise for problem solving and drawing on one's resources.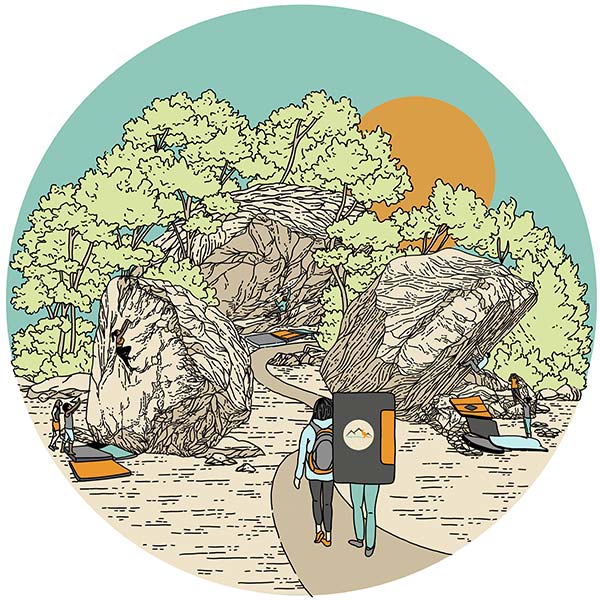 Nelson: Please talk about how you promote non-profits such as Climb Aid through selling online your illustrations on t-shirts, hoodies, and tote bags.
Huon: Giving back is important more me, and within my means, I donate to organizations that are meaningful to me, mainly ones that work toward climate and social justice.
When I got the chance to create a collection for Climb Culture, I was elated to know that as part of its aspirations, a part of each sale would go to the NGO of my choice. I've known about Climb Aid for a few years, and I love the fact that they introduce climbing to refugees, bringing the transformational power of this sport to people in great need. So, it was a great way to contribute to their cause through this collaboration.
Click here to read more interviews with WTP artists
Copyright 2022 Woven Tale Press LLC. All Rights Reserved