Nikoleta Sekulovic is an artist and mother, presently living and creating in Madrid. Born in Rome to a German mother and a Serbian father, she has worked in London, Paris and New York, exhibiting across these cities.
The Rebecca Hossack Art Gallery presents The Strawberry Thief, an exhibition of new paintings by the Barcelona-based artist, Nikoleta Sekulovic. The Strawberry Thief brings together a collection of paintings of the female nude set against the rich patterns of William Morris's textile designs. Deploying friends and family members as her 'muses', Sekulovic confounds conventional expectations of the female nude with her tender depictions of her chosen subjects – all of whom are mothers, like herself.
Interview with Barcelona-Based Artist
Nikoleta Sekulovic
By Sandra Tyler, Editor-in-Chief
Tyler: Your new work incorporates the sensibility of William Morris, designer and champion of the arts and crafts movement from the end of the 19th century. How did you first come to draw inspiration from his iconic textiles?
Sekulovic: William Morris and the strange way in which he has become entangled in my work: it all started on what must have been the windiest day in London. I had gone to the Victoria & Albert Museum for inspiration and ended up at the giftshop, looking for a gift for Rebecca Hossack, as she had invited me to the Chelsea Arts Club for lunch. Nothing seemed to catch my undivided attention until I was standing in front of a whole shelf of William Morris books. There I got stuck, totally engrossed in flipping through pages filled with his wallpaper designs. I chose my favorite book and decided it was a perfect gift for Rebecca, as she loves flowers.
I then walked back out into the storm. The wind was so strong, it was tossing around cafe chairs across streets. I reached the Chelsea Arts Club and rang the doorbell. Next thing I knew, I was in a reception room with low ceilings and walls covered in small framed paintings, among them, paintings by James McNeil Whistler, of course.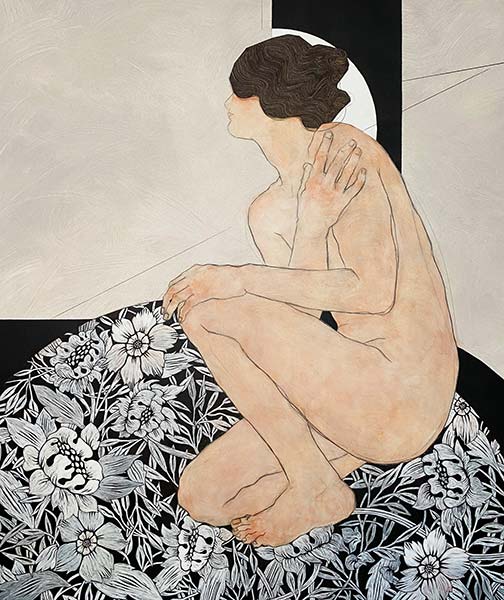 To me, in that moment, it was like entering a somewhat Alice-in-Wonderland room. Everything seemed perfect yet everything was different and odd. Further in, a carpeted staircase lead to the second floor, and on the middle landing, a black-and-white cat was sleeping, undisturbed by human activity. I was led into the lounge area to wait for Rebecca who had not arrived yet. Through the window, I could see the garden and terrazzo area. Outside, the wind was ripping the garden to bits, as if a tornado was swallowing time itself—inside, only the sound of a crackling fireplace and low background music. Time was suspended.
Finally, Rebecca arrived and we sat down for lunch. We discussed my new ideas for a new collection. I had in mind to add rugs or carpets (colored ones) at the feet or base of my nude figures. I had a vague idea that I wanted to add flowers to the paintings. However, the idea was still veiled behind heavy fog. When I gave Rebecca her gift, we flipped through the pages together, looking at the closeup images of the Morris wallpaper designs. That is when it happened. In a heartbeat.
Literally, the idea must have been blown in by the wind; in a split second, the collection was in my head, and Rebecca was talking about it as if it had already been created and complete. But there were going to be flowers my paintings; was I not the one who always had painted my muses void of distraction? With simplicity and a restrained color palette? Was that not my staple signature? Well, no longer. I am convinced that somewhere or somehow, William Morris himself must have been determined to make himself noticed that day.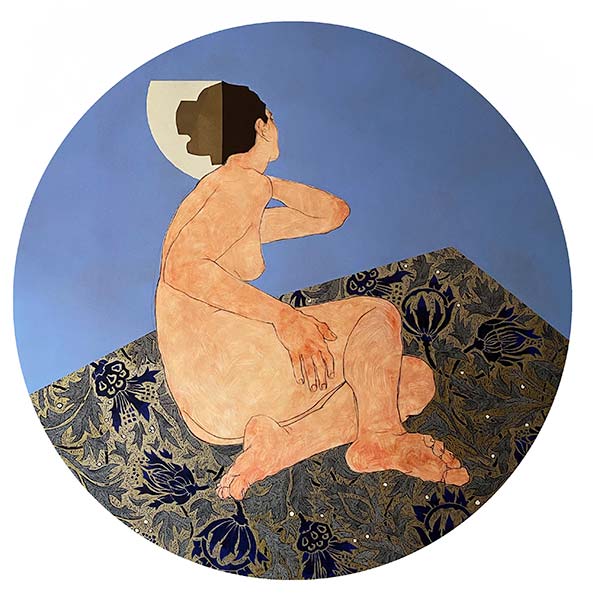 Tyler: These new works are distinctly different from the ones featured in The Woven Tale Press, of a more muted palette, though you stay true to your looser linear effects. There's a new tension introduced by the patterning, especially as Morris textiles can be elaborate and often quite lush. Can you talk about this tension?
Sekulovic: It might be helpful to understand the manner in which I work. It is always a magical but nerve-wracking moment when an idea or image unexpectedly comes into my mind, disguised by codes and finite frequencies, and daring me to decode it. I often, if not always, have to work out the formula that equals the result, working my way from Z back to A. William Morris and his epic designs came to me in such a manner.
So the tension that I perceive in this collection, is the intricacy and intimacy of each pattern that has evolved uniquely in each painting. Morris's designs triggered a whole mechanism of ideas. However, with each painting, I was starting from scratch, no matter how much I had refined the technique and method with which I had painted the previous painting. Each painting had its own secret code. Although the collection is inspired by Morris designs, the actual flowers and patterns are not a copy of his work, nor are they a repeated pattern as would be a true wallpaper design. Each flower is born from the previous one, hence they are all slightly different. These represent each individual heartbeat of the muse posing in the painting.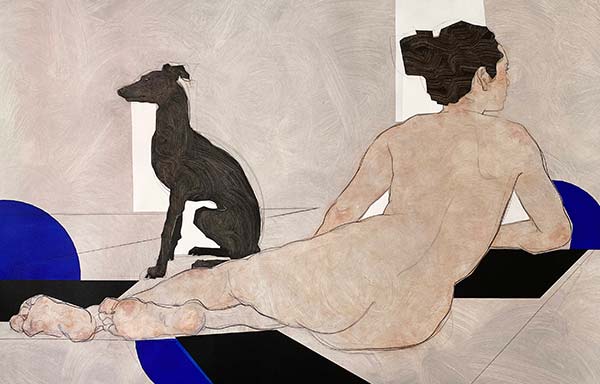 Tyler: How exactly are these new works a re-examination of Morris' moral aspirations? And how does this feed into your subject of women, of mothers?
Sekulovic: Rather than a re-examination of his moral aspirations, his aspirations were a source of inspiration that resonated with me from the start.
I found this beautiful quote by Morris that has accompanied me throughout the year I worked on this collection: "The true secret of happiness lies in the taking a genuine interest in all the details of daily life."
One of Morris's main aspirations was to create beautiful crafted designs and objects that also served a purpose in one's daily life and home—one that resonates with my ideas about what daily life should be.
Another aspect of his life and work that resonates with me is the fact that he was an artist of the Romantic Movement. This movement is often associated with the idealizing of the muse as a symbol of the world's beauty. A desperate romantic himself, Morris was married to Jane Morris, the idyllic model of the Pre-Raphaelite painter Gabriel Dante Rossetti. An exotic beauty, she was something out of this world, and became an additional inspiration for my work.
Finally, I discovered Morris's poetry— romantic, complex, and thick with nostalgia. I was trapped in a whirlwind. Everything about his ideas and his work was whispering in my ears, longing to get out into the world again.
Tyler: You seem to be after a different kind of authenticity in your depiction of women, with the nude still your subject but interpreted differently from earlier works. Can you talk about this new, perhaps more layered, portrayal of women?
Sekulovic: The muse in this collection speaks of the longing for a thousand kisses upon her face, for a thousand promises for the future, and the flowers represent her heartbeat. The collection as a whole tells a story, a story of romanticism, of an ideal garden, an earthly paradise. It seeks to describe the tapestry of the heart; the patterns of our heartbeats are a mystery, a whirling mass of energy and complex feelings. Each flower in these paintings is slightly different from another because each heartbeat differs slightly from the previous one. Our emotions determine the speed of our heartbeats. Thus with each heartbeat we evolve into a slightly new person. This new collection is the evolution of myself, as well as of my muses who have evolved into their own people since I started my very first series.
Tyler: In his lifetime, Morris was perhaps better known for his poetry, his designs, posthumously. Can you talk about the addition of inscriptions of his poetry on the back of your canvasses? How that adds a whole new layer to these works?
Sekulovic: This is the most intimate part of the painting. The part that one only sees if he or she can detach the painting from the wall. I have added this element of writing on the back of my paintings for quite a number of years now.
In each painting, I capture the external aspect of my muse posing, of her body, mainly of her back, to capture her unique character, rather than merely her nudity. My symbolic backgrounds represent her inner thoughts, her heartbeat. Finally, the inscriptions on the back together with the color palette, represent the more codified aspects of the painting, perhaps the more mystical part of a person, of the soul. The additional poetry or text and color palette on the back, are as important to me as the actual painting, much as the renaissance painters used to inscribe the formulas for their colors from their raw materials.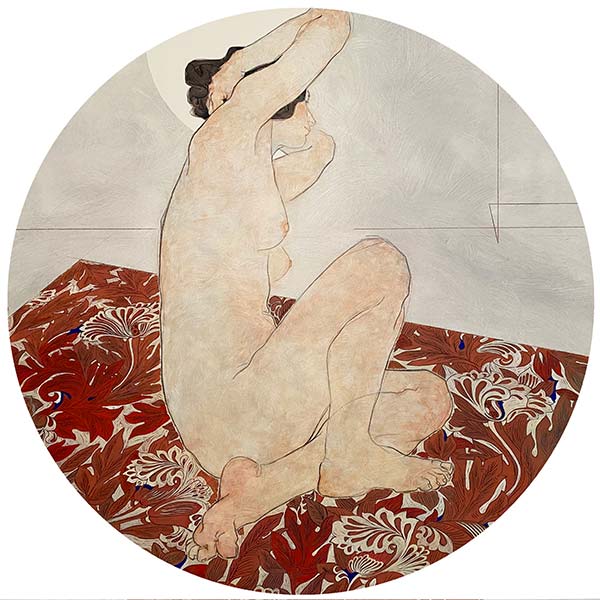 Tyler: Can you talk about how your current and past work is in the tradition of Odalisque portraiture or departing from it?
Sekulovic: My work differs from traditional Odalisque portraiture in that I paint women from a woman's perspective; nudity is not an object of sexual desire. For me, the nude as muse is a way to portray the person's soul. My very first model and muses were mothers themselves, as at the time, I was a mother myself with young children. I have kept to that course, continuing to invite mothers to pose. But with this new series, I wanted to honor these mothers not just as mothers, but as beautiful striving women who continuously bloom with each passing day.  While they have, of course, been marked by motherhood and carry this responsibility with pride in their daily lives, they remain individuals, each with their own romantic heart, longings, ambitions, and dreams. So much so, that perhaps they end up forgetting their own selves sometimes.
Tyler: How do you see your work evolving in the future?
Sekulovic: I believe that the application of new colors in my work, more intricate details in the form of flowers, will continue to evolve with my new collection, but exactly how is a mystery to me until the day they bloom. I suppose it is a little like planting an unknown seed into a pot and watching it grow from a tiny sprout into a green plant, and suddenly one morning you find it has bloomed into flowers bursting with color. You knew it would happen but you didn't know when exactly and what color the flowers would be. But just like that, in a heartbeat, you see or feel something that was not there before.
Click here to read more interviews with WTP artists
Copyright 2023 Woven Tale Press LLC. All Rights Reserved