Enjoy our WTP Spotlights, notable selections featuring artists
and writers from our Woven Tale Press magazine. To read the
issue in full subscribe and you can also register on our site
to enjoy our archive.
Lisa McCutcheon earned her MFA in Painting in 2001 from the San Francisco Art Institute and currently resides in the San Francisco Bay Area. She has exhibited across the United States, including in Paper-Cuts, a large-scale invitational collage show at the Palo Alto Art Center, as well as in an exhibition at the Spartanburg Art Museum, South Carolina. She has furthermore exhibited as part of Dolby Chadwick Gallery's group shows Here and Now, Lightning Strikes, and Lightning Strikes II, and curated the November 2021 exhibition at San Francisco's Root Division. This will be her first solo exhibition at Dolby Chadwick Gallery.
---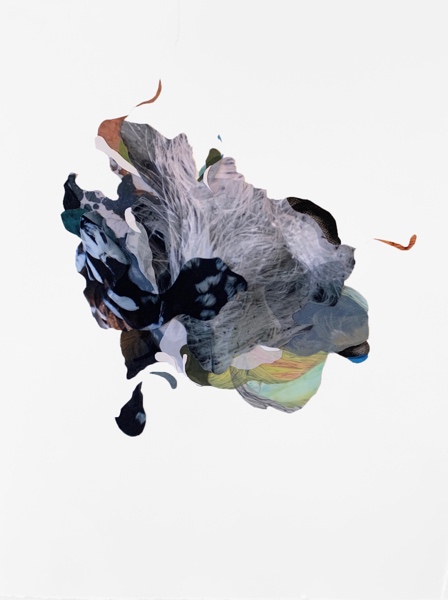 Bloom Series 1
mixed-media collage with Mylar and photo-transfer on fabric on paper
30" x 22"
See her work in WTP Vol. XI #5
McCutcheon interlays hydrangea petals or leaves and feathers (those of the chickens she raises in her own backyard), respectively. Despite the inclusion of familiar imagery, the collages push and pull between representation and abstraction. Her photographs, which she prints on a silk-like fabric, are dramatically cropped and reoriented so that the larger context from which her subject originated remains unknown. Such ambiguity and mystery are both heightened by the fluidity of her painting and held in tension by the precision of her drawing. These are not self-evident works but rather highly layered narratives that unfold in a shifting, nonlinear manner, offering viewers dazzling tableaux of visual interest while never fully revealing themselves. Relationships between the images, textures, and colors, as well as the positive and negative spaces, emerge as she layers her materials, creating spontaneous forms that both captivate and beguile the eye.
Courtesy of the Dolby Chadwick Gallery
Click here to see more featured work by WTP artists.