Winter 2018 Highlights
By Susan B. Apel, WTP Art Correspondent
Four times a year, WTP art correspondents from around the country will report back on the previous season, with images from exhibitions you otherwise might have missed, and their own insights into these varied venues.
Much of this winter's art reflected the essence of Vermont and New Hampshire—plaques of curly maple, repurposed old cars, and near-erotic dreams of spring. Some artists imported the Western plains or subterranean New York for the pleasure of New England viewers. And a venture over the border to the Institute of Contemporary Art in Boston is included as a visit with artist William Forsythe, fellow Vermonter.
Weekdays for the shy and contemplative, weekends for the more boisterous, and yes, contemplative. William Forsythe's Choreographic Objects at Boston's Institute of Contemporary Art offered both experiences. Mid-week allowed the reticent more opportunities to engage physically with numerous pieces from this internationally-known choreographer, now Vermont resident. Time-ticketed weekend entry found long lines for "The Fact of Matter," albeit a certain psychological safety in numbers. Do you prefer to dance amid a crowd or solo?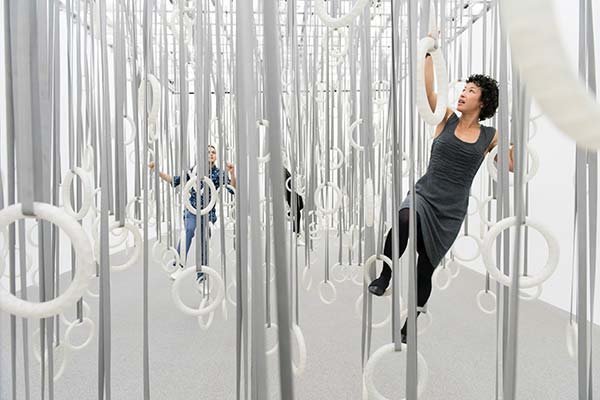 In "The Fact of Matter," the artist's instruction is to "traverse the space" without touching the floor, using a roomful of suspended rings into which one inserts hands and feet. It spoke of challenge—physical challenge in particular. As a spectator, one could see examples of persistence, grace, strength, awkwardness, failure to complete (practically everyone), failure to launch at all. Beauty in all of the attempts, and a whiff of ableism. If I can't do this, I pondered, what does it mean? And has age earned me the right to being "just" a spectator?
Friendlier was "Nowhere and Everywhere at the Same Time, No.3," a gallery of piston-fired swaying pendulums. Again, "traverse the space," after minimizing your own by doffing the puffy coat and bulky bags. A purposeful step forward, a mini-sway of a hip. Unlike the strength required in "The Fact of Matter," this installation, along with a little focus and a modicum of agility, can make just about anyone an improbable dancer.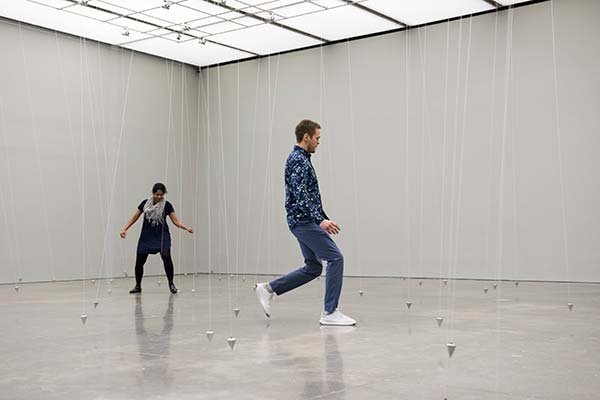 The late sculptor Lawrence Nowlan is known for some tough-guy sculptures: the fictional Ralph Kramden, mid-stride, with his workingman's lunchbox, that graces New York City's Port Authority Bus Terminal; and a commission of a statue of boxer Joe Frazier, not completed due to Nowlan's untimely death. At the Taylor Gallery at Kimball-Union Academy in Meriden, NH, what a surprise then to see more ordinary subjects, like "Child Reading."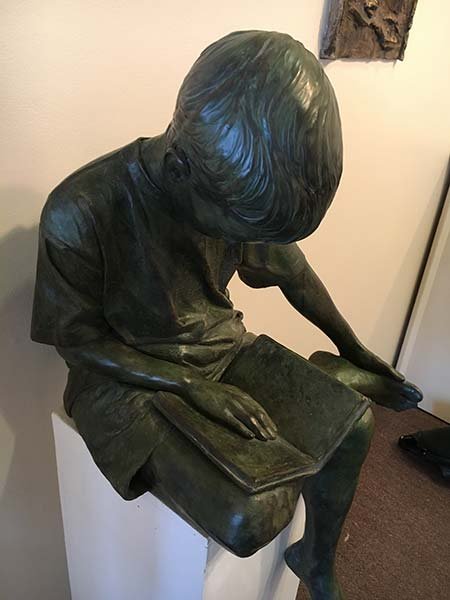 The stunner of the group, however, is "Untitled." The chin dropped to chest, the splayed fingers. The clutching of the left hand spoke of a moment of pure agony.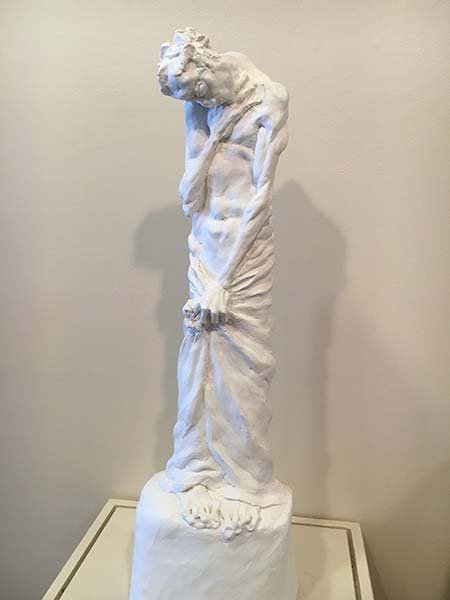 William C. Turner has captured the imagination of local art lovers in an exhibition of paintings at the Williamson Gallery at Dartmouth-Hitchcock Medical Center. Turner uses the visual vernacular of rural New England to showcase old beaters (cars, that is) abandoned (or are they?) in fields. Other works are allegorical, substituting automobiles for human figures in iconic works of art and Roman and Greek mythology. Bold colors, large canvases, hidden messages like the thread, scissors, and license plate in "The Three Fates." His take on Munch's "The Scream" is on its own enough to entice repeat visits to this exhibition.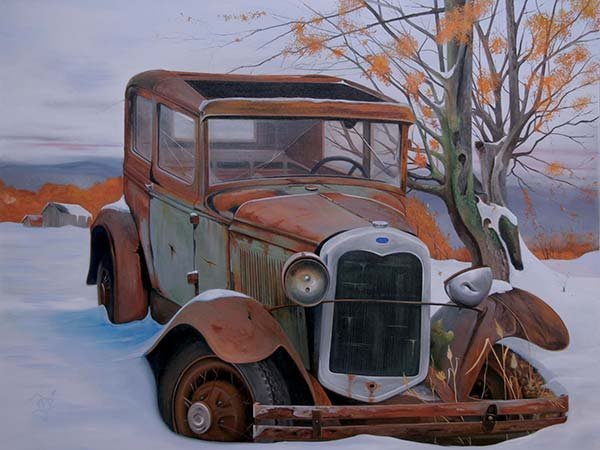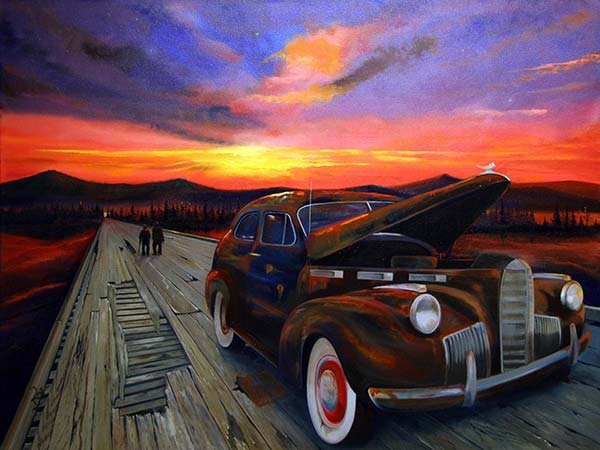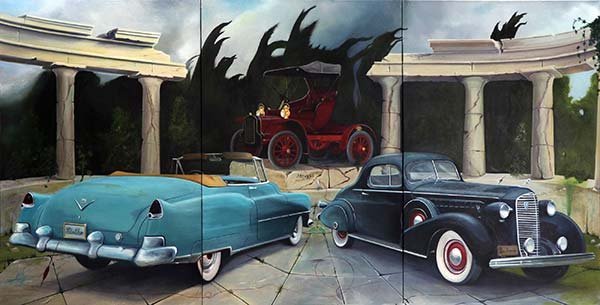 As Turner is speaking "old cars," Vermont artist Ann Young is introducing the foreign language of urban transportation, specifically subways, to rural audiences in the Vermont Supreme Court Gallery with Fellow Travelers. (Exhibitions in this space are selected by Supreme Court Associate Justice Marilyn Skoglund, whose passion for art resulted in the founding of this gallery twenty-five years ago.) Young likes the subways' "lyrical geometry," and uses vivid color, shadow, and strong lines to capture the energy of the city's subterranean mass transit. One of her best works is "4th Avenue," with a diverse group of commuters that contrasts physical proximity with individually-created solitude.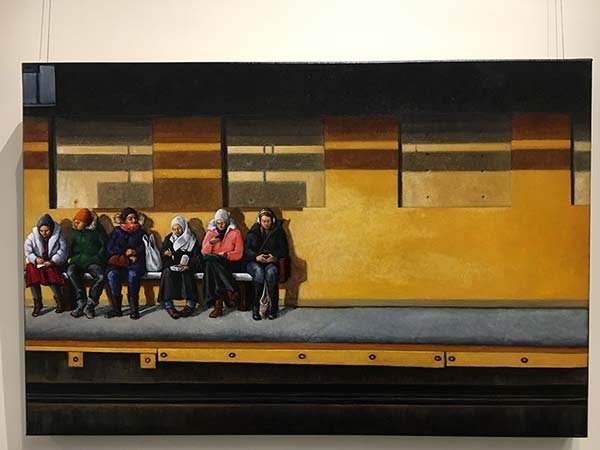 In "After Rush Hour," a lone figure in shadow gets to claim the platform space for her own. The second will soon pass, however, with the train's imminent arrival.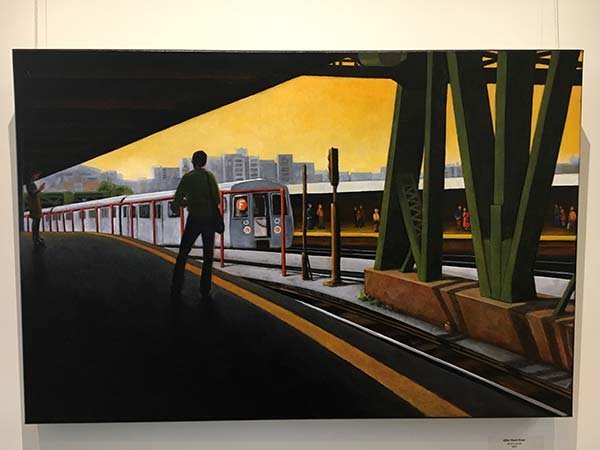 A stone's throw from the Vermont Supreme Court is its capitol, old, historic, and replete with the expected formal portraits of governors past and present. In his exhibition there, Endangered Alphabets, Tim Brookes marries indigenous Vermont curly maple plaques with carvings of native and foreign languages that are generally unknown and about to become extinct, including Samaritan, Balinese, Lontara, Manchu. His works are part of the Endangered Alphabet Project, which estimates that "the world has between 6,000 and 7,000 languages, as many as half of which will be extinct by the end of this century." While aesthetically pleasing, the power of these pieces is the portent of loss.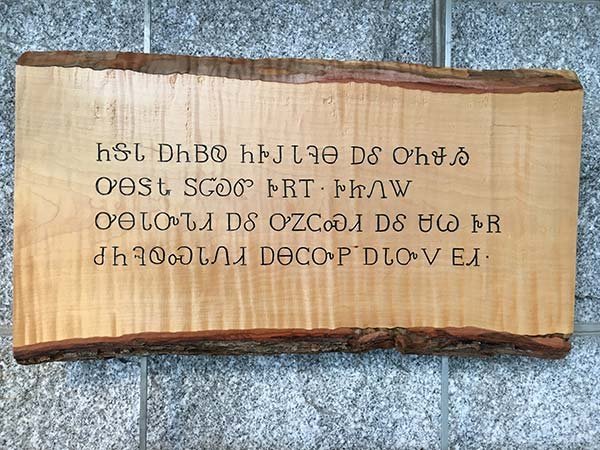 Nan Darham has brought her native West (she's a fifth-generation Montanan) to the Northeast, with paired shows at the Williamson Gallery at Dartmouth-Hitchcock Medical Center and the Russo Gallery at Dartmouth College's Dickey Center for International Understanding. Her work has been exhibited all over the world, and was displayed in the offices of Senator Max Baucus for a decade. She brings the viewer into America's own wild in the Russo Gallery show with a fond but unsentimental gaze of wildlife.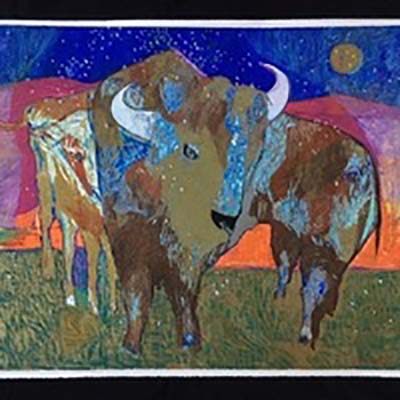 Equally, if not more appealing, are her glimpses of home life at the Williamson Gallery in which animals, including one very liquid cat, are part of the domestic landscape.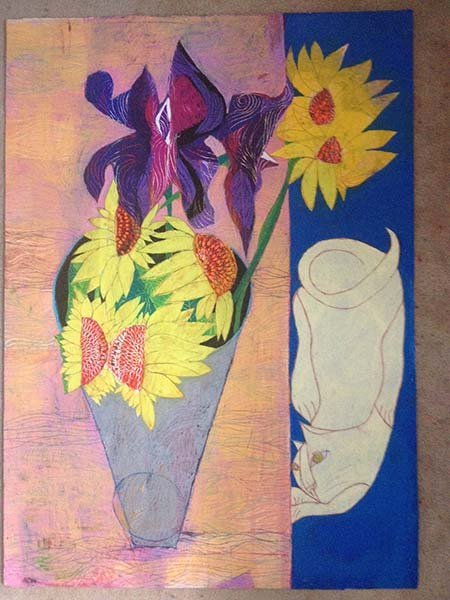 Finally, Judith Lerner has exposed the secret of Twin Staters who are approaching the latter third of what seems like, year after year, endless winter. Her "Luscious Pornography of Seed Catalogs, Page 2, Gardens of Saturn," is whimsical and sensual, in some instances spilling over their own borders to join others or perhaps to escape, the better to propagate. Her seed pods, leaves, vines and flowers sway as dancers and speak not just of the promise, but of the urgency, of spring. At this moment, "Luscious" is hanging in a group show at the Tenney Memorial Library, Newbury, VT.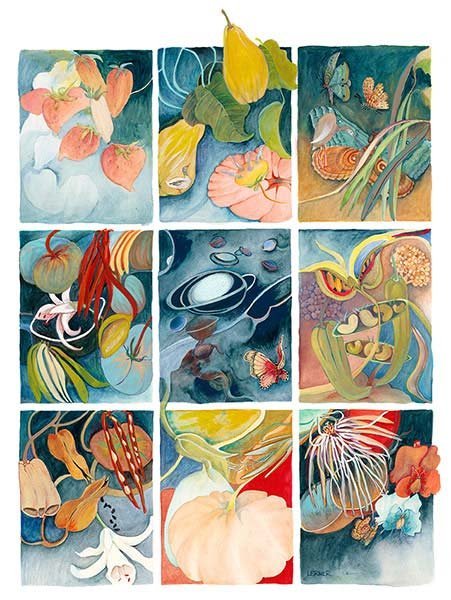 If you are interested in becoming an art correspondent for WTP, please inquire at wtp@thewoventalepress.net
Copyright 2019 Woven Tale Press LLC. All Rights Reserved.