Winter 2018 Highlights
By Emilia Dubicki, WTP Art Correspondent
Four times a year, WTP art correspondents from around the country will report back on the previous season, with images from exhibitions you otherwise might have missed, and their own insights into these varied venues.
This winter in the northeast, where life quiets down a bit in the landscape, I was thinking about the relationship we have with our surroundings. The distance between place and self often blurs. We can be so integrated with a place, knowing it inside and out, until something changes either externally or within ourselves, and we take notice. In the exhibits I write about here, I consider the artists' experiences of self in time and space. Walking around Chelsea on a brisk winter day, I was very much aware of the weather, the teasing sun a welcome companion as I tucked into galleries.
Alexander Gray Associates hosted a particularly vibrant exhibition, A Necessary Elaboration, of new works by Joan Semmel (b.1932). Walking into the main gallery space can feel like entering a temple or chapel with illuminated stained-glass windows. Semmel's figures fill each 72" x 60" canvas, and where there's a cropped leg or arm, the mind's eye imagines its continuation without boundaries. This series of large nude self-portraits were painted in the last two years, but Semmel has been painting her own body since the 1970s. In the early '70s she used vivid colors in portraying erotically paired bodies, then later in that decade, she began depicting herself alone or with a partner. About the latest work, Semmel says, "You're still dealing with sexuality, but it's not about seduction… The colors are the seduction here."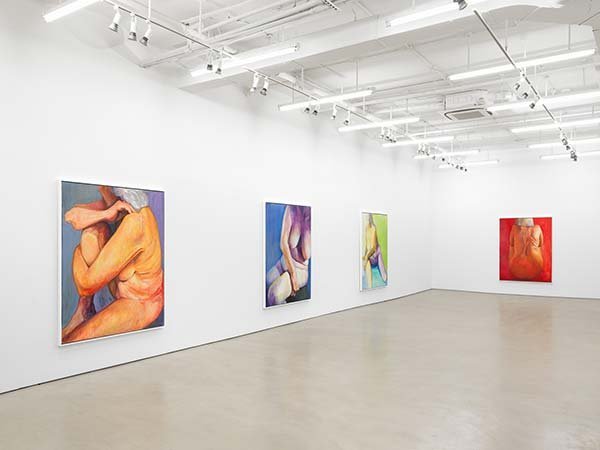 Semmel, who painted abstractly in the 1960s, brings abstract elements into this recent show through twists and turns of the body, through lines of color, shadows, and backgrounds in reds, violets, aqua, and lime-green. In the figures' contours, volume, and broad areas of color, one can see beyond the subject matter into the expression elicited by color and form. Brushstrokes of dazzling blue outline an arm and shoulder, the hips. A shadow of dusky mauve falls under a breast in "Fleshed Out." The hot reds, various flesh tones, or vibrant blues imbue each painting with its own mood. In "Seated in Red," the artist's back in sunburned-like flesh tones is set against crimson. "In the Green" imparts a cooler feel, with the seated figure and limbs serving to separate areas of aqua, lime-green, and purple. From across the gallery, a turquoise ring seems to radiate from the painting "Crossed Arms." As the colors repeat here and there among the works, Semmel seems to be in conversation with herself. The source of light shifts, in some, seeming to be cast from the left, from the right in others. And how the light is reflected off the figure in turn reflects an inner life—Semmel's face turned toward the light suggests confidence, but when turned away as she hugs herself, the more vulnerable. In these works, Semmel combines her various styles of painting over the years and masters composition, paint handling, scale, and light.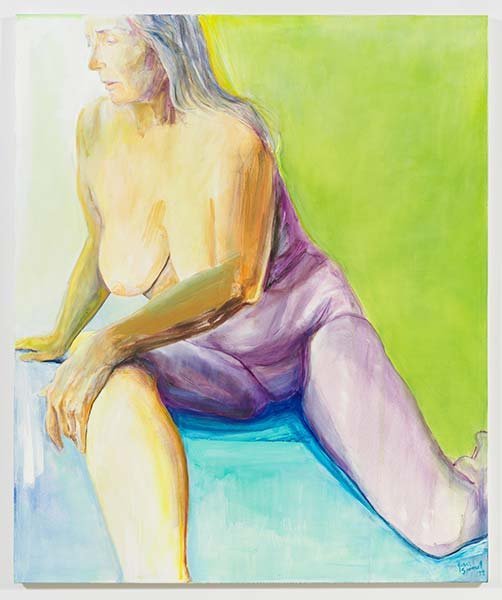 In January and February, Winston Wächter Fine Art hosted its first solo exhibition by Tokyo-born, Seattle-based multimedia artist Etsuko Ichikawa. The gallery describes the exhibition, Vitrified, as "a meditation on water, fire, earth, and radioactivity." Lyrical abstract works on various-sized papers are composed in watercolor and glass pyrograph. With a long rod of hot molten glass, Ichikawa burns impressions on the paper by moving a smoldering poker of molten glass across the paper, effectively drawing with fire.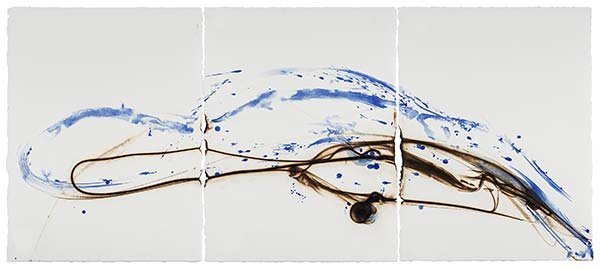 "Trace 11811," a large unframed pyrograph on paper, scrolls majestically down from near the ceiling to the floor. In the horizontally oriented "Vitrified 6718," blue watercolor is splashed across and mingled with the scorched paper. With blue and green watercolor added to some of the works, dream-like imagery emerges, referencing water and smoke.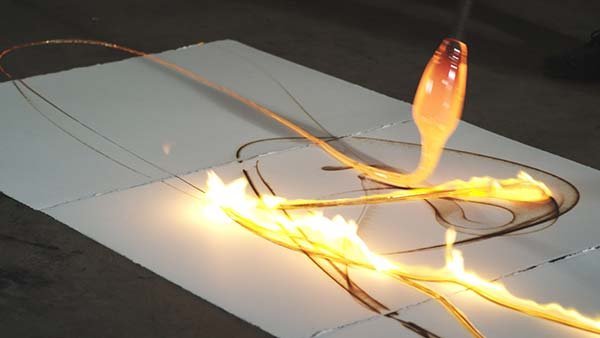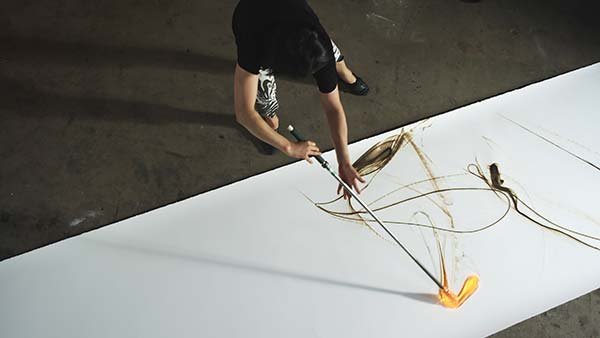 The 2011 Fukushima nuclear disaster was the catalyst for Ichikawa's examination of radioactive materials at Washington State's Hanford nuclear site, where nuclear waste was encased in glass through vitrification. Ichikawa added uranium to her glass orb sculptures of swirling greens and blues, and to a hypnotic glowing effect. A collection of them, like small worlds, sit on a table in a darkened gallery space while the seven-and-a-half minute film "Vitrified" is screened. I found the orbs quite beautiful, despite my discomfort with the fact that the source of their beauty was uranium. In the film, Ichikawa, dressed in hazmat suit and respirator, walks through a verdant landscape, finds a glowing orb in a tree, then, with color gone from the film, carries it to the sea and lies down with it in the surf. In the midst of this natural wondrous beauty, the hazmat suit seems symbolic of the real fragility of our own existence within the very environment we have altered. Like this film, the entire show, with its burnt-paper drawings and orbs of uranium, is beautiful and sobering, permeated with a sense of loss and regeneration.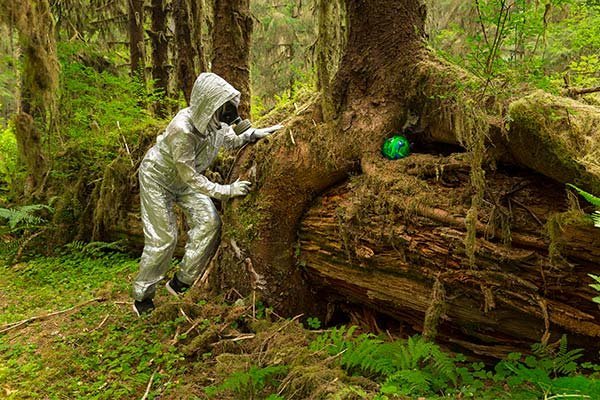 Through the windows of the Miles McEnery Gallery, the vibrant colors of Emily Mason's new abstract paintings called to me from the grey streetscape of West 21st Street. The blues, aquas, yellows, pinks, and reds spanning the larger scale works evoke places for the viewer to slip in and out of with visual ease. Washes and pools of color reference water, ice, fields, summer, sunlight, changing land, seascapes, and seasons. Red paint seeping into magenta, blue into yellow, evoke dreamy abstract atmospheres. Broad sections of warm yellow hues in "Summer's Harvest" are loose and flowing. Having been exhibiting since in the 1960s, Mason knows when to control and when to let go of paint and let it do its thing. She knows how much paint is just enough to convey those inner and outer landscapes she traverses, a transcendent journey through terrains, that even if familiar, we see and feel anew.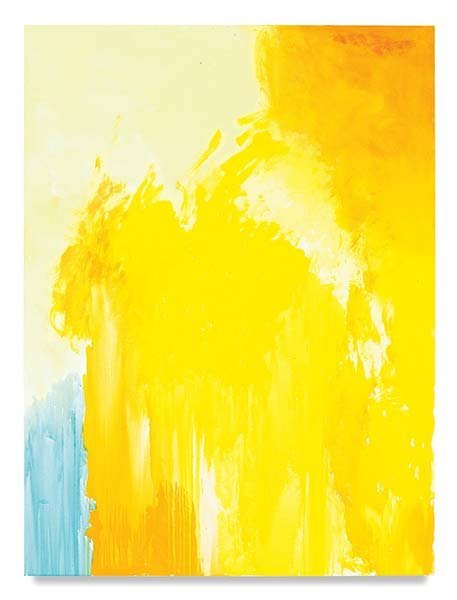 Another gallery room was hung with Mason's recent mid-size paintings, like windows into varying scenes of color. Because the works were smaller in scale than those in the front gallery, where the colors seemed to blow out of the canvases' confines, their overall color packed a heady punch of vibrancy. Each painting was a juicy slice of world. "Night Fall," with its cliff of red and purple-blue in the foreground, and its blue wash of sky, at only 30" x 2" resonates of the vast. The paintings are addictive with their juxtaposition of colors and forms.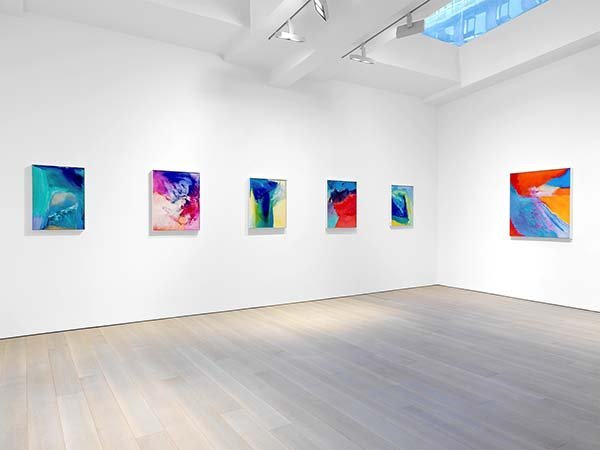 Also, in Chelsea, the Our Luminous Paradise exhibition at Bruce Silverstein Gallery was a selection of Alfred Leslie's black-and-white watercolors. The paintings, done in grisaille, are from Leslie's early 1980s series 100 Views Along the Road, the title alluding to Hiroshige's One Hundred Views of Edo. Leslie's works are about being on the road, driving around the country and seeing the landscape from the front seat of a car, observing the changing weather, terrain, light, and sky. With pencil, watercolor and paper, he has captured the feel and moods of places from California to Ohio to Massachusetts, with stops along the way. The road signs are left as blank white spaces. It isn't about where you are, it is about where you're headed, about moving forward. Details of location are captured not by identifying a highway exit but by defining the landscape in deep black-and-gray washes on white paper. 
The more we examine that landscape from the car, the more we are pulled into the depth of the paintings, and the more details that emerge. Leslie's handling of watercolors and the way he illuminates landscapes can seem photographic, but also abstracted—Leslie leaves a broad white band at the bottom of each piece, which he identifies as the "earth not in view but as a given. The ground you know you are standing on as you look ahead. Earth as ground, ground as ground, base, surface of the paper." There is a real balance to the black and white in these paintings, and the white band in each serves as a place for the composition to rest. This white band is also reminiscent of the white space at the bottom of a Polaroid snapshot; interesting to note that in 1957, Leslie used a Polaroid camera to take close-up headshots or what he called "mug shots."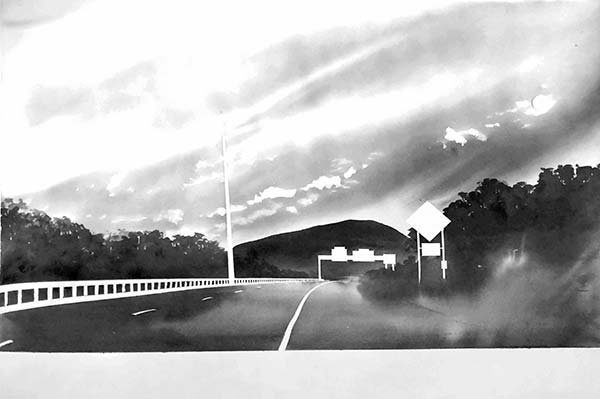 I had never seen the 100 Views Along the Road paintings, was most familiar with Leslie's large mid-century abstract paintings and smaller collages. But I can see now a connection between these watercolors and those large expressionist abstracts, with their blocks of color and lines delineating the paintings' surfaces, and the balance between dark and light. In 1966, Leslie lost much of his work in a tragic fire that burned down his New York City home and studio. He had to forfeit his one-man show at the Whitney Museum and was left to start over. He traveled the country, and in all of his departures from place to place, he made a departure in his work. The simplicity of a pencil and paper to sketch the American landscape evolved into a vision far from simple.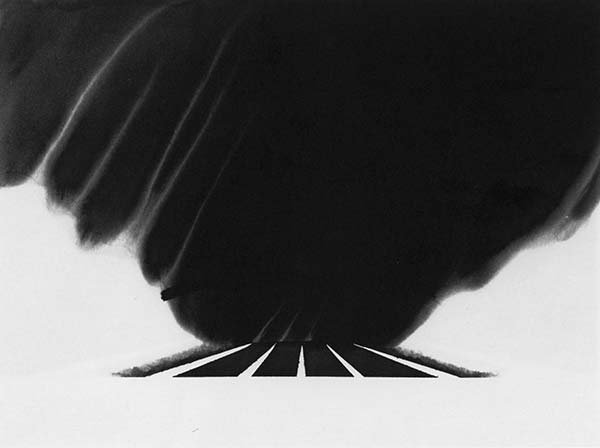 It is a coincidence that I chose to write about three artists whose careers have spanned decades—Leslie now in his 90s, Mason and Semmel in their 80s. But with longevity comes freedom from self-consciousness; these artists show us fresh connections with our environments. Ichikawa, in exploring regeneration, also shows us that we are one with nature. We give and take, come and go. Aren't we all in quest to know ourselves and our surroundings, however much these variables remain constantly in flux? The spirit of gentle seekers is very evident in these exhibits.
Copyright 2019 Woven Tale Press LLC. All Rights Reserved.