Inside the Studio with Joshua Enck
See Enck's work in WTP Vol. VII #6
Inside the Studio offers a behind-the-scenes peek into the work environments of WTP artists, as well as insight into their creative process within these resonate spaces.
By Jennifer Nelson, WTP Feature Writer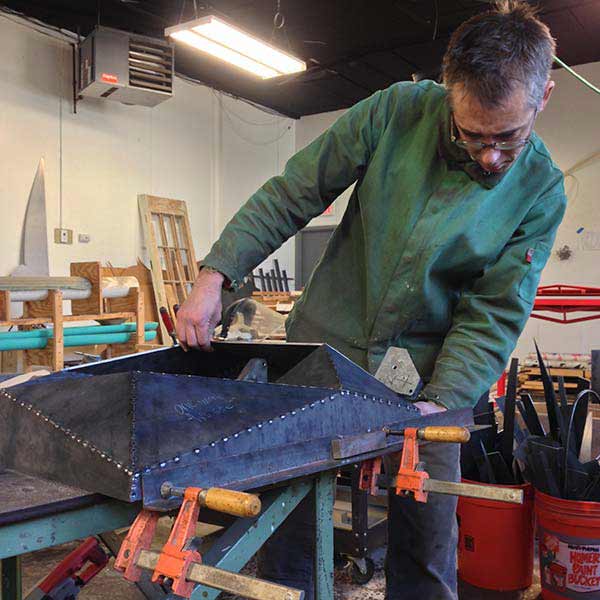 Five years ago, Joshua Enck found a perfect spot for his studio, in a former 1929 belt factory in Rochester's north side. He divided the two-thousand-square-foot space into a woodworking and then a metalworking area, and was particular attracted to the natural light coming through five big windows.
The L-shaped studio nicely accommodates all his tools and materials, though it went through several renovations. The landlord tore down a wall to allow a free-flowing area, and Enck wired the space for his machinery and put down metal plates on the floor to make it safe for welding. On a floor pallet, he stores sheet metal; and on a rack, plywood. A large stack of stickered ash wood, which he brought from his family's farm, is now air drying for future sculptures. There's a loading dock where materials delivered by truck can be hauled to his studio using pushcarts or a forklift. Other tenants in the single-story brick building include a metal-plating company, printers, machinists, and a concrete countertop firm.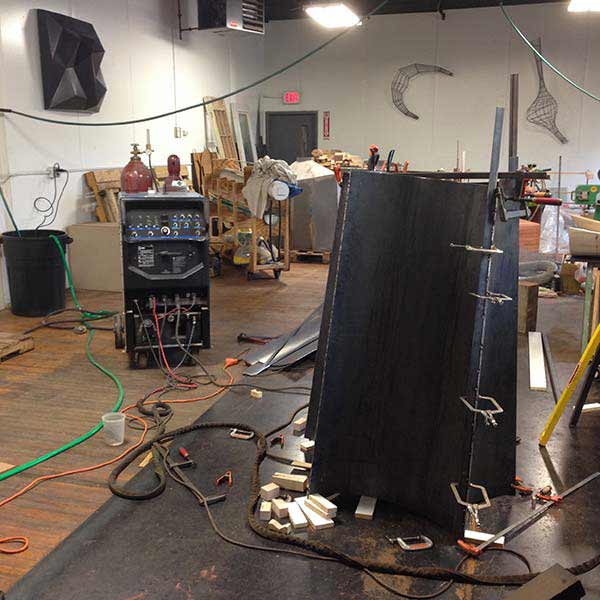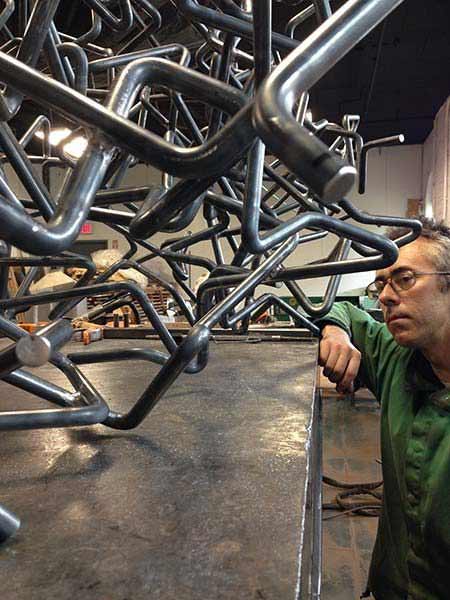 In a cabinet behind his workbench, Enck stores his favorite hand tools. He tries to keep on hand expendable materials like glue, sandpaper, and paint. "Music is also important and I always have it playing in the background while I work," says Enck, who found his studio through an online listing.
His workday at the studio varies, though he usually starts with coffee while planning what he wants to accomplish that day. Sometimes, he picks up where he left off the previous day; other times, he welds and grinds the edges on an outdoor piece of public sculpture or cuts and joins pieces of plywood to form complex geometric landscapes. He makes artwork for pleasure, commission, and exhibition, working closely with designers and clients to create site-specific sculptures for indoors and outside. He creates small, space-conscious sculptures for apartments, benches or sculptures for gardens and terraces, and large public artworks—and he likes toggling between metal and wood. "By switching between mediums, I am able to keep things fresh in my one-person studio," says Enck, "and exercise different parts of my creative imagination and the fabrication techniques that go with each, not to mention, design ideas will often work better in one material than another."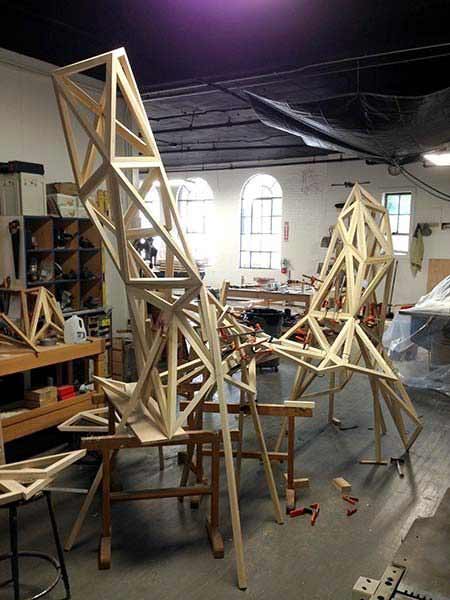 The sculptor loves collaborating with other artists on projects. He's particularly fond of collaborations with fellow artists at the Emma International Collaboration in Canada and the Echo Lake Collaboration in Pennsylvania. At these places, artists working in wood, iron, small metal, paint, and fibers come together to create new art forms, taking conceptual risks and working in ways different from normal studio practices. "These collaborations often invigorate my studio practice," says Enck. "They have found their way back into my solo studio practice in Rochester."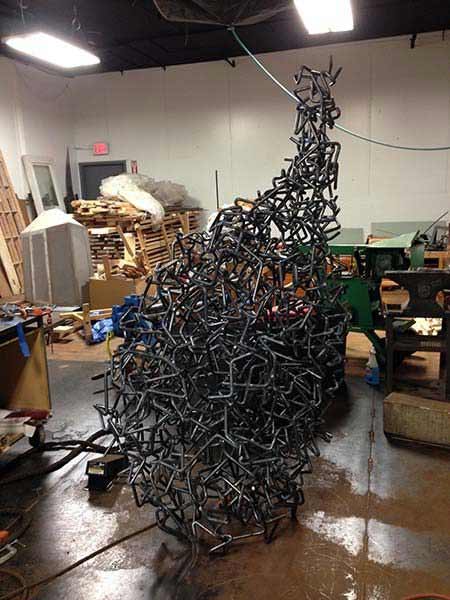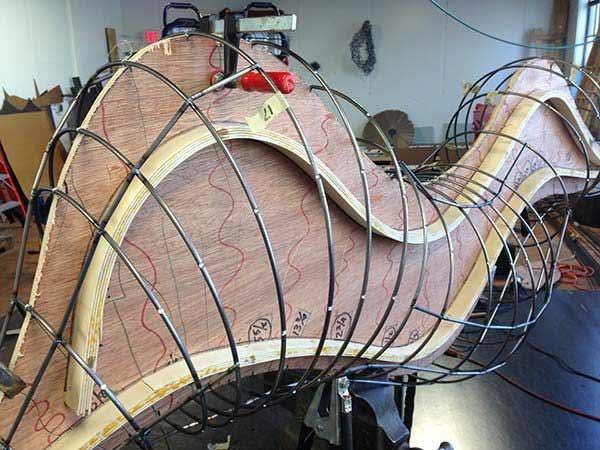 Enck balances his art practice with teaching and parenting. Two days a week, he teaches drawing and architecture to University of Rochester undergraduates. That leaves three days in his studio. "I often will work evenings and weekends when I have a deadline for a commission or gallery exhibition," he says. As a father, his days in the studio are bookmarked by dropping and picking up kids at school. "I try to be as efficient as possible in the studio. I am fully aware that every moment I have to work on my artwork is precious."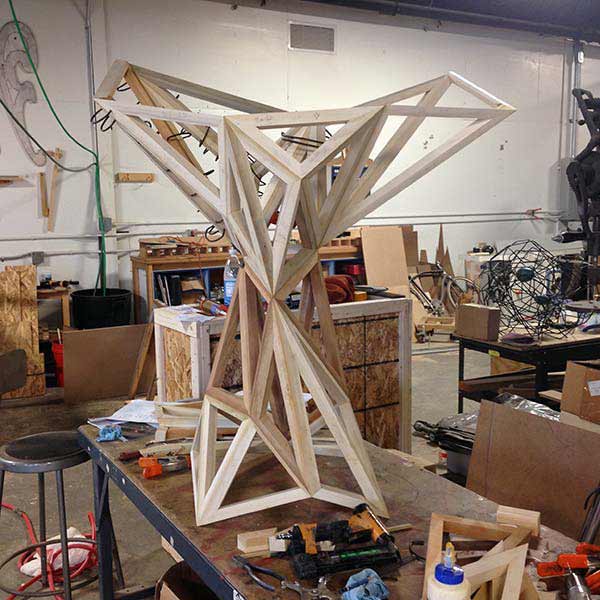 Read about other artists in our Inside the Studio series.
Copyright 2019 Woven Tale Press LLC. All Rights Reserved.