Inside the Studio with Alex Egan
Inside the Studio offers a behind-the-scenes peek into the work environments of WTP artists, as well as insight into their creative process within these resonate spaces. See Alex Egan's work in WTP Vol. VII #9.
By Jennifer Nelson, WTP Feature Writer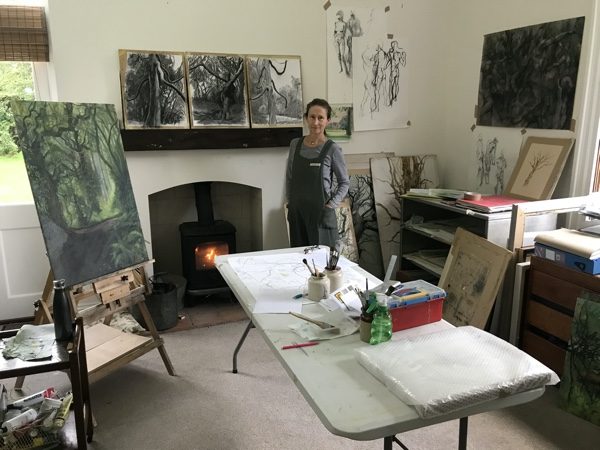 No matter what season, artist Alex Egan finds inspiration and comfort in her home-based studio in Norfolk, England. Outside the studio in her brick farmhouse stretches open fields and woodland where sugar beet, barley, and potato crops grow and animals abound. In summer, she spots dragonflies and butterflies, while in the fall she hears stags roaring. Herds of red deer gallop through the marshy water at the bottom of the field, their hooves creating an intoxicating noise. Hares, pheasants, and wading birds roam the area that's near the Norfolk Broads, a network of navigable rivers and lakes.
"As my studio is at the end of a farm track, I'm very much surrounded by nature, so I need not venture far to be inspired," says Egan.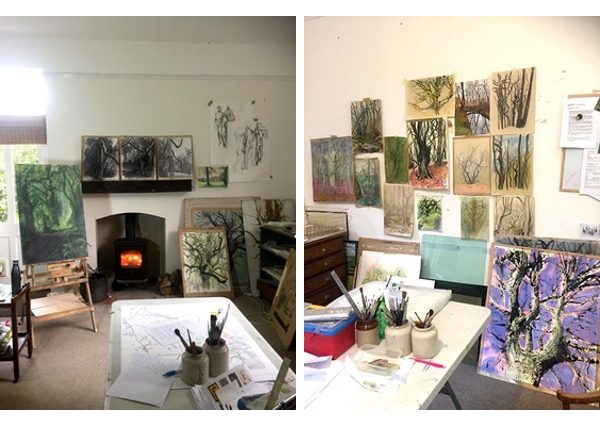 Five years ago, she and her family moved into the Victorian house where she converted a dining room into a large studio. She raves about how the studio leads directly into a garden. Through a sash window, she sees a spreading oak tree—the first tree she drew after moving in. During the winter, a wood-burning stove keeps her cozy and warm. "The studio has high ceilings so I can pin my sketches up which I use to work from as reminders of what I have been doing over recent months," she says.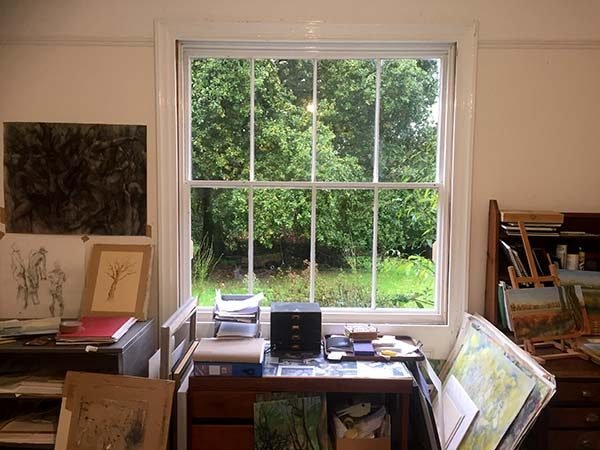 In the middle of the room, she's placed a table that can easily be folded away when she needs more space for larger pieces of work. She can stand at an old draftsman's desk—her favorite piece of furniture—to work on intricate tree drawings. "I can angle lights over me to help with the detail I use in some of my pieces."
In a plan chest or old reclaimed shelving, she stores her paper materials. She stacks the boards she paints on every available free space. "If I could have storage in another room for these and the frames it would be even better, but I already spill into the hall and other rooms," she says. "Luckily my family is very tolerant."
Not far from Egan's home are ancient woodlands where extremely old and venerable trees grow, and beautiful country estates. Egan has had commissions to draw some of the trees at nearby Houghton Hall, a lavish mansion built in the 1720s for Britain's first Prime Minister; and at Sandringham, Queen Elizabeth II's country retreat, for Prince Charles' seventieth birthday last year.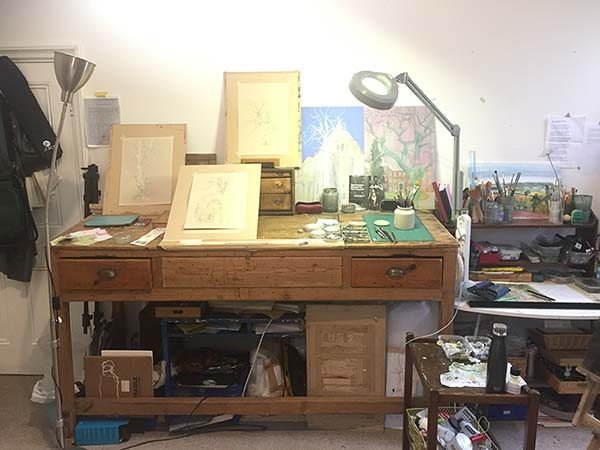 Egan often uses her car as a portable studio. In winter, she spends several days intensely drawing trees in pencil, which, during that season, she can portray in their true sculptural form. She works on a number of drawings at a time. Then, she brings them back to her studio where she completes them over a few days using white ink and watercolor. "During other seasons, I go out sketching and painting, and then work these into paintings which are meshed by what I see and remembering what my other senses have felt."
Egan's workday varies. If she's working at home, she tries to finish administration and domestic duties before entering her studio so that she can focus on her artwork without any distractions. She usually gets to the studio between 10 and 11 a.m.—she wishes she could get there by 9 a.m.—and finishes at 8 or 9 p.m. Some days she meets other artists for life drawing sessions. She's a member of several art collectives that exhibit together and support each other. When Egan has commissioned work and deadlines, it's easier to stick to a set routine.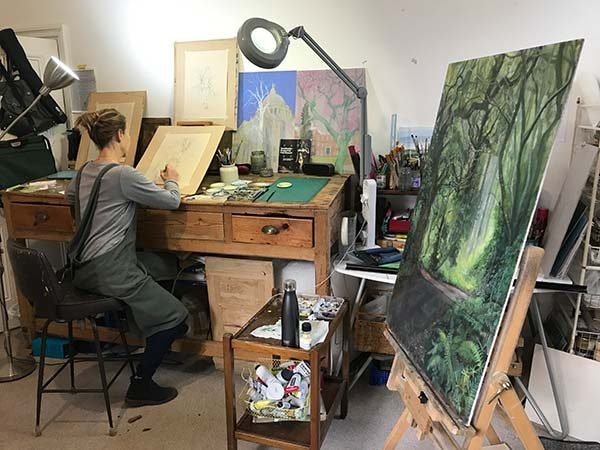 Once she starts on an idea, she gets so absorbed in the process that she cannot be interrupted. Her studio gets messier and messier, and it isn't until she finishes the piece that she straightens up. "My studio needs clearing out to enable the flow to happen," she says. "Like meditation, clearing out thoughts to get fresh ideas."
See more of our Inside the Studio series.
Copyright 2019 Woven Tale Press LLC. All Rights Reserved