Inside the Studio with Sandy Sokoloff
Inside the Studio offers a behind-the-scenes peek into the work environments of WTP artists, as well as insight into their creative process within these resonate spaces. See Sandy Sokoloff's work in WTP Vol. VII #10.
By Jennifer Nelson, WTP Feature Writer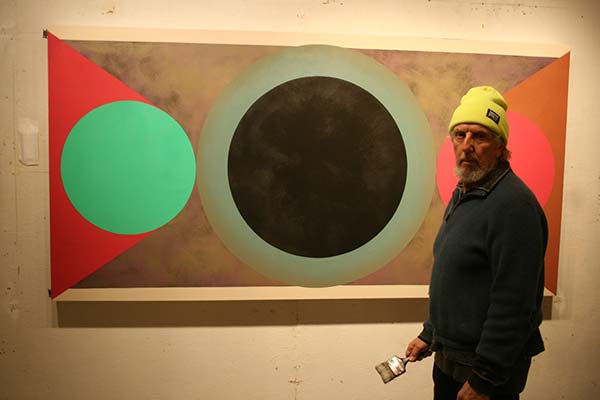 Five years ago, painter Sandy Sokoloff left Boston to live in the more serene and isolated environment of Grand Isle, Vermont. On a whim, he'd earlier visited Lake Champlain, and when the opportunity arose to work on the waterfront, he grabbed it. He was drawn to the area's natural beauty, as well as its majestic skies and the distant Adirondack Mountains. "I've never looked back," says Sokoloff. "Winter is especially inspiring—isolation and silence."
Over the past decades, Sokoloff has painted in studios in Boston and New York, as well as participated in several residencies at the MacDowell Colony in New Hampshire. While teaching at Wellesley College in the 1970s, he had a studio in the campus's Art Center. Around the same time, he lived in a loft on Manhattan's Lower East Side. From the late 1980s through 2005, he was in a loft on top of the Baker Chocolate Factory near Boston. "These studios each had merit, but none completely addressed my needs as does my current situation," says Sokoloff.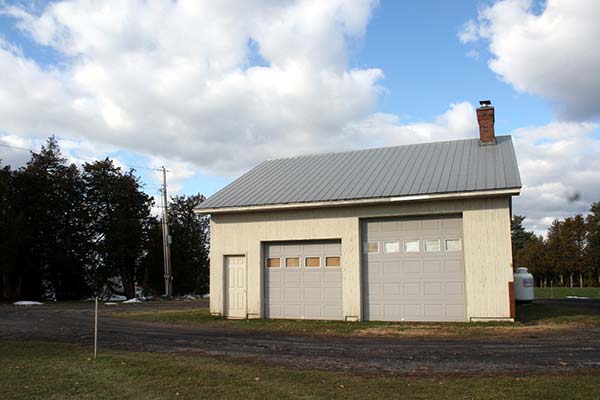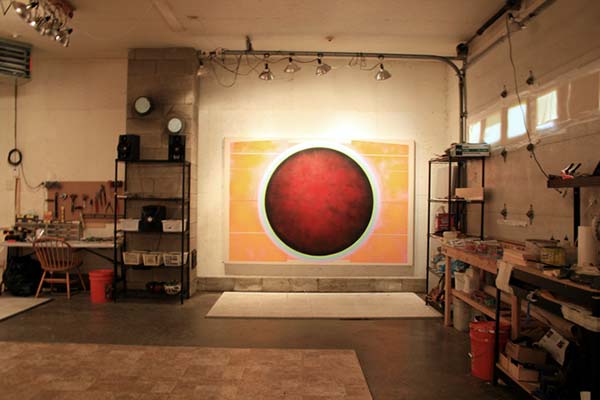 In Lake Champlain, he found a perfect studio with enough space and light to accommodate his needs. He likes how he can see bald eagles, rainbows, foxes, and incredible cloud breaks. The 750-square-foot studio, which is about a hundred feet from his house, boasts twelve-foot ceilings. Since he works in different series simultaneously, he often has at least four large canvasses up at one time, and therefore needs three painting walls. For storage, he built racks that can accommodate twenty to twenty-five large works, which is adequate as long as some of the work is out being displayed. He's pleased with the lighting that comes from a series of overhead, clamp-on floodlights.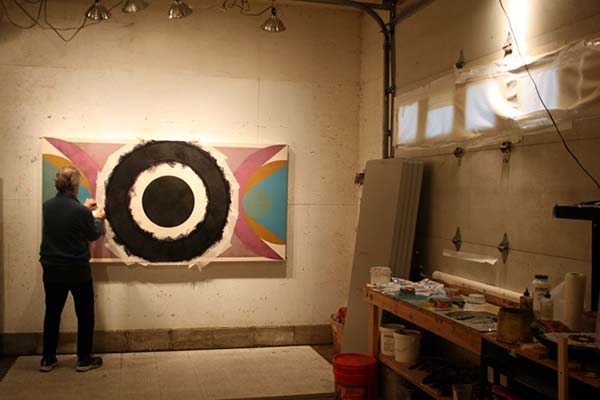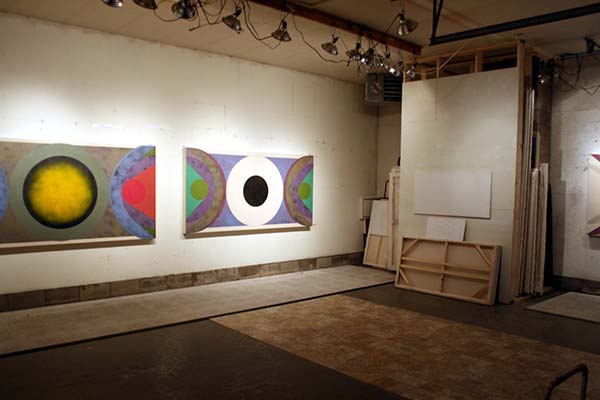 Sokoloff's workday varies depending upon the stage of his work. First, he builds stretchers and stretches canvasses; then he lays out geometric patterns; and third, he tapes edges and applies the underpainting. After that, the real painting begins.
His large-scale paintings are carefully constructed and composed of many layers of paint. Much thought is given to deciding on scale and geometry, and once those have been accomplished, the task becomes achieving light through color. "Here, thinking stops and inspiration—Divine?—takes over," he says.
See more of our Inside the Studio series.
Copyright 2019 Woven Tale Press LLC. All Rights Reserved