The Unusual and Noteworthy
By Susan B. Apel, WTP Art Correspondent
Fall is New England's last best chance to enjoy the outdoors without snow boots and ski gloves. Not so curiously, then, land art and sculpture en plein air beckoned throughout the autumn. The white cube galleries will be waiting and cozy during the upcoming winter.
Vermont Institute of Natural Science (VINS) is known for the care and feeding of birds in its well-regarded Raptor Center in Quechee, Vermont. As of this fall, it is charting new territory with its magnificent Forest Canopy Walk, an elevated wooden boardwalk through the trees of its forty-seven-acre site. VINS believes art and science belong together. It commissioned sculptor Herb Ferris of Windsor, Vermont, to grace the entrance to the canopy walk with his work "Passage."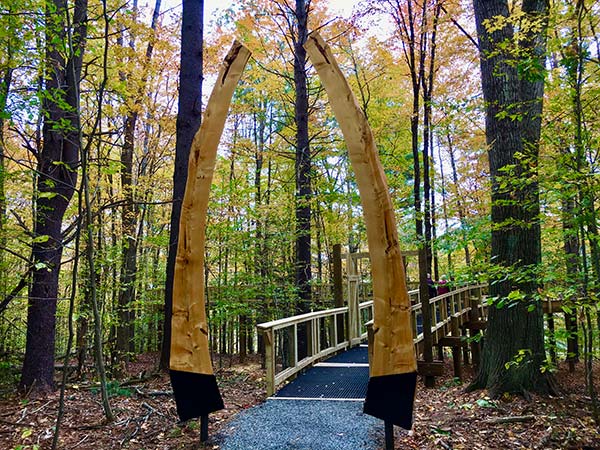 Ferris often works from a single tree, halved to produce identical arms that reach toward each other. When prodded, the artist describes the form, seen in many of his pieces throughout the United States, as inspired in part by an expression found in sports: "The shape, a curve opened to its reflection, has a gesture that is quite common: the referee signaling a successful field goal, a hockey player having scored… It seems a natural impulse." It's a gesture that is also sacred and intimate; one imagines the raised arms of those in prayer, or an invitation to embrace.
As a side note, "Passage" used to be a tree that lived and breathed on my family's property in Greensboro, Vermont, discovered after a chance encounter with Herb Ferris who was searching for a suitable white cedar. It was harvested in Vermont's Northeast Kingdom and trucked over one hundred miles to Ferris's studio.
"Passage" might have sufficed, but the walkway also features another sculpture by artist Wendy Klemperer. Klemperer searches scrap yards "for evocatively shaped pieces of steel… often rebar, rendered from concrete." "Eagle's Nest" is a metal sculpture of an eagle on her nest, sited in a visitor's "node" meant to simulate the real thing, complete with the atmospheric (and for some, vertigo-inducing) swaying that an actual eaglet might experience in a tree. But wait for it. Just as the viewer is contemplating this centrally-located work, a glance outward reveals the second part of the sculpture, the eagle mate speeding toward the nest with dinner in its beak. The sculptures, large, weighty, and suitably anchored, exhibit a subtle kineticism that keeps the viewer hooked.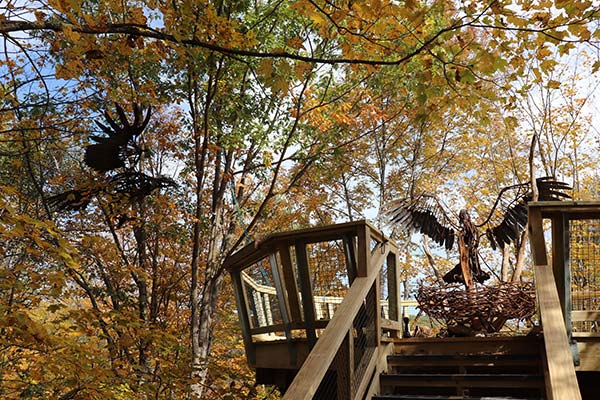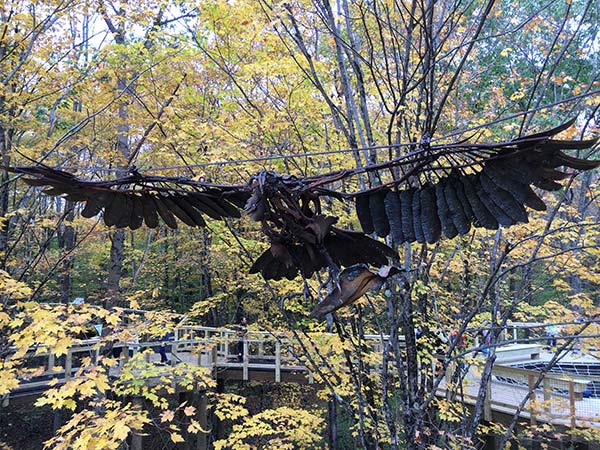 From benevolent abstract gateways and figurative avian nests to the Sculpture Fest in Woodstock, Vermont, the late-added work of Joseph Fichter astounded viewers who were lucky enough to see his wild horses. Fierce and full of energy, substantial yet crafted with wisps of metal so as to allow the viewer to see through each piece, they have been described as "… bold, three-dimensional drawings, their hard metal tracing remarkably sleek, effortless lines… almost calligraphic" (Mara Williams, Curator, Brattleboro Museum and Art Center). The effects are multiplied by the grouping of several horses in a single exhibition. The viewer finds herself situated among interpretations of wild horses in a variety of poses.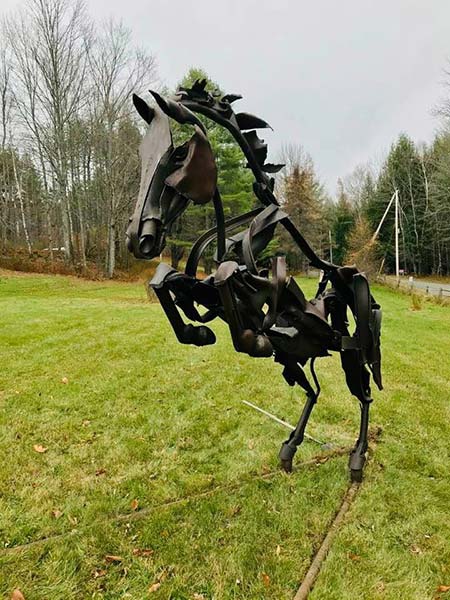 Kent Museum in Calais, Vermont, is like Brigadoon. It appears each year as if from the fog and then is gone. This museum is set in an historic unheated building that shows its age, with sagging floors and missing plaster. Artists and viewers flock to it; it is open for one month only, with a themed exhibition of regional artists.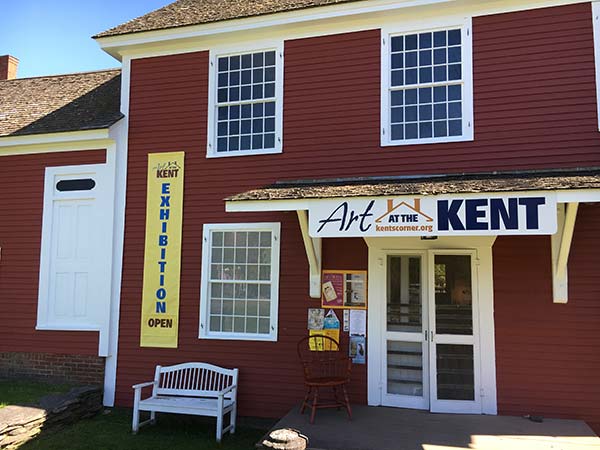 Chris Groschner of Corinth, Vermont, presented a most non-Vermont like work, "Brooklyn Diner." Groschner's pieces are interesting for their multiple media; this one is a combination of acrylic painting and assemblage. Groschner makes use of every square inch of space in these small compositions, capturing a dreamy, clouded sky, the Brooklyn Bridge, New York City architecture, and the iconic diner lit brightly against the dark, evoking Edward Hopper's "Nighthawks" in its portrayal of either late-night loneliness or resolute camaraderie.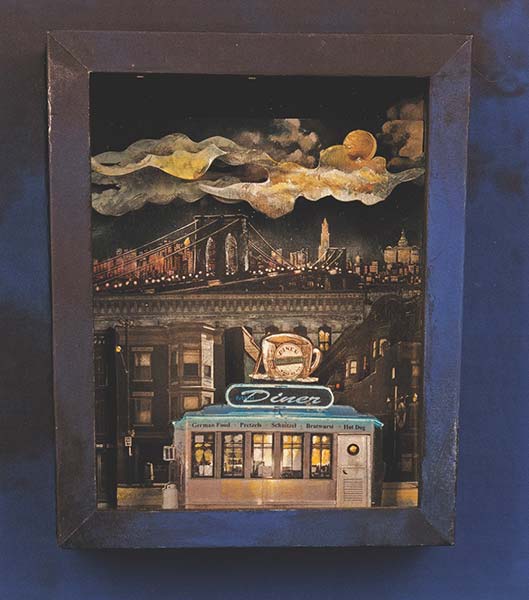 Artist Evelyn Swett combines art and environmentalism in her photographs of her backyard compost pile. Compost piles are ubiquitous in rural Vermont and New Hampshire and they are, quite literally, rotting garbage. Until Swett, I have seen no artist draw inspiration from them. En route to her show at AVA Gallery in Lebanon, New Hampshire, I anticipated that her art might be like medicine—necessary, at best eco—and enlightening, but nasty. I could not have been more wrong. Swett's photographs are beautiful.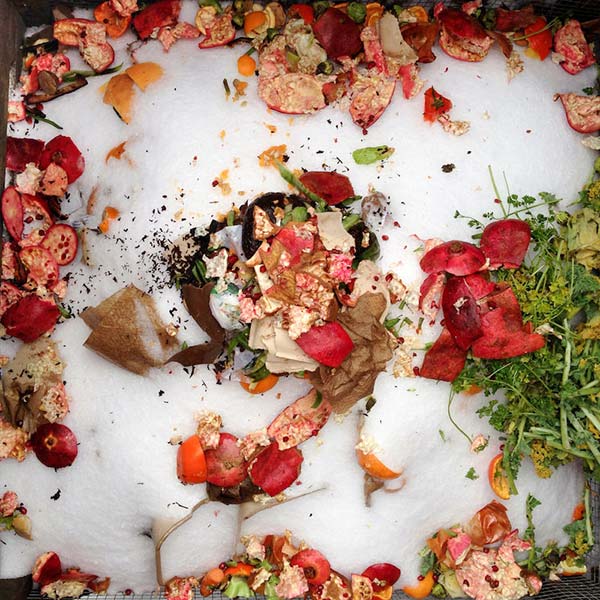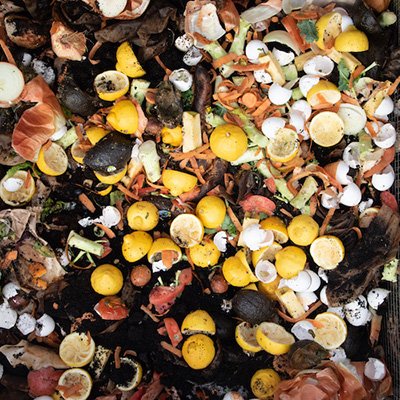 Swett salvages kitchen waste (eggshells, coffee grounds) from local restaurants and dumps it into her own backyard compost pile, which she regularly photographs. Most of her works are bright, engaging, sometimes accented by fallen snow. Perhaps her most didactic and controversial piece is "2 Degrees." The title is a reference to global warming, which she re-interpreted to her own educational diplomas from prestigious universities. Ripping them up and adding them to her compost pile was an act, she said, that "freed me to get out of my head and into my hands."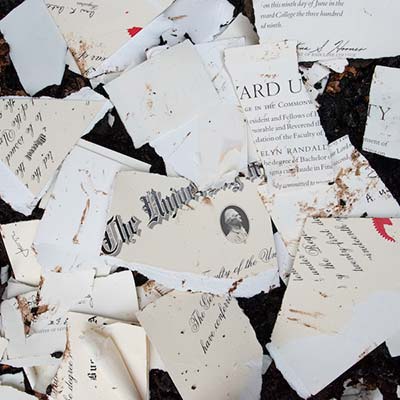 Painter Kate Emlen stepped away momentarily from the muse of her green, fractured trees to something quite other for her one-woman show, Breathe The Wind, at White River Gallery in South Royalton, Vermont. In the anchor piece, an abstracted landscape, "Scrim," Emlen opted for a muted palette, combining, as waterside representations are sometimes wont to do, the coziness of the shadowed small cove and the unknown and space of the horizon.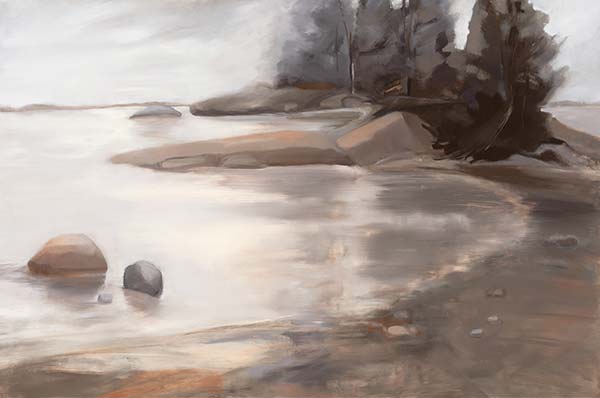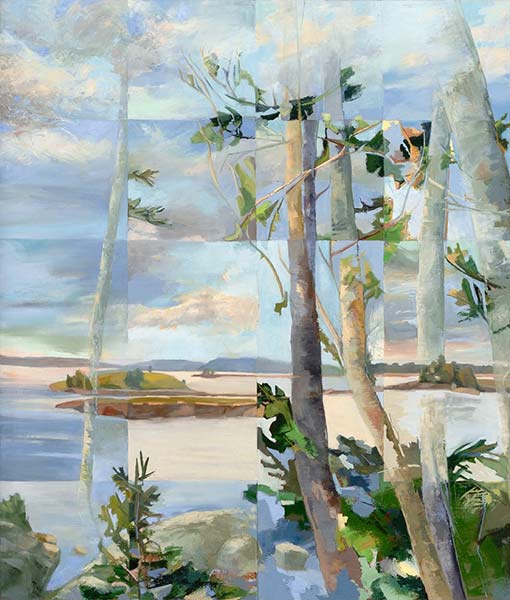 AVA Gallery hosted a retrospective of the works of fabric artist Martha Stein. Each piece of Stein's work—much of it consisting of intricate wall hangings, like "Tide Pillow," seemed sui generis with a style of its own. It was her helmets, however, beautiful, meticulously crafted, and whimsical, to which I returned on repeat visits to the gallery.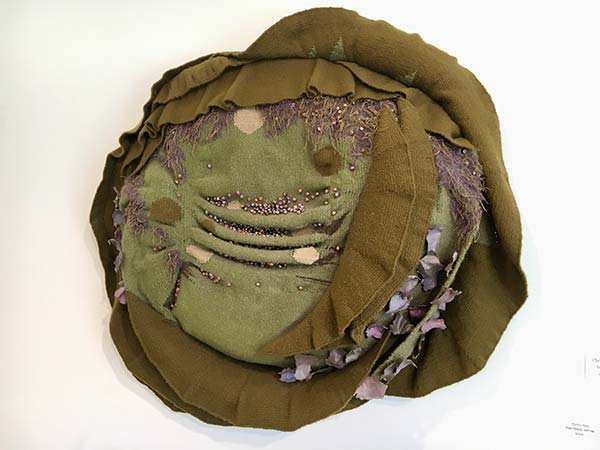 Of Tantrum Helmet, 650, a closing thought: Wouldn't your world be better if you could pop on this beautiful, expressive piece of headwear whenever your crankiness had reached peak levels?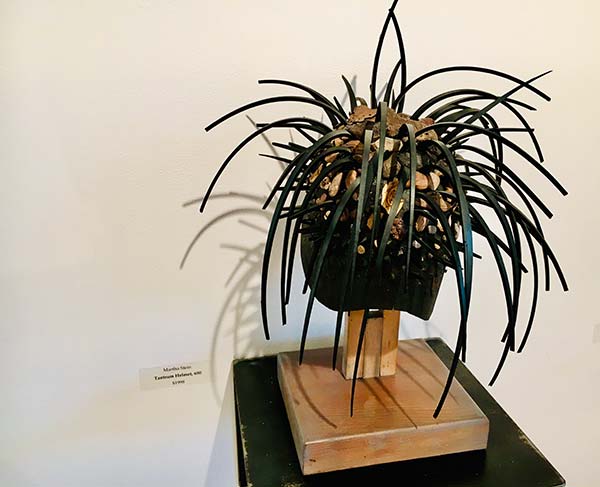 If you are interested in becoming an art correspondent for WTP, please inquire at wtp@thewoventalepress.net
Copyright 2019 Woven Tale Press LLC. All Rights Reserved.