Website Review:
Daniel Shieh
By Richard Malinsky, Arts Editor
Daniel Shieh is a young artist from Taiwan who, in a relatively short period of time, has built an impressive CV while studying and creating in the United States. On his site, danielshieh.com,  you can find his early works in sculpture, and see their evolution into environmental projects. But inspired by the difficulties he describes about his own feelings of social awkwardness, he began to explore concepts that affect human relations, and moved into performance and installation.
Throughout his site, you will find some captivating videos of these interactive works, most often of participants viewing each other from various perspectives beyond what he refers to as "rigid identifications" (masculine vs. feminine, native vs. foreign, authority vs. subordinate) and thus more equally. This concept places Shieh squarely in the category of Social Participation Art: when the public participates in the art-making process they become co-authors. It is this participatory dynamic which completes the work, a vibrant challenge to the public as passive observer or consumer in Western art. Some scholars trace participation art back to the Surrealists, and more recently, Allan Kaprow's 18 Happenings in 6 Parts in 1959 is attributed to popularizing participation art.
Shieh's work usually involves two participants to "activate" it. Once the work is activated, he isolates various sensory inputs, such as sight or the sound of each participant so that they are able to present themselves to each other in a mediated manner. "The Way You Look" is a sculpture activated by two people, who could be strangers or acquaintances. The title alludes to the way a person looks at another person; the two sit in a large capsule, and through two mirrors placed at a 45-degree angle within two spheres, they can view each other's side-profile simultaneously. On each person's right is a cylindrical tunnel sealed with a one-way mirror, on which he/she would only see his or her own reflection.  Shieh comments, "In this act of mutual observation, two users share an experience and feel each other's gaze, whether shy, loving, respectful, or curious, and discover how their bodies look while doing so.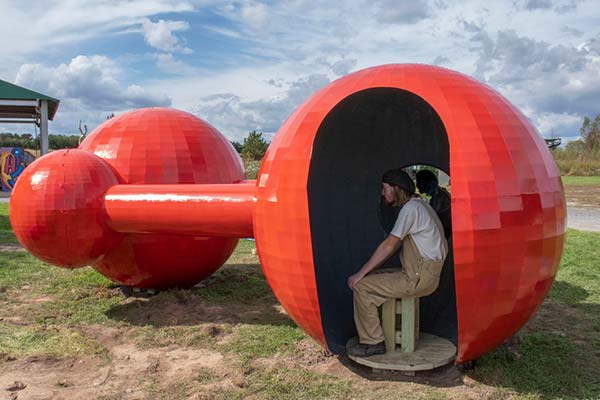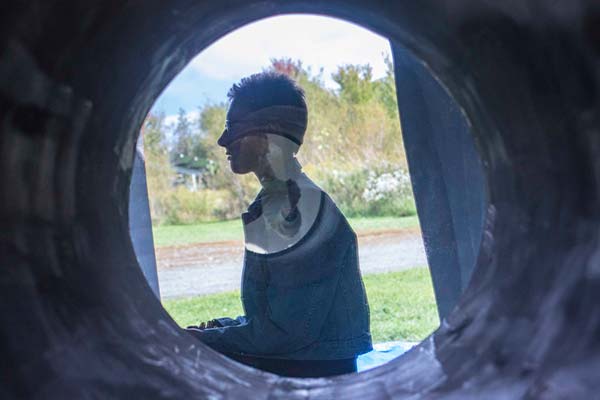 Shieh realized diversity in America is at the forefront of contemporary thinking.  Yet the actual proportion of identities in any one scenario is ambiguous at best.  He posed the question, "What does diversity actually look like?"  He then created a space where he invited random pedestrians to select colored squares, symbolic of ethnicities, from a box and put them in place holders of a standing structure—to build their concept of what diversity actually looks like. The available squares were in disproportionate amounts.  "Di-versity, Uni-versity" was installed in Harvard Yard as part of the 2018 Harvard ARTS FIRST Festival, exhibiting the goal as noble, but the math as much more complicated.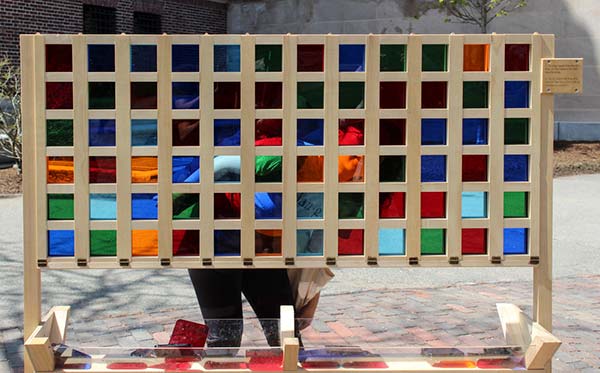 An earlier work, "To See Beyond Our Appearances," is an interactive structure installed in Cedarhurst Center for the Arts, a sculpture park located in Mount Vernon, Illinois. "It allows for a simple yet intimate interaction between two people, Shieh explains about the work. "Users cannot see each other directly, but can press into the latex sheet separating them to create an extrusion in the shape of their hands on the opposing side; they may choose to avoid the others' hands or to press on the same spot."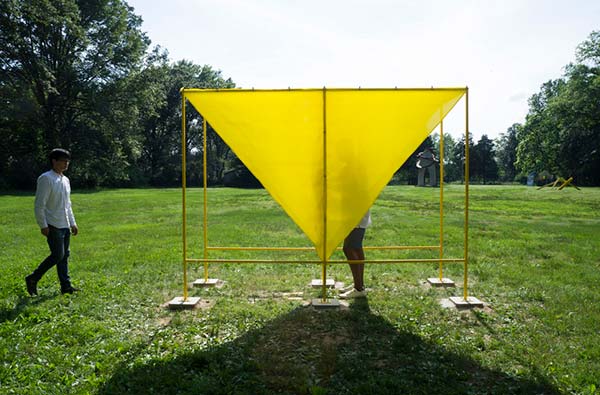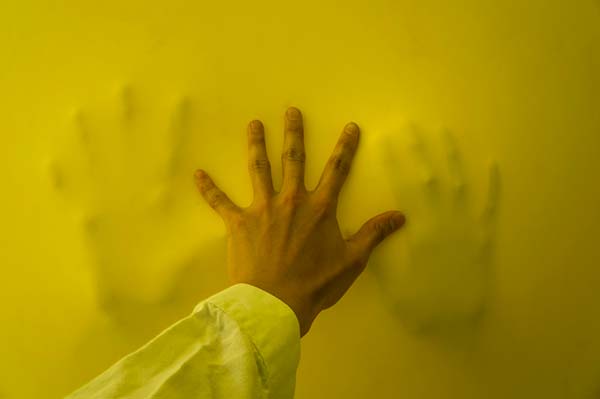 Shieh received his BFA from Washington University in St. Louis and recently completed an MDes degree in Art, Design, and the Public Domain at Harvard Graduate School of Design. He's currently an artist in residence at the noted Spruce Arts Art Residency, Indiana, PA. Employing his art to help people communicate in more sensitive, less judgmental ways, Shieh seems at the forefront of addressing contemporary societal issues.
Read more reviews of Artist Websites.
Copyright 2019 Woven Tale Press LLC. All Rights Reserved