Inside the Studio with Richard Whadcock
Inside the Studio offers a behind-the-scenes peek into the work environments of WTP artists, as well as insight into their creative process within these resonate spaces. See Richard Whadcock's work in WTP Vol. VIII #1.
By Jennifer Nelson, WTP Feature Writer
In 2017, painter Richard Whadcock leased a workspace at Chartwell Road Studios in England's south coast. After many years at Phoenix Studios—a complex with one hundred studios—he was looking for an affordable, independent work area that came with more hanging and storage space. Through a commercial leasing agency, he found a self-contained unit in a commercial building in an industrial park in Lancing.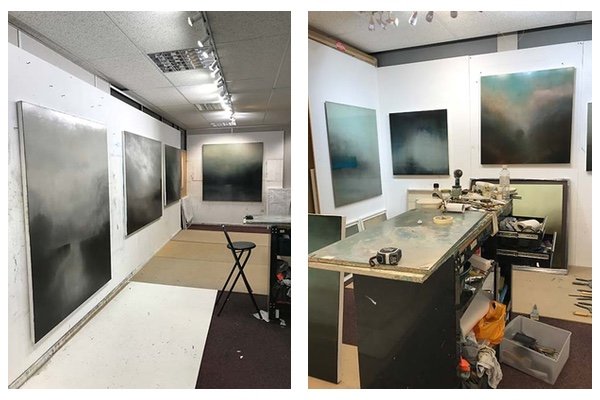 "Not working on an easel makes the amount of wall space crucial for both the paintings in progress and, because of the nature of the longer drying time of oil paints, those drying between painting sessions," says Whadcock.
Two working studios exist in the Chartwell complex that includes a communal room where materials are stored, and artwork packed. His 484-foot studio, formerly an office, was renovated to make an uninterrupted space to work in. This meant boarding out all windows and installing neutral lights to control the lighting on paintings. His studio has a racking system that stores finished paintings and works that are drying. "As you can imagine such delicate surfaces need protection," says Whadcock. "There is never enough working, viewing, and storage space!"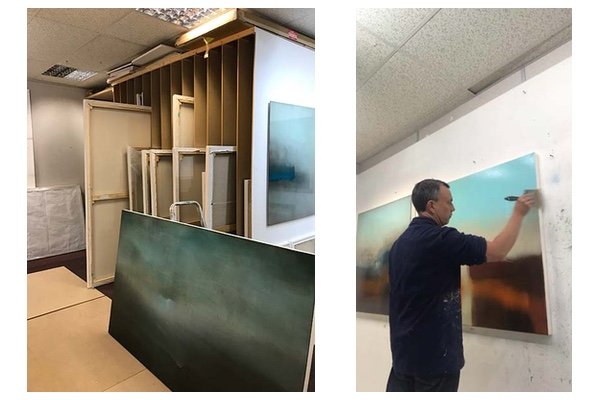 Whadcock says that it's important for a studio to inspire him to create paintings and also not to restrict his practice. "It has to be as expansive as you want your work to be, but not so much that it dissolves and dilutes the intimacy of the work."
At 7:30 a.m., Whadcock begins his workday with a twenty-minute drive to his studio. Along the way, he can be interrupted by sea mists rolling in and the early light. From morning to morning, the coast and landscape along the River Adur can be transformed, which influences much of his work. Once at the studio, he assesses what he achieved—or did not—the day before. Usually, he works on several paintings at once, rotating them around once they dry. He primes surfaces many times to build up layers to hide the canvas weave. Some paintings start out with a white surface, though many are colored. He usually finishes work at 6 p.m.
Sometimes, he spends the day walking on the South Downs in order to reconnect with the landscape. The undulating terrain that rises to the peaks of Devils Dyke and Ditchling Beacon inspire him. He enjoys seeing how the landscape can morph into a different state within minutes due to its proximity to the coast, and his work largely is a response to these momentary transitions. "It can be clear one minute then capitulate to a weather front that sweeps in from the sea that rapidly changes the look and feel of the landscape," says Whadcock. "Known geographical detail can be expunged by a coastal mist, smudged away by a downpour or bleached out by intense low morning or evening sun."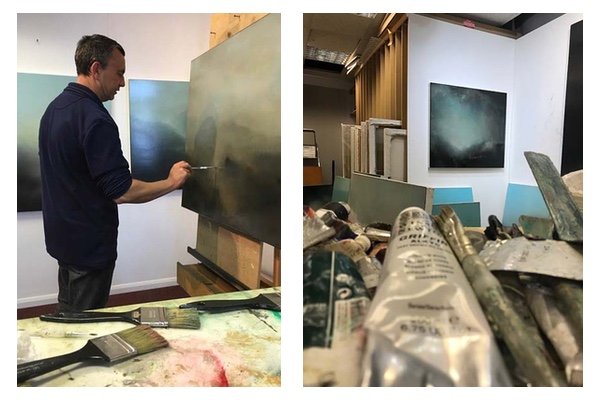 Two residencies in remote locations at Lowick House in Cumbria, and at Cill Rialaig in Kerry, Ireland, inspired Whadcock. Cill Rialaig was a workspace in a renovated farm cottage on a high cliff overlooking the Atlantic Ocean. "It was small, but you couldn't help but make work," he says. "The space and the surrounding coastline just called it out of you. It has inspired return visits to the same area every year since."
See more of our Inside the Studio series.
Copyright 2020 Woven Tale Press LLC. All Rights Reserved