Enjoy our WTP Spotlights, notable selections featuring artists and writers from our Woven Tale Press magazine. To read the issue in full subscribe and you can also register on our site to enjoy our archive.
Carolyn Case's solo exhibitions include Western Michigan University, Lux Art Institute, Loyola University, McLean Projects for the Arts, and the Art Registry in Washington, DC, and she has shown in numerous group exhibitions across the US. She was the recipient of the Bethesda Painting Award and 2018 and 2017 Janet and Walter Sondheim Artscape Prize semi-­finalist. She earned her MFA from MICA's Mount Royal School of Art in Baltimore, MD, and her BFA from California State University in Long Beach, CA.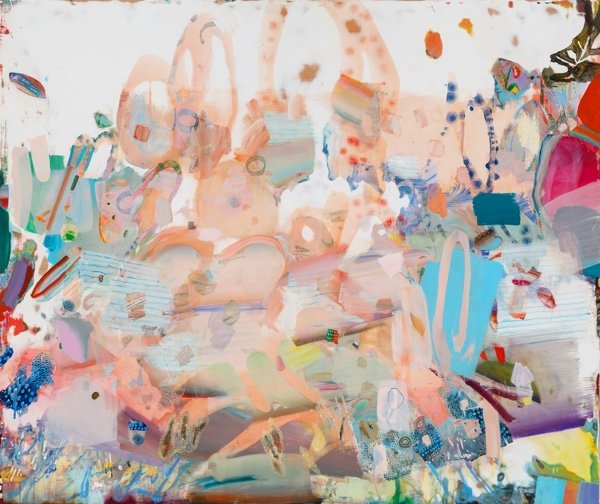 Afternoon Delight
[/tm_pb_text][/tm_pb_column][/tm_pb_row][tm_pb_row admin_label="Row"][tm_pb_column type="4_4″][tm_pb_text admin_label="Text" text_orientation="left" use_border_color="off" border_color="#ffffff" border_style="solid"]
Case's paintings rely on a beguiling density, gained from years of working and reworking a surface.
Spaces are articulated out of a selection of suggestions; a leaf or a palm frond, a bisected jug, a coffee cup stain, or notebook paper page might come and go out of the diversity of painting approaches. Each work implies a stunning resolve to erase and redo, coating areas in so many overlapping drips, scrapes, brush marks, and dabs that are ruthlessly sanded away. Case's layers sometimes recall lace or quilts, and patterns recall travels to Japan, Iran, and India, with references to Andean textiles, miniature painting, and the earnest doodles of teens.
Image courtesy of the artist and the Asya Geisberg Gallery
[/tm_pb_text][/tm_pb_column][/tm_pb_row][/tm_pb_section]