Inside the Studio with Mark Webber
Inside the Studio offers a behind-the-scenes peek into the work environments of WTP artists, as well as insight into their creative process within these resonate spaces. See Mark Webber's work in WTP Vol. VIII #6.
By Jennifer Nelson, WTP Feature Writer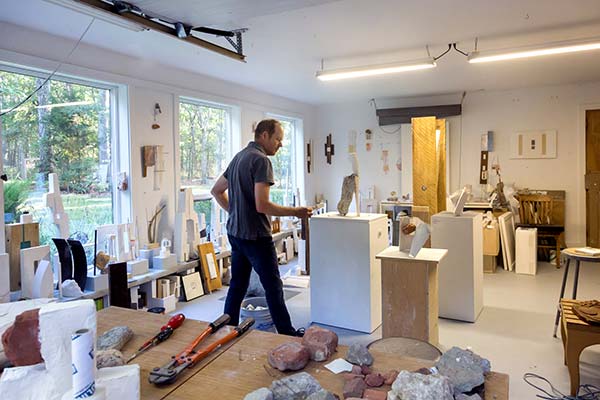 More than twenty years ago, sculptor Mark Webber and his wife Francine Fleischer decided it was time to leave New York City. Their young daughter was growing out of her makeshift room and Mark's love of kayaking was developing into a desire to do more ocean paddling. In Sag Harbor, they found their perfect home: it featured a stand-alone 800-foot studio for Mark's sculptures, a large basement with a darkroom for Francine's photography work, and Sag Harbor Elementary School for their daughter. That region would also allow Mark to continue working as a cabinet maker.
"The Hamptons have been a very good for the cabinet making business," said Webber. "I had no idea how important it would be for my art practice. The light, the community, the friends we made through our daughter and the many creative artists out here is really amazing."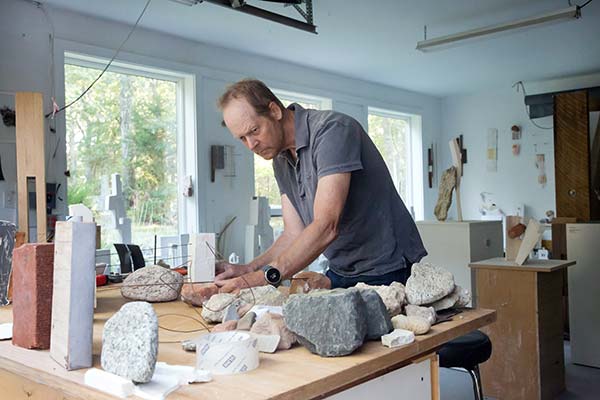 The only negative: the house was located off a road called Mount Misery. "We were like really, Mount Misery?" said Mark. "But what it did have made it an easy choice."
A bonus was that the studio only needed cleaning and adding a wall, though the house required renovation and landscaping. In the basement with high ceilings, Francine carved out a space for her large printer; the darkroom never got used. "We share space in the separate studio, but I do seem to get to use most of it," he said.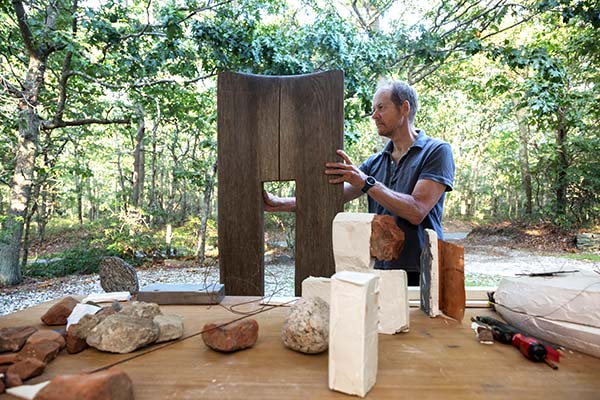 In nearby Wainscott, Mark works on cabinet making and fine woodworking in an 1,800-square-foot studio that he shares with a business partner. There, he has access to fine tools to build larger pieces, and lots of storage for wood.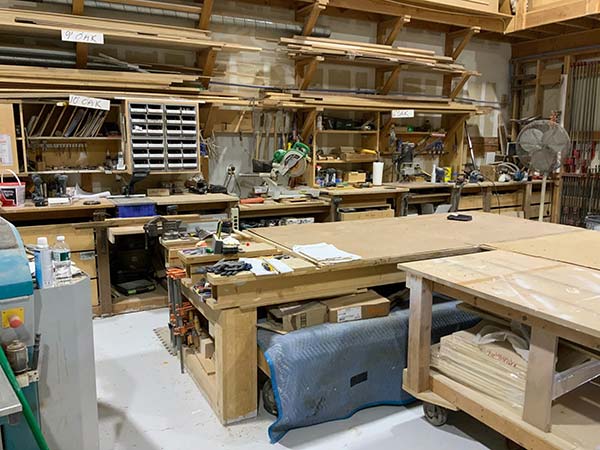 In the home studio, which is forty feet from the house, he works on smaller pieces. The large south-facing windows make for dramatic lighting on a sculpture, highlighting subtle lines of a piece. The studio comes with a roll-up garage door and is spacious enough to store materials such as stone, discarded brick, rubber, and Hydrocal, a dry powder used for solid and hollow casting. He credits one of his former teachers from Windham College for encouraging him to find materials at the dump, which he has done ever since. Initially, he used the studio for mixed media pieces on paper left at the house by the previous owner, Ted Davies, an artist known for his woodcuts.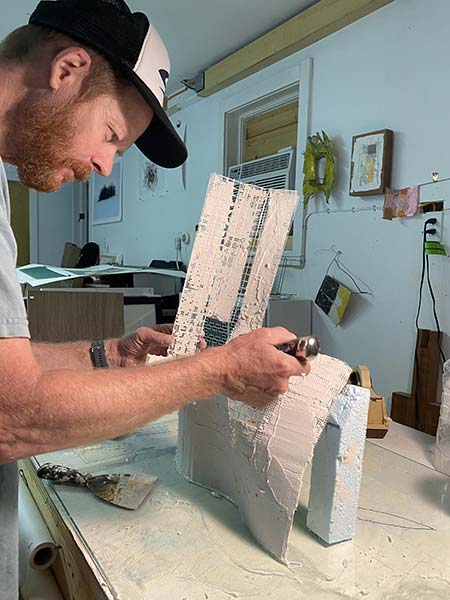 In the Hamptons, Mark pursues his passion of kayaking and sailing on the ocean and bays. Years ago, he paddled with friends from Montauk to Block Island. Now he can do it more often, and this contact with the water inspires his artwork.
His workdays don't generally follow a pattern. Sometimes, the cabinetmaking business demands his time and his creative work is done later. He likes it that he doesn't often know what he's going to make. Soldering copper wire together, mixing Hydrocal on a glass table, and gluing up paper help him decide what to make. Other times, he depends more on his skill and craftmanship than creativity. He doesn't collaborate with other artists and prefers a quiet workplace. "Music is great, and I love listening, just not while I'm making art," he said.
To get ideas for his art, he observes the world we live in, as well as allowing himself to be free from himself. "Then what can move through a channel, can emerge fresh and clear of my ego, and be, just be," said Mark.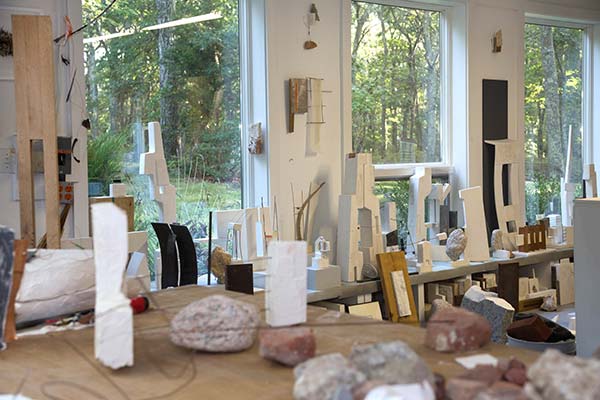 Copyright 2020 Woven Tale Press LLC. All Rights Reserved