The Abiding Voice of Toni Morrison
By Lisa Zeiger, WTP Guest Writer
"You hear the voice of the dead. They're still talking and they want to be heard.
And that, to me, is irresistibly interesting."
—Gore Vidal, on essays, from a BBC interview with Melvyn Bragg, c. 2008
Whenever I read an author I particularly love, it is with intense admiration and identification, in equal portions. Reading and living are inseparable for me. To be a white woman writing about Toni Morrison is to walk on eggshells. Is a reference to my own race a necessary part of my perspective, or is it simply one more instance of a white person usurping a narrative not her own? I decided to confront rather than elide my whiteness from this rumination on Toni Morrison's novels and essays.
When I first read Toni Morrison's novels, in 1992, I had no black friends in my life—they would enter it dramatically and seriously ten years later—and yet I found vivid skeins of my own story spun almost supernaturally through all her books. Her characters were not strangers to me, but fellow travelers in a country I'd never quite considered mine. Morrison stripped America down to its darkest secrets, and I enjoyed her spectacle of its false pieties cut to pieces.
Until I discovered Toni Morrison, the American writers I most venerated and constantly reread were Nathaniel Hawthorne, Henry James, Truman Capote, and Paul Bowles; all four male, three queer, two exiled. Their greatest heroes are singular women: Hester Prynne, Isabel Archer, Holly Golightly, and Kit Moresby. I read other American authors profligately, of course: everyone from Vladimir Nabokov to Norman Mailer. But I didn't really care to read about my own country, where I have always felt ill at ease. On the contrary, I read European novels to pretend I was elsewhere; elaborate maps to a great escape.
The American classics force-fed me as a child—Huckleberry Finn, The Red Badge of Courage—were all set in frontier or wilderness or battle—with protagonists too male and outdoorsy to provoke my interest, let alone identification. I craved stories about great cities, houses, and women. The only pioneer books I enjoyed were Laura Ingalls Wilder's Little House series, for they were about both girls and houses, with intricate details on the making of dresses, furniture, and meals.
Toni Morrison's narratives—told in richly imbricated dialogue—are about women whose defiance and/or oddity places them outside the mainstream of American heroines, and in some cases their own milieux. Morrison permits her women their strangeness. Indeed, she exalts it with an openness foreign to American idealizations of women, including purportedly feminist ones. The unremitting individuality of her characters defeats all stereotypes of race and sex.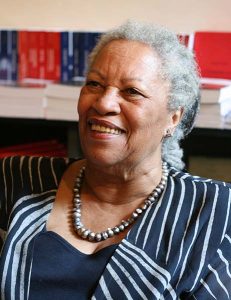 Literature, when it bares an authentic psychological nerve, incites a reader to identify with characters outside her own demographic and experience. In Morrison's country of Africanist others I found swaths of myself—an idiosyncratic rather than "universal" feminine—I'd never encountered in American books outside my small pantheon. First there was her character, Hagar, in Song of Solomon, who lives out a fatal ballad of sexual dependency. So caught was I by the subplot of Hagar's self-undoing that once I finished Song of Solomon I was driven to read it all over again the next day. Then there was Hagar's grandmother Pilate, a kind of lone yet loving sibyl, born with no navel, wearing an earring made of a dangling snuffbox. Her physical difference—not ugly, but uncanny—marks her destiny: love as agape rather than Eros.
In rapid succession I read Sula, The Bluest Eye, Tar Baby, Beloved, Jazz, and Paradise; and, some fifteen years later, A Mercy, in which a seventeenth-century slave girl kills her freed lover, a blacksmith, who has abandoned and obsessed her. As with Hagar, desire ending in madness comes full circle. A Mercy is one of the very few novels—no more than five—that I could bring myself to read during the strange decade that followed 9/11. For reasons more personal than political I no longer wanted to feel the emotions stirred up by stories, but to stand safely apart. I turned to essays, which happen to be the chosen home of every word I write. I like to observe and argue rather than invent.
Reading an essay by a great fiction writer is like peering behind a curtain—the curtain drawn by the novelist's narrator—and overhearing words at once more rational and more raw. I search out the essays of novelists—notably Isak Dinesen, Bruce Chatwin, Truman Capote, and of course, Gore Vidal—believing I will hear at last their true opinions and something of their lives made plain, in language minus the veil of fiction; still beautiful, but sharp rather than sensuous; clear and candid rather than indirect and symbolic.
In 1997, I detected Morrison's "own" voice in her book-length essay, Playing in the Dark: Whiteness and the Literary Imagination. I experienced this voice as personal, single rather than choral, and righteously harsh. Playing in the Dark is a sort of roman à clef to Morrison's own Africanist world, revealing black people as the invisible foundation of the official "American" canon of white authors who didn't write about black characters except in degrading or sentimental cameos. And the overarching point of Morrison's analyses of Melville, Twain, Hemingway, and Cather, along with shorter observations on Poe, Hawthorne, and Faulkner, is that in order to form an "American" literary identity these writers needed blackness as a contrast in their midst and minds, even when they left black people out of their books altogether, stashing unwritten, disquieting traces of them between the lines: "Africanism is the vehicle by which the American self knows itself as not enslaved, but free; not repulsive, but desirable; not helpless, but licensed and powerful; not history-less, but historical; not damned, but innocent; not a blind accident of evolution, but a progressive fulfillment of destiny."
The forty-three essays and speeches Morrison gathered in The Source of Self-Regard: Selected Essays, Speeches, and Meditations just before her death, constitute a more personal series of meditations on the American literary strategy and history she recounts in Playing in the Dark. Many of the essays chronicle her own literary process, describing with great nuance precisely how she conceived specific novels; who inspired her characters; why she wrote one word and not another. The exacting editor she was before becoming a full-time writer presides over Morrison's own texts.
American politics run like a poisoned ravine through the entire collection. I was astounded to learn that Morrison wrote many of the essays in the 1980s, so accurately does she presage and depict the horrors come home to roost in 2020. To a writer fully awake within history, these horrors are not new, but they are now exponentially more prolific and frightening. Environmental destruction, mass incarceration, neoliberal kleptocracy, and a media bought up by bigots are catalogued. And, like Gore Vidal, Morrison foresaw that American discourse would be dominated by ventriloquial dummies of a corporate cartel whose cynical grip on language serves to stifle our liberties.
In the title essay, "The Source of Self-Regard", Morrison explains her dramatic strategy in Beloved: to parse the monolithic story of slavery—and, indeed, history—into a mosaic of inlaid, unspeakably intimate outrages that scarred the enslaved individual for life. "The problem is how to take the imaginative power, the artistic control away from the institution of slavery and place it where it belongs—in the hands of the individuals who knew it, certainly as well as anybody, and that would be the slaves…What I needed then…was some little piece, some concrete thing…Something that was domestic, something you could sort of hook the book onto that would say everything you wanted to say in very human and personal terms. And for me that image, that concrete thing became the bit…this thing people put in their mouths."
Morrison delivers up this uniquely shocking practice in the history of slavery as a humiliation too abject, too extreme, to be confided fully. In Beloved, Paul D's incomplete confession to Sethe abruptly shuts down the tenderness between them. Shame has murdered his heart. "Paul D had only begun, what he was telling her was only the beginning when her fingers on his knee, soft and reassuring, stopped him. Just as well. Just as well. Saying more might push them both to a place they couldn't get back from."
In "The Source of Self-Regard," Morrison traces  the scarce, straitened paths available to slaves, and, during Reconstruction, to former slaves, to reassemble the shards of selves damaged yet never annihilated by the institution's project of totalized dehumanization. The first such path, during Reconstruction and beyond, was to reclaim control over the proximity and destiny of their own children, to claim dominion over a household composed of one's blood kin.
By the 1920s, Morrison argues, the reunited black family constituted a foundation firm enough to germinate other freedoms. The surge of  jazz and blues fomented  "a period when black people placed an indelible hand of agency on the cultural scene." If the bit that silenced slaves in Beloved robbed them of all self-regard, in Morrison's next novel, Jazz, her characters snatch it back through an exultant vocality that reaches listeners far beyond its social nucleus. The Age named for Jazz drew revelers of all colors. Joined to the liberation of new music was the opening up of "[S]ubjective, demanding, deeply personal love relationships. The one place African Americans could command and surrender by choice. Where they did not marry who was chosen for them…Where they could effect the widest possible choice—by falling in love." Self-regard found a new source in romantic love "as a place, a space, away, for individual reclamation of the self." The blues are about the action and power and will of loving, even when the singer's love is disappointed or doomed.
"Let the more loving one be me," wrote W. H. Auden, a line that exalts the surrender—ecstatic or sad—of the self who burns in every blues song. Similarly, Toni Morrison was dauntless in proclaiming herself a black writer whose race was of a piece with her writing. While her books are complex parables of justice and its opposite, it becomes clear in this final collection that the more abiding, ineluctable reason she wrote her novels was to speak of black people with praise and passion: "I have always felt myself most alive, most alert, and most sterling among my own people. All of my creative energy comes from there. My stimulation for any artistic effort at all originates there. The compulsion to write, even to be, begins with my consciousness of, experience with, and even my awe of black people and the quality of our lives as lived (not perceived)."
Individual identity does not arrive full-blown, but is shaped incrementally by choice and accident. Identity's earliest envelope is our skin. We are classified instantly by its pigment, attended in turn by all manner of metaphors. But the color of our birthday suit is just one part of our fortunes. To Toni Morrison it marked a belonging she would on no account have wished to miss, whatever its sufferings; whatever its terrors. As a white-skinned reader, I admire Toni Morrison's ardent allegiance to that world, and to the words that describe it, with sirenic, unending allure.
Lisa Zeiger was born in 1957 in Los Angeles. She graduated in English from Barnard College, and with a J.D. from Columbia Law School. In 1988 she earned a B.Dip in 19th and 20th century decorative arts from the University of Glasgow, and began publishing widely in British and American magazines. Her work appears in WTP Vol. VIII #3.