Enjoy our WTP Spotlights, notable selections featuring artists
and writers from our Woven Tale Press magazine. To read the
issue in full subscribe and you can also register on our site
to enjoy our archive.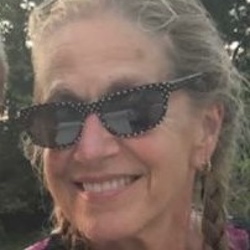 Sandra Kolankiewicz is the author of The Way You Will Go and Lost in Transition (both from Finishing Line Press) and Turning Inside Out (Black Lawrence Press). Her poems have appeared in Galway Review, One, Otis Nebulae, Trampset, Concho River Review, London Magazine, New World Writing, Appalachian Heritage, and elsewhere.
Three Short Poems
From WTP Vol. VIII #8
When Positive Thinking Becomes Dissociative
I persist even though looking turns you
_______from wave to particle, making you exist
when before there was only your possibility.
_______If I don't think, you won't happen. I don't
need to ignore, just see beyond to what's soon
_______passed and can't be real without permission.
Each Morning We Step
_______I'm not good with balance, practice
only at ground level, for I know my limits,
_______and who wants to hold a baby in one
hand and a skull in the other, even
_______invisibly, what we do each morning
we step from bed, shoeless and with no clue.
Compost
Because we are now only three, we make
less organic trash, which means we empty
every other day instead of each night.
What must we solve to have nothing to do
when we get home except relax?
How many breaks in the wall
can we see when moving from box to box,
tracking down a foul odor
to dispose of its source,
from one controlled space to another
with uneven temperatures?