Inside the Studio with Susan Tabachnick
Inside the Studio offers a behind-the-scenes peek into the work environments of WTP artists, as well as insight into their creative process within these resonate spaces. See Susan Tabachnick's work in WTP Vol. VIII #8.
By Jennifer Nelson, WTP Feature Writer
For the past eleven years, mixed-media artist Susan Tabachnick has worked out of her historic home in Bridgeport, Connecticut. In the 1909 house, she can create and store artwork in her dining room, guest room, living room, front room, and third-floor studio. The 2 ½-story building, in an historic district, boasts large windows, high ceilings and great natural light. "My house has wonderful karma, and it embraces me daily," says Tabachnick. "In reality, though, my work has taken over the house."
When she first purchased the gem of a house in 2009, she immediately designated a 14 x 16 ft. room on the top floor as her studio. There she focused on creating small found-object sculptures, though as she acquired more objects, she expanded into the nearby room. Much of her collection is accumulated from estate sales, where she selects items based on their shape, function, patina, material source and color, usually unaware of the item's function. She searches through basements, cellars and barns filled with soon-to-be-discarded items. She appreciates understanding the item's history and often picks small items, such as hand tools. "In a small way, I preserve the way of life of past generations, when life was simpler, more sustainable," she says. "While I treasure these items, others are thrilled to be rid of them."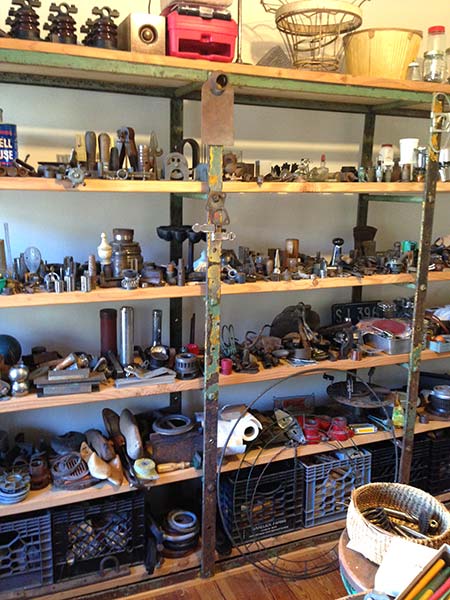 To equip her studio, she acquired many recycled items, including a large, old iron shelving unit from the defunct Housatonic Wire Company in Seymour, CT; counter-height shelving from in her kitchen before it was gutted; and an Ikea stacking drawer system that her friend was parting with. She also put in the room a well-used drawing table, a set of drawers, and a long bench. "It was everything I wanted," says Tabachnick.
Towards the end of 2018, after several months of grieving her mother's death, Tabachnick reclaimed her house. She turned the dining room, which her mother had used as a bedroom suite for seven years, into her primary workspace. The room, which is similar in size to Tabachnick's upstairs' studio, features a glorious table made of a single slab of wood. That same year, she converted a second-floor guest room into a clean workspace where it would be safe to work with fabric. There she creates assemblages, which involves sewing industrial items on to rigid foam insulation covered with fabric. She got another drawing table and installed Metro-like shelving. She prefers shelves to drawers where she can easily see materials and artwork. "I like the fluidity of just picking up something," says Tabachnick, checking it out, using it or not. I have hundreds—probably thousands—of items, and I like the experience of visiting them when the need arises."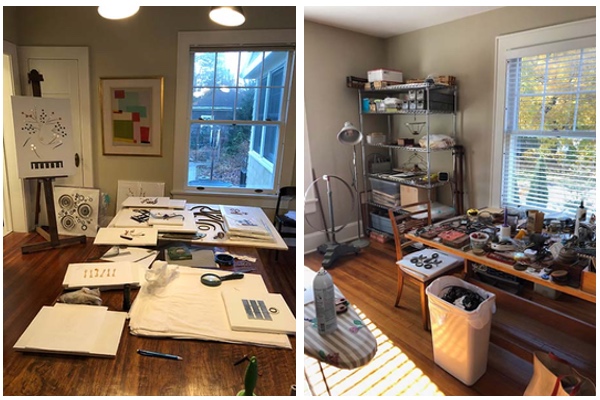 Tabachnick's journey as an artist began in 2007 when she left a stressful job, sold her house, and was diagnosed with a chronic illness. "I had time to discover what I wanted to do and found myself collecting industrial objects of interest," she says. "This was the start of a rich period of creativity, when I first began to see myself as an artist." She rented a small, first-floor apartment in an old house, storing many of her possessions in the basement. As she began collecting and creating, she used the top of her washer and dryer as her workspace. It was there that she started the series The Lost and Found Circus. Years earlier, while working for a publisher, she had created art out of a converted closet. It was a cozy, quiet place—and it was hers. "I've learned that I can work anyplace," she says. "Inspiration comes not from the space, but rather from the items that I acquire."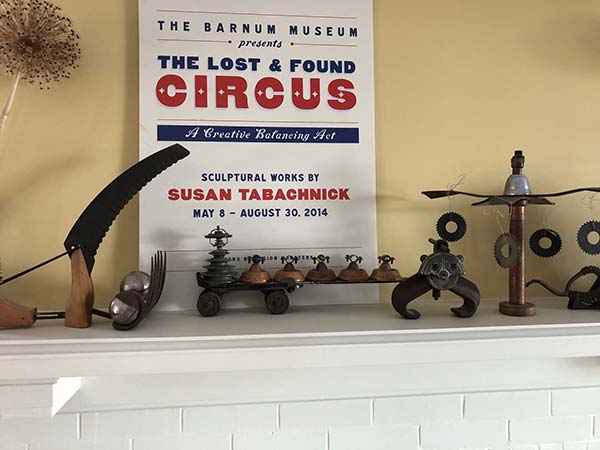 From her vast collection of items, she derives ideas for her artwork, the process often being intuitive and opportunistic. She visualizes three dimensionally, which allows her to work through ideas before putting them on paper. Designs evolve from the items themselves, not as a preconceived idea of something she wants to make. For example, she didn't start out wanting to make a clown for The Lost and Found Circus series. "It was out of the connection of disparate parts that something reminiscent evolved," she says. "I wanted viewers to see what they saw, to allow their imaginations to explore the work."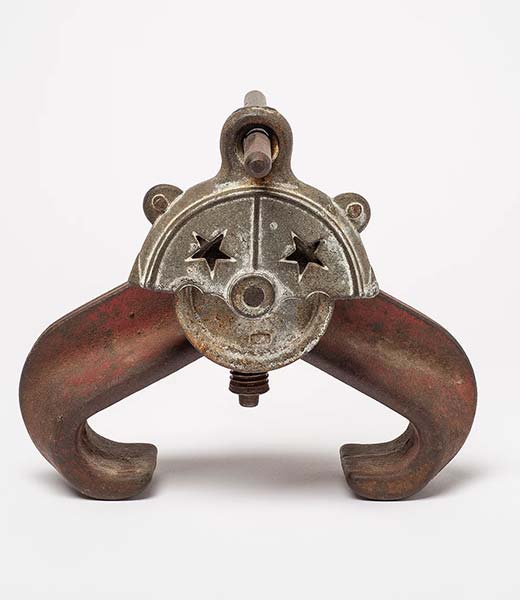 Unfortunately, those incredible estate sales—and joy of discovery—are becoming less frequent. This has led her to purchase items from eBay and a salvage yard. Recently, she's focused on acquiring small, delicate objects that can be sewn to the foam in her assemblage work. She's bought resistors, watch springs and small industrial files. She's also sought duplicates and multiples to use in repetition in her work. The art of collecting and connecting objects has impacted how she sees the world, forms relationships, and makes art.
Over the past few years, Tabachnick has been making shadow boxes like the ones that appear in this month's WTP. At first, she wasn't as thoughtful about documenting what she had created as it was transferred from one surface to another, often neglecting to capture the original intent. Now, she takes many pictures, and traces and measures. The items, which were not flat, moved around. But pinning them to a rigid foam surface using straight pins kept them secure. She recently created four shadowboxes using engineering and architecture tools belonging to family friends, who didn't know what to do with them. "What was once considered disposable are now heirlooms connected to both a father and grandfather, and pieces of artwork in and of themselves to be passed down," she says.
Recently, Tabachnick collaborated with artist Susan McCaslin on the USPS Art Project. McCaslin started the piece, while Tabachnick finished it. It was her first collaboration, though she has worked with welder Victor Patrone on larger sculptures. "I enjoyed the give and take of conversation as we worked through the best way to accomplish my goals," she says. "With his expertise, he brought a different vision that helped bring clarity to mine."
Copyright 2020 Woven Tale Press LLC. All Rights Reserved