Inside the Studio with Etty Yaniv
Inside the Studio offers a behind-the-scenes peek into the work environments of WTP artists, as well as insight into their creative process within these resonate spaces. See Etty Yaniv's work in WTP Vol. IX #6.
By Jennifer Nelson, WTP Feature Writer
Three years ago, mixed-media artist Etty Yaniv found a perfect studio in DUMBO, a former manufacturing district in Brooklyn nestled between the Brooklyn and Manhattan Bridges. She was immediately drawn to the area near the East River with its renovated warehouses and factories. She loved the building's industrial nature, the studio's high ceilings, and most importantly, its established art community. "I am grateful to be able to work in this wonderful environment with amazing artists," says Yaniv.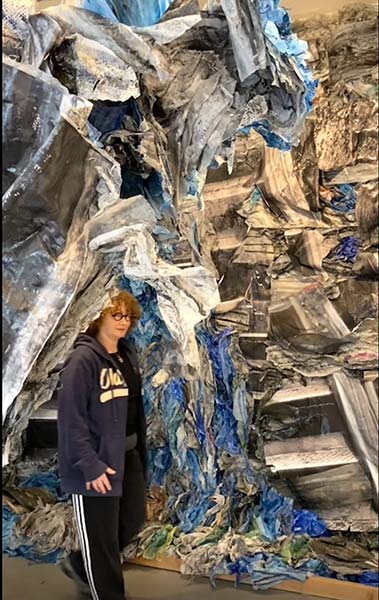 An artist friend had urged Yaniv to apply to the Two Trees Cultural Space Subsidy Program, which offers artists reduced rents for studios in DUMBO. Yaniv started the program in 2018, leaving behind her studio in Bushwick, Brooklyn, a gritty neighborhood with many young emerging artists, though it was becoming increasingly hip and edgy. As a note, in 1974, Two Trees founder David Walentas purchased thirteen buildings in DUMBO, promising to preserve the area's heritage and build artistic, cultural, and community spaces to benefit residents.
Yaniv draws inspiration from her 500-square-foot studio. She credits the studio's high ceilings for allowing her to play with installations in different ways. The building's industrial nature with its large windows facing the bridge and river has impacted the imagery in her paintings.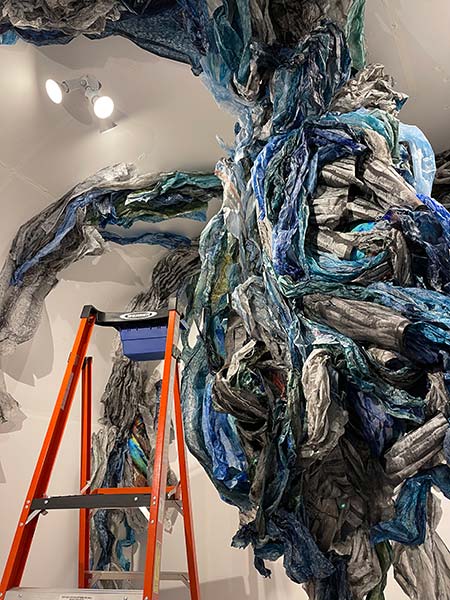 Nevertheless, for her installations, she needs as much space as possible, which means working from home as well. "Over the years, I have learned to split my workflow between studio and home, and it seems like I have found a fairly good balance," says Yaniv.
Like most artists, storage is a big issue for Yaniv. To partly solve this problem, she recycles her work, which involves taking apart some installations, paintings, and drawings to reuse in new work. In her DUMBO studio, she has also installed modular adjustable shelving—the high ceilings have made this possible—and at home, she has reorganized her storage space. "For several years, I had a storage unit, but I don't use it anymore," says Yaniv. "I am trying to minimalize."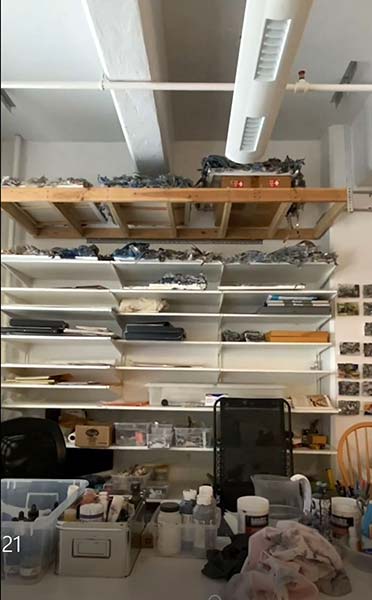 Yaniv divides her day into studio work, writing, and curatorial projects. Early in the morning and late at night, she works on art proposals and other art-related writings. She spends at least eight hours a day on her artwork—and rarely works on one project at a time. "I tend to work long hours and the shift between these activities seems to work for me."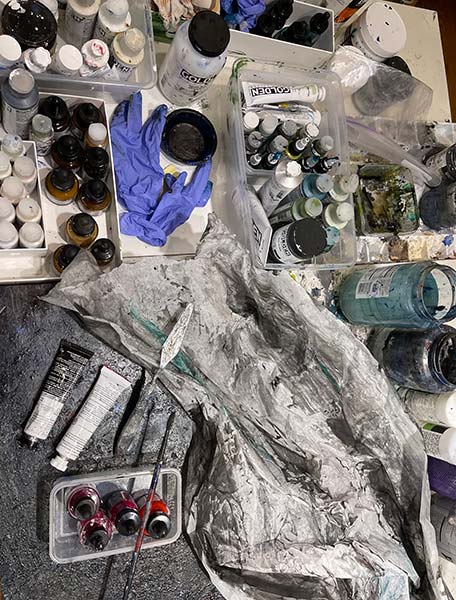 Ideas for her artwork come mostly from her daily life in nature and the city, but also from literature, film, art history, and the news; and she often works in thematic series. Residences have also influenced her artwork, spurring her to take risks, experiment, and brew ideas. "Since my work tends to be tied to sites, new places inherently impact my ideas and imagery," she says. For example, at the Mass Moca residency, her studio faced a bridge and canal, providing an uninterrupted vista of this former industrial complex. Once at home, she focused on a series of landscape paintings.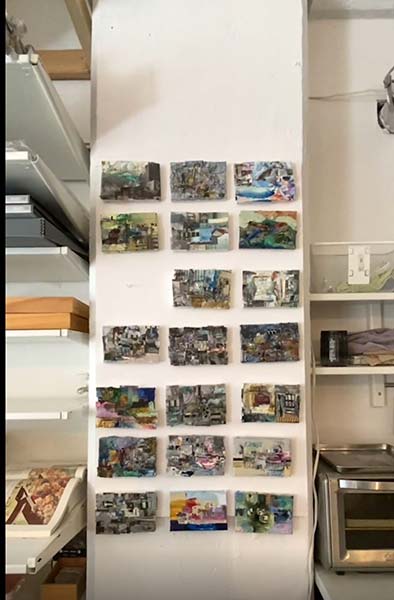 Her installation work, she explains, is a hybrid of painting and sculpture: it is "an assemblage of pieces that altogether make a highly tactile environment with multiple hidden narratives, an intricate abstract landscape of sorts, which shifts perspective from each angle." For site specific work, if possible, she visits the place multiple times to study the layout, read about the location and its history, and think about its cultural context. "I love finding connectivity between things that typically do not go together—that is probably reflected in my work—coalescing thousands of disjointed pieces into an open-ended landscape," she says.
Yaniv also loves creating simultaneous narratives that evolve from her materials—paper, plastic, fabric and paint—and from imagery that may be revealed throughout the process. "Discovering the connectivity between the parts, navigating the tension between them into some sort of a fluid co-existence, become a unique experience each time," she says. "It may flow in any direction. If I must pin down what my work is about, I will say it is a lot about fragmented fluidity of time, space, and existence on earth."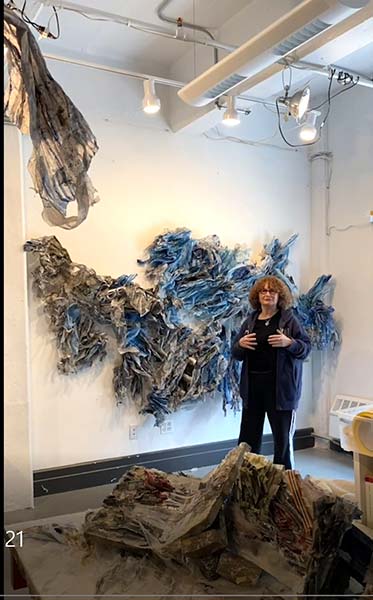 Click here to read more Inside the Studio features.
Copyright 2021 Woven Tale Press LLC. All Rights Reserved