Enjoy our WTP Spotlights, notable selections featuring artists
and writers from our Woven Tale Press magazine. To read the
issue in full subscribe and you can also register on our site
to enjoy our archive.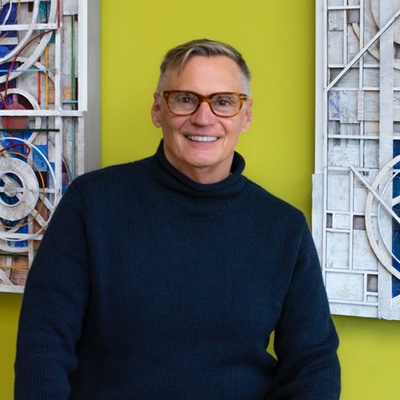 Chuck Fischer earned his BFA from University of Kansas and studied at the Art Students League in New York City. He has been a visiting artist at the American Academy in Rome. Prior to 2016, when Chuck exclusively committed to his fine art practice, his ninth pop-up book was published. His published works include the bestsellers Christmas in New York and Great American Houses and Gardens. His designs are in the permanent collection of the Smithsonian's Cooper Hewitt Museum and Museum of American History, and the Artist Book section at the Library of Congress. 
---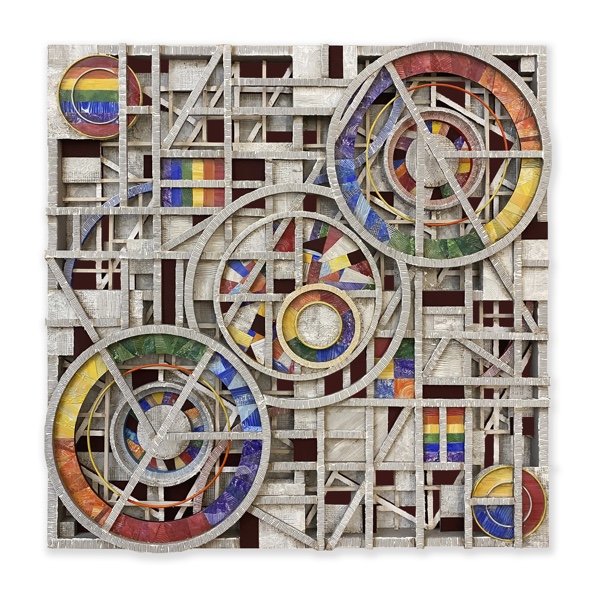 Spectrum Composition No. 5
copper, aluminum, modeling paste,
gesso, acrylic
36" x 36"
See his work in WTP Vol. X #5
"My geometric abstract constructions break the plane of two-dimensional painting and are composed of colored, textured, and multi-layered elements made from common materials such as wood, copper, and aluminum. I create their visual complexity by varying the depth, color, and texture of each piece to draw the viewer into the work. I never sketch before I start a new piece but trust my intuition and the materials at hand to guide me as I create works of spatial balance and harmony.
"My current work is intended to hang on a wall or stand as a sculpture, but I would like to expand my process to build larger-than-life-size cubes built using geometric wood and metal components. These textured, polychrome cubes would be constructed with a hidden door allowing the viewer to enter the work and be fully enveloped by it. The only light inside would be from spaces left between the individual geometric elements which adds to the overall experience of being inside a work of art."
Click here to see more featured work by WTP artists.