Enjoy our WTP Spotlights, notable selections featuring artists
and writers from our Woven Tale Press magazine. To read the
issue in full subscribe and you can also register on our site
to enjoy our archive.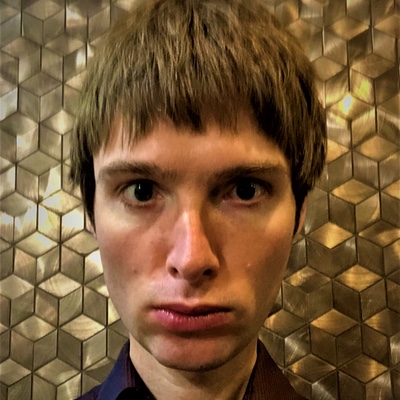 billy cancel is a Brooklyn based poet/performer. His collection Mock Trough Rasping Crow has recently been published by BlazeVOX Books. His poetry has appeared in journals including Boston Review, PEN America, SAND Journal, and Bombay Gin. With Thursday Renworthy (Lauds), he performs in the noise/pop band Tidal Channel, and presented his noise poetry sequence "Buttercup Tantrum Mutton Encore" at Ravenna Museum of Art in 2019, as part of the Transmissions VII Festival. In 2021 he was poet-in-residence in the Brooklyn waterfront Poets Afloat reading series.
---
Leviathan Ocean Casino Resort
From WTP Vol. X #5
reopens under new management & i'm like if
you don't pick me out something nice folk with
say billy cancel don't know how to dress         Red
     Horses like these      are tell tale signs of hollow
courtier artifice     a superficial system veiling
extreme decrepitude shocker.         let's brew
     up a little lark then     my solemn pomp a
luxurious tangle     & scurry across spare land
between Crazed Reality Bursts     because
     UNLIKELY PERILOUS
FUTURE can only be accessed by
water or horseback in the company
of Trangressors
on the vinegar
right?
Click here for more featured work by WTP poets.