Enjoy our WTP Spotlights, notable selections featuring artists
and writers from our Woven Tale Press magazine. To read the
issue in full subscribe and you can also register on our site
to enjoy our archive.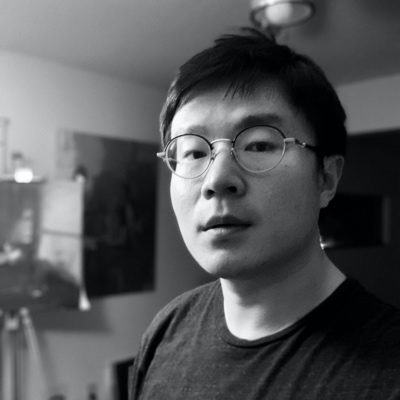 Chao Ding is a Beijing native perceptual painter, having learned classical painting from his father as a child. He originally studied Fashion Design and earned a BA from Beijing University of Technology. He relocated to New York to study painting and drawing at SUNY Buffalo State College, and went on to earn his MFA at Louisiana State University. Ding has had solo exhibitions in Buffalo, NY; Baton Rouge, LA; and Visalia, CA, among others; and his work been included in numerous group exhibitions across the United States. He received a commission from the Burden Rural Life Museum for a series of documentary art, and his work has been permanently collected by the LSU Museum of Art, Parish Library, and other public institutes in Louisiana. He has been awarded several artist residencies, including the Golden Foundation program in NY. Chao's work is represented by Elliott Fouts Gallery in Sacramento, CA.
---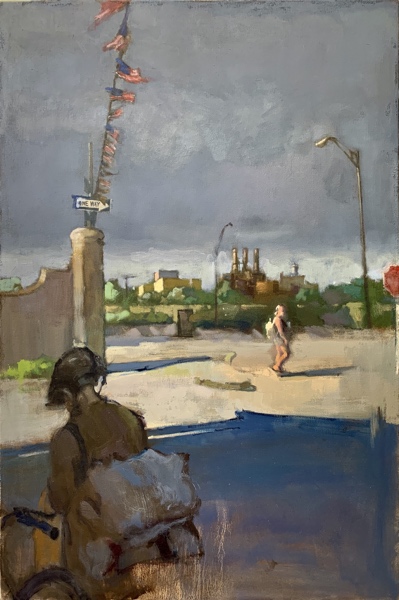 Chinatown in Philly
oil on canvas
24" x 30"
See his work in WTP Vol. X #7
"Decayed textural layers and subtle colors left by the passage of time are really appealing to me. I look for constructive force and harmony in the 'chaos', discover internal orders among visual elements—I am intrigued by the visual formalities and vibes that I encounter in casual surroundings especially 'indecent scenes'; even a pile of trash or traffic cones can make me take out the sketchbook. In my compositions, I simplify the objects, 'suggest' realities to spectators with my own version. I like to excavate the real side of things, like the backside of stores or some storage spaces. It is on this other side where time is soundless, but can show up in a brutal way."
Click here to see more featured work by WTP artists.