Eye on the Indies:


A Look at Indie Authors and Their Publishers
By Lanie Tankard, Indie Book Review Editor
The Last Language by Jennifer duBois (Minneapolis: Milkweed Editions, October 17, 2023; 240 pp.; ISBN 9781639551088; $26.00 hardcover).
"Silence remains, inescapably, a form of speech."
—Susan Sontag,
The Aesthetics of Silence (1967)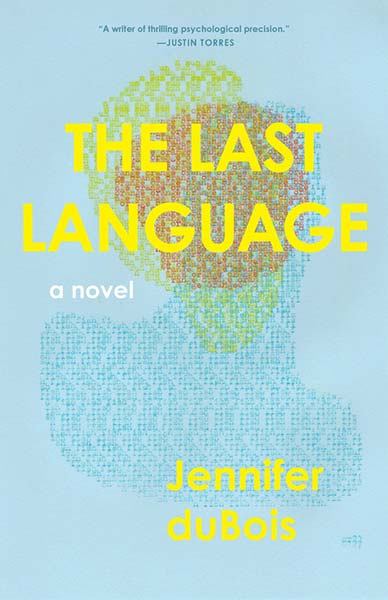 In her fourth novel, The Last Language, Jennifer duBois explores human communication through unspoken words. Rather than an examination of implicit behavior though, it's more a consideration of the Clever Hans phenomenon through assisted typing.
Sam, a nonverbal young man with motor impairments, has lived in his Boston bedroom for most of his twenty-eight years. Angela, a recent Harvard graduate student in linguistics, undertakes an experimental therapy to communicate with him at the request of his mother, Sandi.
The novel's framework echoes the controversial and well-publicized 2015 Anna Stubblefield case. Former chair of the Department of Philosophy at Rutgers–Newark, Stubblefield was convicted of sexually assaulting a man with cerebral palsy unable to communicate verbally—using the same aided-typing device as in the duBois novel. Sentenced to twelve years in prison, Stubblefield served two before her conviction was overturned in 2017. A documentary about the case by British-American broadcaster Louis Theroux is set to come out in November 2023.
In The Last Language, duBois reconstructs characters from the Stubblefield case in different forms but maintains the overall structure. She then raises fundamental questions on human communication with the protagonists she's created. On one side, duBois weighs the rights of the disabled to convey their thoughts, while on the other she brings up protection from unwanted sexual advances—and then asks: But what if those advances are wanted?
In the fictional situation duBois posits, Angela's husband has just died, she's been dismissed from her graduate program, and now she's in debt. Then she has a miscarriage. She and her daughter (age four) move in with her mother in Medford, Massachusetts. Angela locates underpaid work at a center developing a machine to enable message transmission for patients with physical disabilities that prevent them from speaking. (Called facilitated communication, the actual technique is now scientifically discredited.)
Sam's problems began when he was eighteen months old. Although he was a "very gifted toddler," a "clinical aversion to eye contact" arose as he didn't speak. Physicians couldn't agree on a diagnosis, but speculated a form of autism. Today his mother, now desperate for her still-silent adult son to communicate, wants to try this new aided method even though it's not FDA approved and there's some skepticism. The device requires a therapist to place a hand on the patient's hand, guiding it around the keyboard to lessen tremors and aid muscle weakness. Pauline, Angela's supervisor at the center, agrees to let Angela test the machine with Sam at his home.
After a while, Pauline comes to observe a session. Lo and behold, Sam is not merely speaking, but appears to be doing so quite fluently through the machine. Excitement abounds. Sandi is thrilled. She and Angela have become friends. Sam's sister Moira, home on break from the University of Chicago, is doubtful though. Before long, Moira and Sandi open Sam's bedroom door to find the therapist and her patient having sex in flagrante delicto. Mother and sister ban Angela and bring charges.
In the ensuing courtroom drama, duBois touches on both societal and academic norms such as parent-child and professor-student relationships, IQ tests, and language studies—skewering academics. For example, Angela recalls her university experience as she and her fellow graduate students "lovingly mapped the borders of the tiny fiefdoms we'd spend our whole careers defending."
Yet duBois wisely walks a fine line to avoid taking sides during the tense legal proceedings, an approach also used by Swedish author Malin Persson Giolito in her novel Quicksand (later a Netflix TV series). In that novel, the writer employs the trial of a teenage girl involved in a mass shooting at a Stockholm prep school as structure. Both authors set their stories in courtrooms, allowing them to delve into broader ethical issues.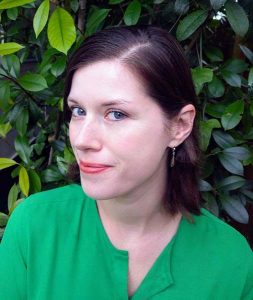 As duBois pits the language universalists against the relativists, she brings the reader into the longstanding debate over the Sapir-Whorf hypothesis. This idea underlying linguistic relativity posits the idea that language creates people's thoughts and thus determines their world views.
Cognitive scientist Lera Boroditsky has stated "Language is central to our experience of being human…." She's also wondered: "But what would your life be like if you had never learned a language? Could you still have friends, get an education, hold a job, start a family? Language is so fundamental to our experience, so deeply a part of being human, that it's hard to imagine life without it."
In the novel Once There Were Wolves, by Australian author Charlotte McConaghy, a character named Duncan awakens from a post-surgery coma. He writes on a pad to the woman visiting him: "You saved my life….They said I may not speak again." She replies: "There are languages without words, without voices. I'll teach them to you." Is this what Angela has done with Sam?
Ultimately in The Last Language, duBois leaves the reader to ponder that question: whether Angela is creating Sam, or whether Sam's thoughts have been in his brain all along and she has simply given them an outlet. Sandi laboriously taught her son everything she could over the years. He has books and a computer. Did Sam slowly build up "the backroom of his mind" with ideas to enjoy at leisure, à la Montaigne?
Angela discovers Sam has managed to write a book draft. French journalist Jean-Dominique Bauby suffered locked-in syndrome following a stroke. Yet by blinking one eye via an alphabetic code to a transcriber through partner/listener-assisted scanning, he dictated The Diving Bell and the Butterfly describing his inner life: "…my mind takes flight like a butterfly." It became a 1997 book, a 2007 movie, and will be performed next month by the Dallas Opera in a world premiere.
Machine learning has made significant advances recently to help paralyzed patients communicate, gradually moving away from the now-discredited facilitated communication machine in the duBois novel and the Stubblefield case toward tiny sensors placed on speech-production regions of the brain. Recognizing that communication without movement is close to impossible, such research shows promise for paralyzed individuals with no voice.
The cover image on The Last Language book created by typewriter artist Chad Reynolds eloquently captures the gist of the duBois novel. By providing a sociolinguistic lens via fiction to view real-world quandaries such as how to bring neurodivergent individuals into society, Jennifer duBois challenges readers. She asks them to consider both sides of a difficult case yet wisely provides no clear answer. That's a tricky high-wire balancing act she accomplishes with grace.
---
Jennifer duBois, associate professor of English at Texas State University, teaches undergraduate creative writing as well as MFA fiction workshops and literature seminars.
Her debut novel, A Partial History of Lost Causes (2012), won both the California Book Award for First Fiction and the Northern California Book Award for Fiction, in addition to being a finalist for the PEN/Hemingway Prize for Debut Fiction. Cartwheel (2013) won the Housatonic Book Award for fiction and was a finalist for a New York Public Library Young Lions Fiction Award. The Spectators (2019) earned a National Endowment for the Arts Creative Writing Fellowship plus a Civitella Ranieri Fellowship.
A 2009 graduate of the Iowa Writers Workshop, duBois was artist-in-residence at Stanford University through a Wallace Stegner Fellowship in Fiction (2009–2011). Her writing has appeared in a variety of publications including The New York Times, The Wall Street Journal, LitHub, Playboy, The Missouri Review, Salon, The Kenyon Review, Cosmopolitan, Narrative, Lapham's Quarterly, American Short Fiction, and ZYZZYVA.
Publisher: Milkweed Editions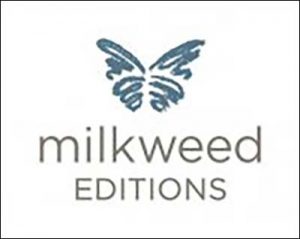 Milkweed Editions in Minneapolis has operated as a nonprofit publisher since it began forty-three years ago. The building also houses Milkweed Books bookstore, with space for events and classes.
"Just as the common milkweed plant is the site of metamorphosis for monarch butterflies, Milkweed Editions seeks to be a site of metamorphosis in the literary ecosystem. We take risks on debut and experimental writers, we invest significant time and care in the editorial process, and we enable dynamic engagement between authors and readers."
Publisher and CEO Daniel Slager began at Milkweed in 2005 as editor-in-chief. He had been an editor at Harcourt Trade Publishers in New York and associate editor of the former literary and fine arts quarterly Grand Street. His translation from German of Auguste Rodin by Rainer Maria Rilke (2004) won the American Translator Association's Ungar Prize in 2005. Slager serves on the advisory board for Archipelago Books. He is also on the boards of directors for the Ledig House International Writers' Colony (Art Omi in New York), Motionpoems (based in Minneapolis), and Open Book (home to Milkweed in Minneapolis).
Vice President Katie Hill is Milkweed's engagement and chief innovation officer. Before joining Milkweed in 2021, her professional experience was in art museums. Hill earned an MA in Art History (University of St. Thomas) and a BA in English Language and Literature (Kenyon College).
Milkweed's Vice President for Advancement Jane Townsend previously worked with the University of Minnesota Foundation, Project Success, Native Governance Center, and V3 Sports. She holds a JD (Hamline University School of Law) and a BA (Colorado College).
Since 1980, Milkweed has published 350 works of literary fiction, nonfiction, and poetry. Milkweed is not currently accepting unsolicited submissions.
Click here to read more Eye on the Indies features.
Copyright 2023 Woven Tale Press LLC. All Rights Reserved