Enjoy our WTP Spotlights, notable selections featuring artists
and writers from our Woven Tale Press magazine. To read the
issue in full subscribe and you can also register on our site
to enjoy our archive.
A graduate of the University of Hawaii and Pratt Institute, Garry Mitchell has exhibited his work nationally and internationally. He is the recipient of fellowships from Yaddo, the MacDowell Colony, the Edward Albee Foundation, the Millay Colony for the Arts, and the Provincetown Fine Arts Work Center; of grants from the Ford Foundation, the Massachusetts Arts Council, the Arizona Arts Commission, and the Maryland Commission on the Arts. He has exhibited in many cities, including New York, at the Barbara Toll Gallery, Hyde Collection, Damon Brandt Gallery, and the Drawing Center, among other venues; in Boston, at the Alpha Gallery; in Tokyo, at the Japanese International Art Expo, and Zephyrus Contemporary Art. In Maine, where he resides, he has been included in Biennials at the Portland Museum of Art, and the Center for Maine Contemporary Art. He has had solo exhibitions at the Colby College of Art, University of Maine-Farmington, Speedwell Projects, ICON Contemporary Art, The Press Hotel, and the Maine Jewish Museum. 
---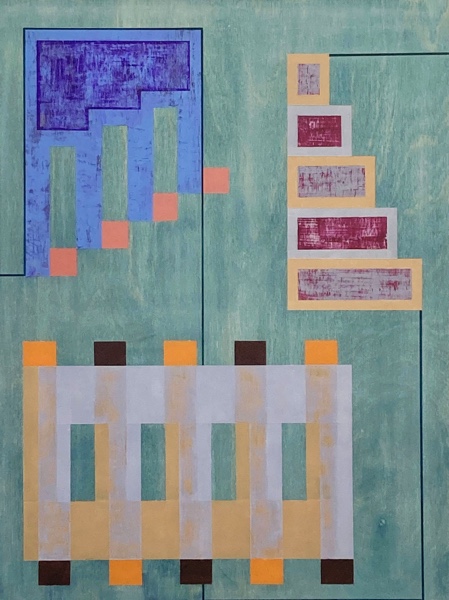 Pickett
acrylic on panel
24"' x 18''
See his work in WTP Vol. XI #5
"Where to begin? A shape, a notion of color? The great thing about making art is that when you re-experience something you have the chance to resolve it, to make changes based on what has gone before. Working the way I do, I build upon initial moves to influence the final outcome. In fact, what has been there and not seen is a necessary move toward resolution of a particular image. It's part of the process of constructing a picture. What we see in a work that is 'finished' results from all the decisions the process required. There may have been addition or subtraction of elements, or a combination of the two, as the image comes into a focus that seems just right. At times it's the absence of an element that's been covered over that points the direction to a new recognition, which allows the picture to be 'found' in the process of its making. I have these source-driven, moves-shapes, colors, and compositional devices. And then when I'm working I might think 'You know would be great? A triangle in the middle of a shape.' Then, I think, 'Can I fit that into the narrative?' Why do I want to see that shape, that color, in this particular structure? So, I'll try it, and see if I can fit that into the story and see if it makes sense."
Click here to see more featured work by WTP artists.